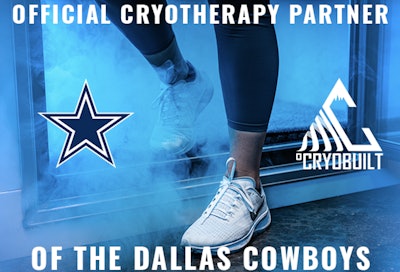 This content is supported by one of our advertising partners. What is sponsored content?
Train like the pros? Now Members can Recover like the Pros too!
Cryotherapy is quickly sweeping the nation, becoming more and more widely accepted as the premier recovery method by pro athletes and the general public. A technology once only found in pro team locker rooms and training facilities is starting to pop up in Gyms and Fitness Centers across America. The Dallas Cowboys are the latest team to adopt the revolutionary recovery method and have named CryoBuilt as the Official Cryotherapy Partner of the Dallas Cowboys.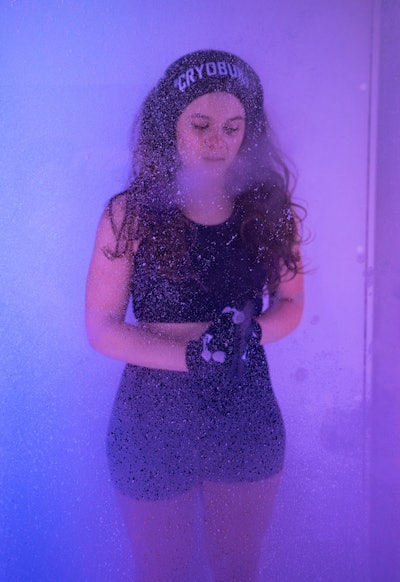 What is Cryotherapy?
Cold therapy has been used in many forms since the beginning of time to heal the body. Historically, we had to rely on ice or cold water to help our bodies recover from injury, inflammation, soreness, or relaxation. Modern day cryotherapy uses walk-in cold rooms or to provide a much more comfortable, convenient, and effective form of recovery through the use of cryotherapy chambers. Cryotherapy chambers provide a quick, 2-3 minute private session of whole body exposure to extreme low temperatures in a dry, contained, breathable air environment. Add in some music, colorful lights, and awesome fog from the cold, and it becomes a fun experience that completely distracts from how cold you just got! CryoBuilt Cryotherapy chambers are filled with super cooled, oxygenated air so it is completely safe to step inside the chamber with your entire body, including your head and breathe the cold air.
What does it do?
The goal of true whole body cryotherapy is to expose the body to temperatures of -150F to -175F for a short period of time (2-3 minutes) to create a drop in the external skin temperature of 30-40 degrees. The best way to measure this is to use an infrared temperature device before and after the session on the back of the upper arm, measuring the delta between two temperature readings. The results are illustrated in this thermographic image below that shows the outer skin temperature dropping while the core temperature remains intact.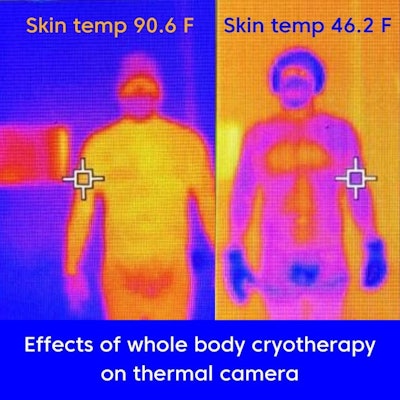 Effects of Cryotherapy on the body
Blood rushing to the core is our body's natural way of protecting our core organs from extreme cold. When exposed to extreme cold temperatures, blood rushes from our extremities to our core, creating a systemic response throughout the body that produces a myriad of benefits. As mentioned above, cold promotes increased blood flow which brings fresh, oxygenated blood full of white blood cells to areas of the body that need it.
Who should be doing Cryotherapy?
Cryotherapy is not just for extreme athletes or those with present injuries either. Best practice is for healthy, normal adults (and minors with doctors note) to practice whole body cryotherapy 3-5 times per week on a regular basis. It is important to maintain a constant regimen of cryotherapy and not just use it when you feel you need it or are injured as it is a continual recovery modality that helps the body stay healthy, boosts the immune system, and even resist injuries and illness. Cryotherapy has also been used as an alternative to anti-inflammation medicine and pain killers, allowing people to heal their bodies naturally and safely.
How can I add Cryotherapy to my Gym?
Many gyms have already adopted the use of cryotherapy in their facilities including; UFC FIT Gyms, NFL FIT Gyms, XSport Fitness, Xperience Fitness and more. When selecting the type of Cryotherapy to add to your gym, it is important to know the difference between electric and nitrogen based systems. Historically, cryotherapy required Nitrogen gas but is quickly being replaced with Electric Cryotherapy Chambers like the systems manufactured in the USA by CryoBuilt.
To learn more about how cryotherapy can reliably help you manage through these challenging times, please click here.
About CryoBuilt
CryoBuilt is the leading manufacture of Electric Cryotherapy Chambers in the USA with over 100 active locations and a service network of 3000+ in every state in the USA. CryoBuilt prides itself on leading the industry with cutting edge, sustainable products, and making cryotherapy more accessible to the general public and anyone looking for elite forms of recovery and performance.
800-633-1400