Check out the newest products as seen in the June 2021 issue.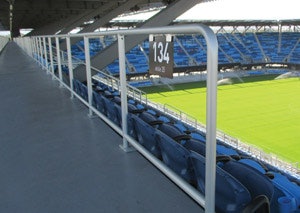 Trex Commercial Products
Trex Commercial Products has introduced its Standing Rail™ System, designed to elevate the fan experience for avid supporters of Major League Soccer and other sports organizations. Utilizing a metal frame with top rail and bottom kick rail, the Standing Rail creates a space for supporters to stand during events. The angled frame creates a comfortable lean rail for standing spectators, while also optimizing views and enhancing crowd control by allowing for easy access and movement within the aisles. The customizable system can be integrated into new builds or existing venues to enhance function and versatility, including a configuration that accommodates a drink rail to create a more social gathering area.
www.trexcommercial.com
info@trexcommercial.com
(877) 215-7245
---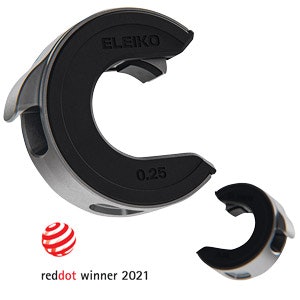 Eleiko
Eleiko introduces Õppen Collars, a user-friendly solution designed to easily secure barbell weights to improve performance and safety. The collars feature a patent-pending, open-sided design that is a fresh take on a strength training staple traditionally constructed as a full circle. A winner of both the iF DESIGN AWARD 2021 and 2021 Red Dot Award, the innovative design of the Eleiko Õppen Collars removes barriers and encourages collar use for safer lifts in a snap. To use, lifters simply place each collar next to the weights and press the lever down to lock them into place, securing weights quickly with a single-handed operation. The aluminum casing, NBR rubber and internal components are fully recyclable, making Õppen Collars a conscious choice that minimizes environmental impact.
www.eleiko.com
usa@eleiko.com
(866) 447-9441
---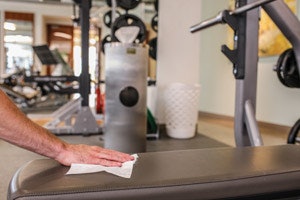 Vapor Fresh
Vapor Fresh Disinfecting Gym Wipes use citric acid to disinfect instead of the harsh quats found in other disinfecting gym wipes. Quats raise lung, eye, skin and reproductive health concerns that make them undesirable for use around gym members and high-performance athletes. With increased cleaning procedures due to COVID-19, overexposure is a concern now more than ever. Citric acid is an approved active ingredient on the EPA's Safer Chemical Ingredients list, and Vapor Fresh Disinfecting Gym Wipes fall in the lowest EPA toxicity category, as they aren't even required to have a warning label. These wipes still disinfect 99.9 percent of surfaces and are on the EPA List N Disinfectants for Coronavirus.
www.vaporfresh.com
hello@rawathletics.com
(888) 619-0729
---
This article originally appeared in the June 2021 issue of Athletic Business with the title "New & Improved." Athletic Business is a free magazine for professionals in the athletic, fitness and recreation industry. Click here to subscribe.