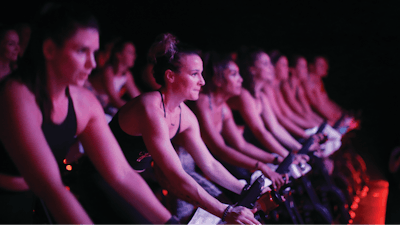 [Photos courtesy of CycleBar]
Way back in January 2021, as COVID-19 filled hospital beds during a winter resurgence of the pandemic, Carson Daly of "The Today Show" did a profile of Alex Toussaint, one of Peloton's most popular cycling instructors. It was a significant moment for the indoor cycling market, as it elevated an on-demand instructor to the brink of celebrity just as bricks-and-mortar fitness and cycling studios were grappling with how to reopen while keeping their customers and staff safe and comfortable.
The Peloton phenomenon has been extensively covered in the media. The company began back in 2014 with a connected exercise bike that allowed users access to on-demand classes. Three years later, in 2017, Peloton had a modest 100,000 subscribers. Today, the company boasts 6.2 million members, 51 instructors, and $805.2 million in revenue in its first fiscal quarter of 2022. As for its growth during the pandemic, Peloton added 3.3 million members in the period from March 2020 to June 2021. And if you tried to purchase a Peloton bike in January of last year, you understood firsthand this meteoric growth, as you likely had to wait anywhere from 12 to 16 weeks for delivery, with wait times exacerbated by high demand and supply chain issues.
After reading this tale of near overnight market domination, you'd be forgiven for thinking traditional cycling studios would despise Peloton for stealing members from their facilities. The reality, however, is quite the opposite, as the flashy Peloton experience has introduced millions around the world to the joys of indoor cycling and in doing so, grown the market for Peloton's competitors. The question now is how to best serve this legion of aspiring cyclists looking to get on a bike and go — nowhere.
What's good for the goose
CycleBar, a popular indoor cycling franchise, was dramatically impacted by the pandemic, with some locations forced to close their doors during the worst of the outbreak. Much like the rest of the fitness industry, the company worked with its owners to quickly implement safety protocols that they hoped would keep everyone who came into their facilities comfortable — UV air filters, outdoor classes, social distancing, elevated cleaning protocols and even shorter rides.
"It was definitely a multipronged approach to making sure people felt safe," says Trevor Lucas, president of CycleBar, which offers in-studio classes, as well as on-demand content in multiple modalities — yoga, stretching, Pilates, Barre, rowing, running, dance, HIIT and boxing — through its CycleBar GO app.
Lucas is one industry player who sees Peloton as a boon for the indoor cycling market, noting that the company created millions of new enthusiasts in just under a year.
"There's so many people cycling now because of the indoor cycling craze that happened during the pandemic," Lucas says. "It's brought our product to people who normally wouldn't have found it, or it would have taken them longer to come around to it. So we're seeing those folks come into the studios, too. And those people who have been riding at home, they get it. They have less of a fear coming into the studio. There is an anxiety coming into the studio when folks don't know what to expect. These people who have been riding at home don't have that. And from a conversion standpoint, they convert to members at a really high rate."
Like Peloton, CycleBar offers its GO app as a subscription service, where end-users can get in a good workout at home without ever having gone to a CycleBar studio.
"Leveraging our digital content as a marketing tool is a really good way of converting new members," Lucas says. "There will always be those who just want to do the at-home classes, and we want to be there to cater to that business, as well."
Direct competition
Echelon has emerged as perhaps the closest direct competitor to Peloton, as it operates on a similar model of connected equipment and on-demand programming. Echelon, however, is differentiating from Peloton with a more diverse equipment offering — five bike models, two fitness mirrors, three rowers and two smart treadmills — as well as partnerships with fitness organizations across the country.
Ryan Simat, senior vice president of sales at Echelon, agrees that the on-demand experience can help get people out of their homes and into studios.
"Members can experience a variety of cycling classes ranging from five to 45 minutes all on their own before venturing into larger group fitness classes that facilities may offer," Simat says, noting that his company is currently partnering with bricks-and-mortar players like Anytime Fitness, Crunch Fitness and Fitness Factory, among others.
While COVID-19's impact on the fitness world was devastating for many, both Simat and Lucas seem to agree that the pandemic expanded the addressable market, with many newcomers and legacy cyclers alike preferring a hybrid model.
"People want fitness routines that work whenever and wherever they are," he says. "This includes the option to train at their favorite local fitness center, at hotels while traveling, and in the comfort of home. Successful fitness facility operators recognize this need and strive to support their members outside the four walls of their facility."
To that end, Simat sees technology as the driver of true flexibility.
"The fitness industry is in a fast-paced stage of growth, including leveraging the power of virtual reality, augmented reality, gamification and more — all to make fitness more fun and effective," he says. "Bringing people together when they're not physically together through technology is going to be the primary focus. Echelon's hardware is designed to accommodate these changes through software updates, and our equipment won't become obsolete just because of new technology trends. We are equipped to push software updates that keep equipment optimized and performing well no matter how the world of fitness progresses."
Necessity of community
While at-home workouts are here to stay, the communal human aspect of the studio experience shouldn't be discounted. People can watch just about any movie at home, but they're still willing to venture out occasionally for the big-screen experience. The same is true for indoor cycling, which is now dominated, whether at home or in the studio, by charismatic, high-energy instructors like the aforementioned Toussiant, as well as frenetic audio and visual environments that generally can't be reproduced at home.
Says Lucas, "From the lighting that we put into the studios, to the sound — the top-notch experience that we provide is almost like going to a night club where you're just surrounded by all of this and riding with other people and motivated together.
"At the end of the day, people want to be around people, and we're seeing that. Forging those relationships and seeing your friends in the studio is a big part of it. Being able to connect with an instructor one on one, and being motivated by an instructor is huge. Seeing how your peers are progressing is important and motivating. It's a big part of why people came to us before the pandemic, and it's an even bigger part now as folks were isolated for a long time."