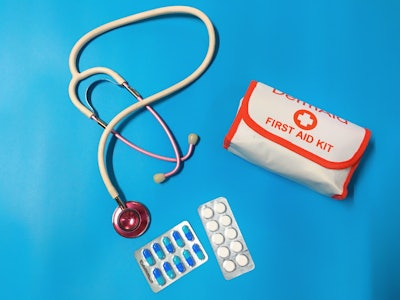 Kristine Wook, Unsplash
A gym in North Carolina is helping an area man gather first-aid supplies to send to Ukraine to help the people survive the Russian invasion.
According to Spectrum News in Charlotte, John Hrobuchak has been a member of the Iron Sharpens Iron Gym in Archdale for eight years. Hrobuchak is also proud of his Ukrainian heritage. His grandfather came to the United States in the early 1900s. Hrobuchak knew he had cousins in Ukraine but lost touch with them until recently when they reconnected via technology.
When Hrobuchak heard about the Russian invasion in Ukraine, he reached out to his family and friends living there. After a few days of tense silence, they responded, requesting bandages, first aid kits and medicine, Spectrum News reported.
Local Triad gym collecting items to help the people of Ukraine https://t.co/g8nsaCTNQI

— WXII 12 News (@WXII) March 4, 2022
"I didn't hear back from them until Monday. And they finally reached out and said if you can round up bandages, first aid kits, medicines, anything that will help the wounded," he told Spectrum News.
Since Hrobuchak can't visit, he posted on social media asking for help. Gym owner and friend Jeff Farlow stepped in to help. Together they organized a drop-off location at the gym and at the local Walmart in town, WXII-TV reported.
"He has this wonderful gym that is a community to this area and he helped out with donations," Hrobuchak said."Offered to put a drop-off box right here in front which has been tremendous for us and our cause to raise bandages first aid kits anything that will help save lives."
Hrobuchak has collected bags of supplies to ship overseas in just a few days from the gym and his church.
The main concern is getting supplies to Ukraine and money for fuel for Hrobuchak's family. While borders are still open, the shipment will only make it to Europe. His family will have to drive more than 14 hours to reach the supplies being shipped.
Hrobuchak and Farlow said once there are enough donations, the supplies will be flown to Germany where folks will be able to pick up the items and take them with them to Ukraine to help others and possibly save lives.
Hrobuchak said Iron Sharpens Iron — 10134 N. Main St. in Archdale, N.C. — is still accepting donations of protein bars, first aid supplies, bandages, medical gloves, baby formula, toiletries and more.