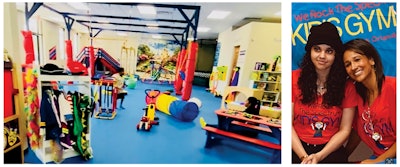 [Photos courtesy of Andrea Beasley]
It's only been a couple of months since she opened the We Rock the Spectrum gym in Kissimmee, Fla., but Andrea Beasley says it happens "all the time" that she sees a version of her younger self and her daughter walk through the doors.
"That happens a lot, actually," Beasley says. "Even when they call — they are crying — they say, 'I just can't believe that this is here. I'm just so moved that somebody went out of their way to do that.' That relates to me, because when your child is struggling, and you're trying to find help for them — and fun for them at the same time — it's very hard to watch them struggle. And if somebody else is there who's partnering with you on it, it's just a relieving feeling. I would have been over the moon if I had found it."
For years, Beasley had been searching for a place where she could feel comfortable bringing her daughter, Mia, who has sensory processing disorder, for therapeutic activity, as well as a place to belong socially. Mia was born in 2004, and it took years for her to be diagnosed with SPD. Beasley never found a place to bring Mia, but she had a vision in 2015 for a facility that could meet the need she saw in the industry for a sensory-minded, therapeutic play space to help children with their developmental growth.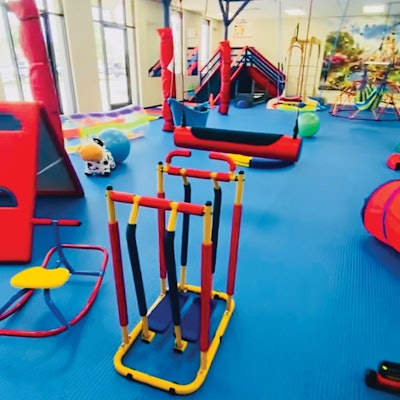 "I was burning to do it because, I mean, this was crazy: There's nowhere for kids who are in this boat to go and socialize," Beasley says. "Having a positive, nurturing environment where you feel like you can put your guard down and be yourself and be encouraged — it helps you be more confident. I feel like all the environments that she found herself in, it was more negative, and the responses she received weren't positive. And she took a huge hit on her self-esteem."
Beasley said it took several more years before, in 2020, things started to fall into place with the We Rock the Spectrum gym franchise. Beasley had already shifted from the corporate world to putting in part-time hours doing administrative work for a religious-based nonprofit. She said despite some doubts, she and her husband took the leap. Pouring their energy and resources into the gym was difficult, let alone doing so during the global pandemic that had complicated — and shuttered — other fitness businesses requiring in-person attendance.
"I'm like, 'The door hasn't opened all these years, and now it's opening? Why would we want to do that?' But I felt like the kids needed it more than ever," she explains. "With all the challenges and fears I had doing it, what helped me move past those was thinking about the kids like Mia who really, you know, are wanting something like this, and needing something like this."
The unique gym experience and built-in modeling helped Beasley decide to franchise We Rock the Spectrum, in part because it's a place for all — that is, children with autism, special needs and neurotypical development. The concept — with more than 100 gyms across 25 U.S. states, and in eight countries worldwide, according to the franchise — uses play-based therapy that engages any of the seven senses in a positive environment.
"We have specialized equipment that is all to develop the different sensory systems," Beasley says. "So neurologically, they think they're playing. There's no agenda, which is what they love. This is therapy, but it's not organized where they're being told what they can and cannot do."
For example, there are many climbing structures at her gym that help develop the proprioceptive system, which involves the joints and creates body awareness. Beasley says some children are seeking to get a lot of physical input, so her facility includes a lot of opportunities to crash into stuff — safely.
Beasley's daughter is 17 now, heading into adulthood, and the gym she inspired her mom to create is maturing, too. The facility's grand opening was in early January 2022, and Andrea Beasley says things are going well so far. Even though it isn't Mia rushing through the gym doors to the swings, learning to take turns, crashing around and laughing, she still feels a joy in it.
"That was what we wanted for my daughter — to continue to be carefree and fun-loving and just be yourself," Beasley says. "We embrace that."