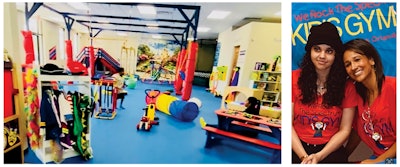 [Photos courtesy of Andrea Beasley]
It's only been a couple of months since she opened the We Rock the Spectrum gym in Kissimmee, Fla., but Andrea Beasley says it happens "all the time" that she sees a version of her younger self and her daughter walk through the doors.
"That happens a lot, actually," Beasley says. "Even when they call — they are crying — they say, 'I just can't believe that this is here. I'm just so moved that somebody went out of their way to do that.' That relates to me, because when your child is struggling, and you're trying to find help for them — and fun for them at the same time — it's very hard to watch them struggle. And if somebody else is there who's partnering with you on it, it's just a relieving feeling. I would have been over the moon if I had found it."
For years, Beasley had been searching for a place where she could feel comfortable bringing her daughter, Mia, who has sensory processing disorder, for therapeutic activity, as well as a place to belong socially. Mia was born in 2004, and it took years for her to be diagnosed with SPD. Beasley never found a place to bring Mia, but she had a vision in 2015 for a facility that could meet the need she saw in the industry for a sensory-minded, therapeutic play space to help children with their developmental growth.
Log in to view the full article