Check out the newest products as seen in the May 2022 issue.

CryoBuilt
The EVEREST by CryoBuilt offers the most innovative, efficient and customizable cryotherapy and recovery experience. Members can set their intensity level, choose their ambient light color and rock out to their choice of music. CryoBuilt is the leading manufacturer of whole-body electric cryotherapy chambers and is trusted by UFC, NFL, NBA, NHL, MLS and NCAA athletes. CryoBuilt is also the top choice for leading health and wellness franchises across the country, providing pro-level cryo recovery to millions of everyday people seeking relief from aches and pains, muscle recovery, better sleep and many more benefits once only available to celebrities and pro athletes. CryoBuilt is privately owned and headquartered in Sacramento, Calif., with products manufactured in the USA.
cryobuilt.com | sales@cryobuilt.com | (800) 633-1400
BCI Burke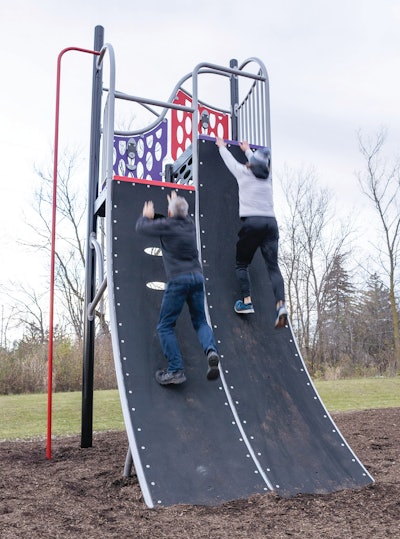 The Burke ELEVATE® Fitness Course is an obstacle course designed to bring exercise outdoors for more adventure, movement and ninja-style training for everyone. The Victory Wall is the latest addition to ELEVATE and brings challenge, excitement and a whole new level of fun to the course. The Victory Wall begs to be conquered, and as a reward, users can ring the bell before sliding down the pole to officially complete their exercise mission. As with all ELEVATE Fitness Course Events, the Victory Wall has three different levels and offers a way for everyone from fitness beginners to fitness veterans to "conquer the wall."
www.bciburke.com/victory | marketing@bciburke.com | (800) 266-1250
Covermaster Inc.
The new TARPMATE AIR ROLLER™ from COVERMASTER® reduces the manpower needed to roll sports field covers on and off the playing surface. Where normally six people were required for traditional plastic or steel tarp rollers, two to three people can now do the job with TARPMATE AIR™. In addition, once the covers are rolled onto the TARPMATE AIR, it can be deflated, rolled up, and stacked and stored on pallets, greatly reducing storage requirements. When ready to deploy for the next application, users simply unroll the TARPMATE AIR, inflate it and roll out the cover. TARPMATE AIR prompted the Sports Field Management Association to recently name COVERMASTER as one of three recipients of SFMA's 2022 Innovation Awards.
www.covermaster.com/TarpMate-Air | info@covermaster.com | (800) 387-5808