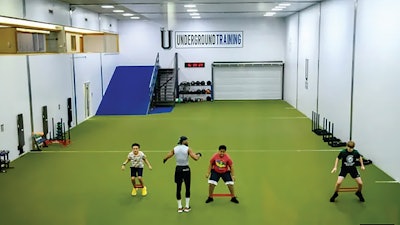 "This is relatable. I'm a regular person," says Ishmael Hicks, a trainer who was raised in Peoria, Ill., and now operates his own fitness and training space, called the Underground Training Center, within a facility in the city. "I'm not 'X' professional, or no outstanding college superstar that came back with a big name and wanted to start a training facility, or come from a family with money, or a community that endorsed me with money. I'm just a regular person who started off with his daughter training in parks and in my garage."
Hicks cut the ribbon in May on his new physical location within the Landmark Recreation Center, taking over some old sport courts and remodeling the space to fit his concept, which started humbly — above ground and outdoors — with Hicks and his young daughter named Seven. He had no training or coaching experience at the time. He says he was just a dad working with his kid in a park, and parents took notice, eventually asking him if their kids could join in.
"I said, 'Well, really, I'm just out here working with her,' and they decided to come on. They joined in," Hicks says. He worked with a small group of kids outdoors that summer, and the next summer, Seven's middle school friends joined in, too. That fed into an idea that Hicks started with his uncle — One Motion — a Central Illinois not-for-profit youth organization emphasizing track and field and cross country. One Motion started with about six athletes and has grown to support nearly 100, Hicks says. He eventually earned certification for track and field coaching from USA Track & Field. He also got certified for personal training, adult fitness classes, adult boot camp classes, and more in order to expand.
Log in to view the full article