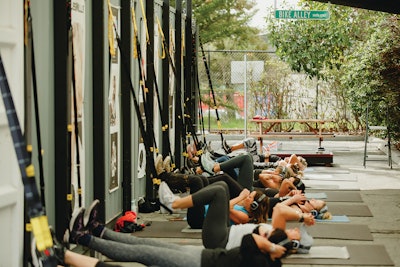 Natalia Espana was a full-time ER tech who guided group fitness classes in her spare time. Then the pandemic hit, and even though she viewed fitness as a passionate hobby that paid, the shutdown of the corporate health clubs where she had been teaching left Espana, and a lot of her fellow fitness instructors, in a state of limbo. From that uncertainty came the spark of an idea. Could enough regular class-goers be convinced to follow their favorite instructors outdoors in the interest of spacing and safety — even at the height of California's COVID restrictions?
"When we set up a business plan, we were estimating maybe 20 classes a week — a couple in the morning, a couple midday, maybe a couple in the evening. But the response, the demand for outdoor fitness, has just blown us away," says Espana, who launched GOAT Santa Cruz with her husband in August 2020. "Having more than 60 classes a week has exceeded our expectations by a lot. I mean, it's amazing. It's crazy. We're still like, 'Wait. What?' "
GOAT — it stands for group open-air training — occupies a 20,000-square-foot parking lot bordered by train tracks, warehouse roads and open fields. (There's a bakery within sniffing distance, too.) Equipment ranging from 12 TRX straps to 16 stationary bikes are stored along with mats, benches and weights in two onsite shipping containers that sit back to back. A 40-by-60-foot tent provides shade for up to 24 exercisers spaced six feet apart, and those who seek greater spacing, or sunshine, are encouraged to branch out onto the open asphalt.
There are microphones and speakers, and newly acquired technology — Sound Off Experience™, a so-called silent disco system linking microphones and music directly to exerciser-worn headphones — allows GOAT to conduct a class with little disturbance to the surrounding neighborhood or even to another concurrently held class.
"So, shipping containers, a tent and a big asphalt lot is what GOAT is, and it works great. It works wonderfully," Espana says. "And we still have tons of parking, which is helpful."
As if this concept wasn't California enough, the entire enterprise is powered by Espana's early model electric vehicle.
"The biggest roadblock — something that my husband and I were like, 'Oh gosh, how are we gonna overcome this?' — is the fact it's just a parking lot. There's absolutely no power," says Espana, noting that solar panels and battery storage proved prohibitively expensive, at least for now. "The light bulb turned on and we realized, well, we have an old Nissan Leaf that we just use around town. It's literally a battery on wheels. We installed the inverter on it, and the Nissan Leaf runs the business. It's pretty low power as far as what we need — just some lights and speakers. But it runs the business for four or five days, we drive it home, we charge it one night, drive it back to work, and it's there for another five or six days. That's great. And we have solar panels on our home, so that's even better. We're like, 'Cool!' We're completely off the grid as far as the business goes."
Off the grid, perhaps, but not off the fitness industry's radar. GOAT Santa Cruz has been featured on the podcast of software provider Punch Pass. Says Espana, "They were like, 'You know, we serve group studios all over the world, and you guys are incredibly unique.' "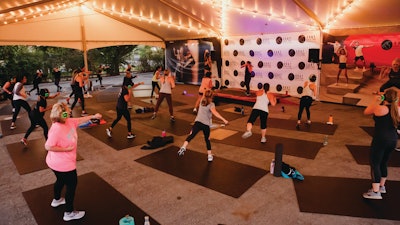 Inclusivity and campus community
With Santa Cruz providing a temperate climate with little threat of severe weather, GOAT is perfectly situated to serve as a pioneer among private fitness entities, but the concept of activating outdoor space is gaining a foothold among collegiate recreation departments. Facilities are now being designed with rooftop fitness zones, open-air balconies accommodating functional strength-training activity, and running tracks that snake from interior to exterior and back again.
Louisiana State University opened a 2,500-square-foot outdoor fitness area in January, but the idea for such a space came to Laurie Braden, executive director of LSU University Recreation, at least half a dozen years ago — well before the pandemic and even before the 2017 renovation of her school's recreation center, called UREC. The pandemic slowed implementation, but LSU invested roughly $350,000 in the phased installation of a slab and rubber flooring surface, sail shades, and a storage container similar to the one used by GOAT Santa Cruz.
"It's a repurposed shipping container — heavy-gauge metal," Braden says. "You open it up, and inside we have battle ropes, jump ropes, kettle bells, plyo boxes, sandbags and medicine balls. You can store everything in there, so when we do interval conditioning classes, it's a lot of kettlebell work, jump rope work, battle rope work."
Braden consulted with Atlanta-based provider PLAE from the beginning, but she had a distinct vision for what she wanted her shipping container to accommodate and accomplish. "Now, in any of these outdoor fitness lockers, you can put squat racks and weights and things like that," she says. "Out there, you can attach four C-cans [shipping containers] to each other. You can do all kinds of really cool stuff. We just have one can. We didn't put all the weights out there because we want this to be a space that all bodies — regardless of their shape, regardless of their fitness conditioning — feel included. People who want to work out outside can do those high-intensity workouts in a group setting. It's about building community."
When asked what it is about being outside, Braden speaks for herself when she says, "I like to work out. I'll work out anywhere. But I really like to work out outside when it's hot. I love to sweat. The sweatier and nastier I am after a summer workout, the more I beat my 57-year-old self on the chest. It seems like I'm the beast. I feel good about that. And, so, I just personally thought that the concept was really cool. I could just see it being a thing."
The outdoor space is located near the outdoor pool and sand volleyball courts in what Braden calls the UREC Backyard. The fitness floor is fenced in and accessible only from the UREC building itself. Once in the space, students will find two sets of monkey bars, a slam wall and a fingerboard used by climbing enthusiasts. "Again, when we think about inclusivity, this isn't just for fitness folks," Braden says. "This could be for folks who are really into climbing and need to do finger and hand strengthening."
Inclusivity is key in the class setting, as well. "If we all go sweat in a HIIT class together, I can be a basketball player and an athlete, and the person next to me could be an overweight 19-year-old who has decided to pursue better health and wellbeing through physical activity. We sweat together. We grunt together. We cheer each other on. It's not about beating the person next to you. It's about being the best version of you that you can be."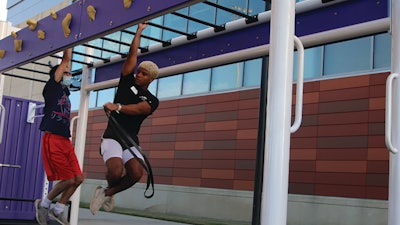 Outdoor outreach
For Espana, working out outdoors provides a variety of benefits. "It really connects you with your breathing and the visual stimuli," she says. "There are trees and birds. There's blue sky. Even though you're under a tent, there's just such a different experience than being within walls. There are people who work in front of a computer eight, nine hours a day, and they don't find it appealing to then go inside some more and work out under fluorescent lights. Here, they can work out in the sun if they want to, or in the shade, but some people will choose to get their vitamin D for the 45 minutes that they're working out, and they just absolutely love it."
And there are individuals who are just now embracing exercise for the sole reason that it's being conducted outdoors, according to Espana. "There are people who would never go to a conventional gym, and they've found us," she says. "They're like, 'Wow, I would actually really enjoy the group training, but I never want to go into a gym.' So, this is perfect — the best of both worlds. We've tapped into demographics who are just not gym-goers, but they want the workout, so it's been quite an interesting mix of people. They found us, have really latched onto what we offer, and they enjoy it."
Moreover, they are able to enjoy working out in relative safety — the idea that launched GOAT Santa Cruz in the first place. "You're not breathing anybody else's air," Espana says. "Even at the peak of the pandemic, you could remove your mask and work out in your space. At the peak of all restrictions, you were still able to come and work out unmasked, which I think is important if you're doing pretty high-intensity exercise — to be able to breathe freely."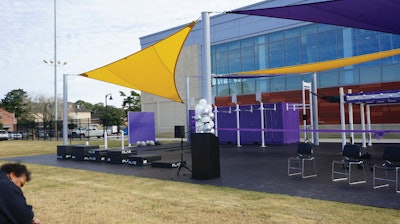 The unanticipated success of GOAT has hardly allowed Espana to catch her own breath. Her ER work is now limited to a few shifts per month. "GOAT is literally 24/7 for me," she says. "I manage everything. I'm on site, I'm teaching a bunch of classes, and I love it. I kind of just keep my foot in the door in the medical field because I also do enjoy that aspect of it. It actually makes my work at GOAT so much more rewarding, because in the ER, it's like, 'Oh, my gosh, a lot of this could have been prevented.' Lifestyle. Chronic disease that just gets acute. When I'm at GOAT, I'm like, 'Yes. You guys are doing the right thing. Just keep doing it.' "
Meanwhile, synergies on the LSU campus will likely inform future use of UREC's outdoor fitness space. "The other thing we want to use that space for, which is really unique, is we want to start collaborating with our college of music," Braden says. "We could do Battle of the Bands. We can do a Pops in the Park with our college of music and some of the wind ensembles at LSU. That's why we have the floor space and the sail shade, and we have power out there so that we can do multiple things in that space.
"Physical activity helps learning so much. There's no question about that. We're not just a place where you come and sweat. Our mission is about helping students be better learners in the classroom, so anything that I can do to find ways to connect us to the academic arms of the institution are absolutely important."
Whether in use for workouts or special events, the outdoor space conceived of several years ago is just beginning to inspire ideas as to its potential.
"We're going to experiment," says Braden. "We're so young as to how we program that space. I can't say that how we programmed it this spring will be how we'll program it next fall. You know, that's where student input comes in. That's when students come to us and say, 'Hey, what about this?' Or we have a staff member that sees something that's happening out in the industry and thinks, 'Hey, we could do that.' And then we make the modification. 'Let's try it!' "