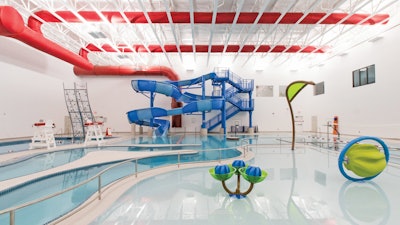 Photo courtesy of Hawk Community Center
"In our aquatic center, it's kind of like the showpiece of the facility," says Jimmy Vayis, "It's a 'wow' factor when you walk in there."
It — the arch-framed AquaZip'N and the towering AquaClimb installations from Poolside Adventures — are popular at the year-old Hawk Community Center, a transformed high-school-to-recreation-center in Farmington Hills, Mich.
"Those two sit across from each other and definitely see a lot of action," Vayis says. "They've been pretty cool pieces that the kids absolutely love."
Aquatic operations that have cool, beloved pieces get more action. Working to entice today's teen and tween brethren, as well as to draw a paying crowd, aquatic centers are able to offer new thrills beyond diving boards and slides (which, to be fair, are holding cool in their own right).
"We hear day in and day out from park operators of all types, whether municipal or private, the same things over and over: It's very hard to find staff, and it's hard to engage with teens and tweens," says Jen Gerber, business development leader for aquatic planning, design and engineering firm Water Technology Inc. "We're always looking at ways to find something that's new and exciting for that age group to keep them there. While families are at a facility with their younger kiddos, we're trying to find nice, interesting ways to engage older demographics."
A place for adrenaline
Gerber, who has been a key part of Water Technologies public sector projects and marketing since 2013, says an aquatic center with a unique element can draw attention. "One of the things that's incredibly appealing about NinjaCross is that it is so unusual, you just don't see it everywhere," Gerber says. "It's kind of a high-thrill or an adrenaline factor. When we design a facility, we're always looking to include certain elements: there needs to be space for recreation and wellness and leisure and therapy. But there also needs to be a place for adrenaline. Sometimes, that's your big slides. This is just another really interesting answer to the adrenaline question."
At the University of South Dakota Wellness Center in Vermillion, an in-progress $25 million facility expansion is set to add a 50-meter competition pool, a second pool for wellness and recreation activities, a hot tub, a steam room, restrooms and locker rooms. A thrilling addition is the retractable NinjaCross obstacle course, which can be installed indoors or out. Steve Mayer, the director at USD's rec center, says the new piece will be inside above the competition pool, and can retract in about a minute to clear the space for other uses.
Mayer says pool planners knew they wanted to have a special amenity, but it wasn't until one of his team members stumbled upon a fitness apparatus in an advertisement that they could put what they were looking for into words.
"We weren't really sure exactly what we had in mind, we just wanted to maybe do something different and unique," Mayer says. "We saw something that we were intrigued about — some kind of fitness competition or fitness piece. And then, actually, our president of the school here signed off on adding it to our budget."
The NinjaCross is designed to engage members and offer competition and strength training. The colorful course resembles those seen on NBC's reality sports competition show "American Ninja Warrior." Mayer says the center is planning to use its NinjaCross system for a mix of competition, recreation and fitness, once it's ready.
"We plan on having some kind of fitness class around that, with the different apparatuses, where people would rotate from one piece to the other, kind of like a circuit training," Mayer explains. "We also want to use the intramural part of NinjaCross — the competition part, where you would put two people on one side of the pool and they race across the apparatuses. There's a clock, and instead of running through a finish line, you hit the pad with your hand."
Crews are expected to start work on the pools in August, with a goal of opening in summer 2024, Mayer says.
Zipline meets rope
The newly renamed Poolside Adventures (previously AquaClimb, established in 2002) is offering a new way to hit the water besides diving board or slide — skimming in on a zipline rope via its AquaZip'N. Mounted poolside, the curved structure hangs over the pool, where the swimmer takes a knotted rope, swings in from the pool deck and releases the rope, which self-retracts into place again.
The sprawling 245,000-square-foot Hawk Community Center in Farmington Hills situates its AquaZip'N, as well as an AquaClimb wall, over a dedicated deep well in the aquatic center adjacent to the leisure pool.
"We really wanted to be more of an aquatics destination-type pool," Vayis says. The Hawk includes a leisure pool with two lap lanes, a zero-depth entry, a spray feature for kids, a lazy river and a large waterslide. "They see all this packed into our aquatic center and it's like, 'Wow, this is pretty cool to see,' " Vayis says. "They always ask, 'Hey, what are those over there? Is that really a rock wall? What's that other feature?' And we're like, 'Oh, that's our zip line.' We've received a lot of positive feedback."
Poolside Adventures offers three versions of its climbing wall, which mingles the sport of climbing with water. The walls, made of polycarbonate panels that can be customized for height and width, jut up from the poolside in a sleek, modular-looking design.
Before USD began its reconstruction of the Wellness Center, there were no nearby climbing wall facilities or options. Of the climbing over water concept, Mayer says, "Obviously, it's something different, but it makes you work."
Spectrum Aquatics, with five decades of experience designing and manufacturing pool products, has crafted its own wall, the Kerplash, which can range from 8 feet up to 16 feet in clear or translucent blue or green panels. The piece becomes extra showy with a custom look by arranging the panels in fun patterns, such as checkerboard or alternating columns, as well as monocolor looks, according to the company.
Other options
Another way to liven up your space is to make it more flexible. S.R.Smith manufactures swim walls that go beyond the typical floating divider rope to separate space temporarily, including underwater. Kelle Snyder, commercial marketing manager at S.R.Smith, says the University of Bath in the United Kingdom installed the wall in its pool to provide for both leisure and athletic needs. "They put one in because of their swim team. It allows them to get use out of that rec center at the university for swim activities related to aqua aerobics, and then also have the swim team be able to use it," Snyder says.
S.R.Smith also offers a basketball hoop that installs with a sturdy stainless-steel frame, which is coated to slow corrosion, Snyder explains. "It is designed to be installed in what we call a rock-solid anchor, so it's a system that keeps it super stable. I mean, boys hang on basketball hoops: That's what they do. So, this is one of those things that's designed to withstand even some serious play."
Games such as basketball also keep swimmers in the pool because they encourage more time in the water alone or in teams. Spectrum Aquatics' Jamma! and Slamma! basketball hoops — made of stainless steel and available up to 10 feet high — can also be mounted directly to the deck, or to concrete pylons, walls or other certain fixtures as needed.

Many operations are looking for a way to add a draw that inspires return visitors. At the Hawk, the AquaZip'N that's been in place for a year has inspired Vayis to think in a less-expected way: "The weight limit, it's actually 200. So, I'm trying to stay under that so I can ride it once in a while."