Central Penn College leaders, community partners, student-athletes and other supporters cut the ribbon recently on the newly expanded and refurbished Greenly Fitness Center in the Central Penn College Underground in Summerdale, Penn.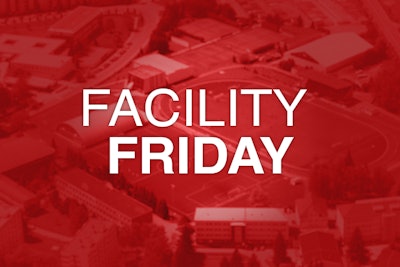 Thanks to the generosity of Central Penn College board member Duane Greenly of Mechanicsburg, his wife Sue, and their charitable foundation, the new fitness center has grown in square footage by almost 50 percent, according to a release.
With varsity athletics in baseball, basketball, soccer, volleyball, esports and cheer, and with cross country and track on the drawing board for 2023, college President Linda Fedrizzi-Williams predicted that the fitness center will be even more heavily used than it has been since its debut in 2014.
Newly added to the fitness center are two new Legend squat racks, Legend benches, treadmills, a recumbent bike, and a rower, along with kettle bells, slam balls, and resistance bands, according to the release. — PennLive.com
---
Following its launch of the Playbook for Success and Athletics Master Village in April, Boise State Athletics is releasing updated details for the north end zone of Albertsons Stadium and renovations to ExtraMile Arena, director of athletics Jeramiah Dickey announced Thursday.
The update also includes the department's initial project-based cost analysis for the Athletics Master Village, totaling more than $300 million in future projects, highlighted by $129.4 million in plans for Albertsons Stadium. Boise State partnered with AECOM's sports practice — the industry's only fully-integrated sports consultancy — in August 2021, and has worked hand in hand with the firm to identify recommendations for facility improvements and additions since. The latest details are a result of the continued collaboration.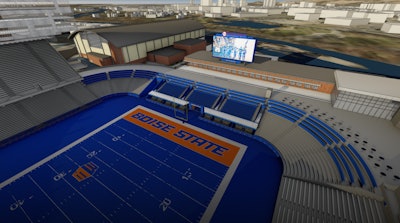 "Since our initial unveiling in April, we have had the opportunity to further define details with key projects which includes a much better understanding of total cost," Dickey said. "While unprecedented and bold, we are unwavering in our vision to create elite facilities and experiences for our student-athletes and Bronco Nation. Our aggressive fundraising strategy is already well underway and we aim to announce progress by the end of this year."
In the north end zone of Albertsons Stadium, the $36.1 million vision for a state-of-the-art facility to be constructed at field level will support an enhanced premium club experience on game day and a year-round dining program for student-athletes. Complete with 10 field-level suites, loge seating, and premium club seating, the north end zone amenities will resemble a commitment to excellence while completing a 360-degree concourse for fans. In total, Albertsons Stadium projects are currently estimated at $129.4 million.
ExtraMile Arena updates include expanding the performance and training capabilities for men's and women's basketball, as well as adding premium game day experience opportunities for fans. An expansion of the Arguinchona Basketball Complex will add coaches' offices and a state-of-the-art weight room alongside the existing practice gym. The $19.4 million project will bring accommodations for two premium club spaces, a dedicated premium entrance and enhanced mezzanine, loge, and club seating.
Boise State Athletics has received $1.25 million in commitments to date in support of the men's and women's basketball performance center expansion in the Arguinchona Basketball Complex.
The recommendation for an Athletics Master Village was introduced to include implementation from all four elements of the department's What's Next Initiative - infrastructure, student-athlete experience, marketability and revenue generation. — BroncoSports.com
---
Covington Catholic High School is opening a new athletic facility thanks to a generous donation from the Cincinnati Bengals.
The Kentucky high school applied for a grant through the National Football League Foundation Grassroots Program to complete renovations for Fieldhouse, a new indoor athletic facility.
The Bengals and the foundation partnered to donate $167,000 to the school, which matched the grant. The total cost of the renovation for Fieldhouse was $330,000.
The two-level facility includes a 2,200-square-foot upstairs weight room, and a 9,000-square-foot downstairs with almost 45 yards of artificial turf space.
Covington Catholic will host a ribbon-cutting ceremony to officially open the facility at 11 a.m. Aug. 5.
"This facility will unlock opportunities not only for Covington Catholic athletes, but our entire student body, as well as our youth programs, like our youth football league," principal Bob Rowe told The Enquirer.
"We are grateful to the Bengals organization and Alexandra Simmons and other donors who made this Fieldhouse a reality. It'll continue to impact the lives of our youth for years to come." — Cincinnati.com