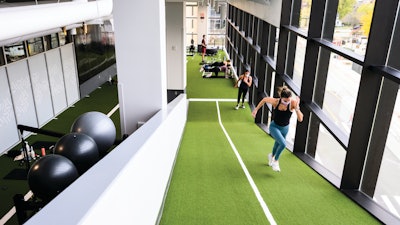 Photo of Nicholas Recreation Center, courtesy of University of Wisconsin
It has muscled its way into the mainstream and demanded space for battle ropes, plyo boxes, slam walls and suspension rigs. Functional fitness training is a relatively recent trend that's showing no sign of weakening.
"You know, 10 years ago, 15 years ago, we weren't even programming functional training spaces in our recreation centers. They didn't exist," says Erik Kocher, an architect at Hastings+Chivetta. "You had the classic weight room with selectorized equipment, free weights and cardio equipment. And then usually a stretching space. It's also a little bit of a crossover to what varsity athletic programs, and particularly football programs, were already doing, which was training with sleds. They were kind of the beginnings of functional training spaces."
Colleen McKenna, an architect at CannonDesign, says she's also seen the fitness center evolve dramatically over the past decade or longer, especially in terms of how space is allocated. "You still have the core of it, but there's just a lot more happening and a lot more diversity in the offerings," McKenna says. "What used to be basically three zones: you had your heavy lifting; your strength, smaller muscle groups; and then you had cardio. And they were basically 30 percent each, and 10 percent for stretching. And what we've seen happen is those three spaces are now 10 spaces. Now there are areas for functional training, which might be indoor turf, might be bodyweight exercises, might be small group training opportunities, could be incline training, it could be personal training with a small area associated with that."
Here's a look at some of the latest functional fitness spaces accommodated by state-of-the-art athletics and recreation facilities from across the country.