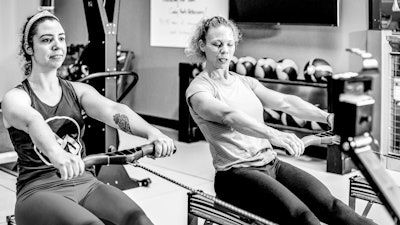 Photo by Marcy Kreitz and courtesy of Green Mountain Community Fitness
When Green Mountain CrossFit became Green Mountain Community Fitness in January 2020, the Berlin, Vt., facility expanded from 10,000 to 57,000 square feet — allowing owners Nick Petterssen and his wife, Cady Hart-Petterssen, to widen the breadth of programs and services they offer, as well as diversify their membership.
But at least one thing didn't change: The facility's reliance on fitness equipment that allows for increased flexibility in group exercise rooms and on the workout floor.
"When you're trying to accommodate group classes, you want to add variety to the workouts that you provide," says Hart-Petterssen, who also is the head training advisor for Concept2, a Vermont-based cardio fitness company that knows a thing or two about the value of flexible equipment. "Not all of those workouts are going to have all of the same movements, so the ability to swap equipment in and out, and have the room set up to provide new and exciting workouts, is huge. Plus, that equipment is an investment you've made, and you want to be able to maximize that investment."
Concept2 helped pioneer the indoor rower and went on to complement the RowErg with its SkiErg and BikeErg — all pieces equipped with castor wheels for easy one-person maneuverability. And more than four decades later, facility operators are still embracing the equipment's flexible nature, finding fresh ways to leverage it and offering dynamic programming that provides both aerobic and anaerobic training.
Meanwhile, FITBENCH is a Wisconsin-based newcomer to the industry that claims to have invented the category of safe and space-saving fitness solutions. The all-in-one bench, which found its footing in the boutique fitness segment, is designed to help users maintain high-intensity interval training (HIIT) workout variety while facilitating quick exercise transitions and utilizing a small footprint. The benches have wheels or locking/unlocking feet for easy mobility, and they come with a combination of accessories such as dumbbells, kettlebells, a slam ball, resistance bands and a foam roller. A single bench can be used by up to five people at the same time.
"We saw some big club customers start creating their own boutique-style programming, and they were bringing it in-house and building their own dedicated studio spaces," says Julio Marshall, director of sales and marketing for FITBENCH. "The core of our philosophy is convenience, safety and accessibility. Those three things aren't sexy. But we know, coming from the boutique world, how important all of that is."
Whether it's with time-proven equipment or using newly developed solutions, doing more with less is a top priority for facility operators strapped for space.
"When we talk to facility operators about what their strongest needs are, they tell us, 'We have to activate underutilized spaces, we have to become more efficient in our spaces, we have to provide more equipment to a wider range of users,'" Marshall says. "And that includes personal trainers by giving the staff access to more equipment, creating workout pods and individual workout zones, looking at personal training and small group training, asking how you can utilize this product to supplement existing spaces, programs and services."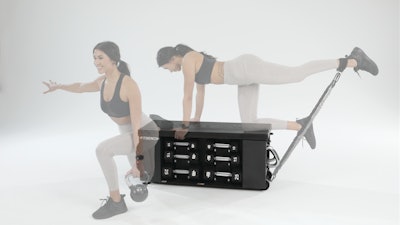 Rearranging equipment
While several factors are driving increased interest in flexible fitness equipment, Tracy Desrocher, who oversees commercial and government sales for Concept2, believes COVID-19 also played a role.
"I think people are gravitating toward a group programming mindset again, because a lot of working out — especially coming out of the pandemic — is about community," she says. "It's about working out with other people."
And doing more of that may require rearranging equipment in a group fitness studio. The easier it is to make that switch, and the faster it can be made, the more inviting such programming will be to participants.
Even though it happened years ago, Desrocher still vividly recalls participating in a group fitness class at a Club One in California using Concept2 rowing equipment. At the end of the session, the instructor and participants broke down the pieces they were using and helped prepare the space for another group.
"The instructor just clapped his hands, and everyone put everything away," she says. "That room was cleared out and ready for the next class within five minutes. Everyone just rolled their equipment to a designated space. They knew how to efficiently remove the monorail from the flywheel, and the club had a special hanging system that took up as little room as possible. I was amazed."
That kind of reliance on members to prepare the space for another program or class only accentuates the relevance and effectiveness of flexible and functional equipment. Additionally, Desrocher believes facility members better understand the overall value of Concept2's equipment, which allows them to get more out of that equipment.
"People knew about our machines before, but now they are used in a much more varied way than they ever have been," Desrocher says.
As proof of the equipment's flexibility, Concept2's Model D RowErg is now an option for military personnel to meet the physical fitness testing protocols for all branches. According to the company, the U.S. Marine Corps allows Marines to replace the three-mile running portion of its Physical Fitness Test with a 5,000-meter row, for example, while the U.S. Navy Physical Readiness Testing allows a 2,000-meter row in place of the 1.5-mile run. Air Force job-specific testing rolled out in 2018 includes a 1,000-meter row in its Tier II fitness assessment, and the Army Combat Fitness test includes a 5,000-meter row and a 12,000-meter ride on a stationary bike as alternatives to the two-mile run.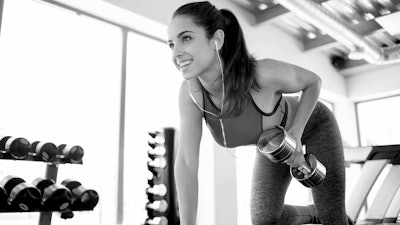 'Reactivate' your space
FITBENCH — which debuted in 2016 and has doubled the size of its product line in the past two years — is increasingly fitting in wherever there's a need to do more with less. While some facilities keep their units locked in personal training studios accessible only by designated users, others have taken stretching spaces previously occupied by yoga mats and stability balls and repurposed those areas with FITBENCH units located off to the side of traditional strength and cardiovascular training machines. That way, they can be used by both groups and individuals.
"Personal trainers don't want to always have to compete with general members for equipment. So it's good to have something that's set aside, that is unique and different," Marshall says, suggesting that facility operators seek out underutilized spaces. "All those little pockets of dead space aren't big enough to really fully equip. But if you can put a piece like FITBENCH in there, it totally reactivates that space."
Curiosity alone might even be enough to generate interest in using FITBENCH. That's been the case at industry trade shows, where some attendees don't initially grasp the concept, according to Marshall.
"We still get asked, 'Where do I put this and how do I use it?' " he says. "It's funny that we have to answer that question, because we think it's all the stuff you've been using forever. Some people think they need a whole row of dumbbells, a whole row of kettlebells, a whole row of [medicine] balls. You can slim that down and still build out programing for the deconditioned, the beginner, the intermediate and the advanced. It's really about expanding your services. Where can you complement some spaces, and where can you redesign or build out new spaces?"
"When you're building out your gym, you've got to fit as much in there as possible to accommodate every demographic, and that requires more equipment," Desrocher adds. "But that doesn't mean facility operators have to buy more. They just need to buy smart."
Hart-Petterssen agrees.
"Growing up as a business, we initially said, 'We are teaching CrossFit, so we have one kind of people coming in. We are attracting people who want to do CrossFit,'" she says. "Now we have a lot more space, and we are able to diversify what we offer."
That diversity includes classes without barbells — "Not everyone is comfortable handling a barbell," according to Hart-Petterssen — and classes that include a circuit involving Concept2's RowErg, SkiErg and BikeErg.
Whether it's with Concept2 pieces, a FITBENCH or other equipment that allows for greater flexibility among facility users, personal trainers and facility operators, the ability to provide more programming opportunities can lead to happier and more engaged members.
Hart-Petterssen likes to tell the story of a longtime local "gym hopper" who would take advantage of free one-month memberships and then easily get bored and quit. Then she signed up at Green Mountain CrossFit.
"What was really helpful to her is the idea that she could come to our facility, get introduced to a new style of exercise, and then we could guide her through what she needed to do," Hart-Petterssen says of the former gym hopper, who has remained a Green Mountain member for six years running. "There isn't that hurdle for her any longer about coming up with what to do. With our equipment, there is always something interesting, something different. She wasn't getting bored. We can pull out whatever equipment we need to provide a new, unique, fun and diverse workout every day."