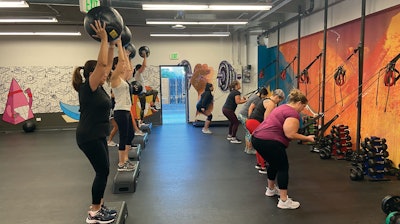 Erica Valenzuela knows what it's like to have a dream disappear. Thirteen years ago, she woke up from a six-week coma after suffering a life-threatening case of pneumonia, complicated by a disease she was born with — sickle cell. "I was a full-ride basketball scholarship player headed for Kansas, and unfortunately, I could not play," Valenzuela says. "This was basically my second chance at going to play basketball [and] finish up my credits. And I guess the universe had other plans for me."
The collegiate basketball dream passed by as Valenzuela, 23 and a single mother, took months to recover in Colorado. Her doctors told her fitness was likely a factor in surviving the pneumonia bout, and she began working at fitness clubs and then became a personal trainer after a manager pushed her toward it. Once she was training clients every day and turning people away from her packed group X classes, she set out to open her own studio. She created a gym shed in her yard ("Instead of a 'she shed,' it's a gym shed," Valenzuela explains), brought her clients there and had a lot of fun training. But she got to a point where she needed more. And she never forgot her own struggles, or the struggles her clients shared with her over the years.
"I've been inspired a lot by my clients, their walks of life, and mine as well," Valenzuela says. "There was something calling me."
She visited a rage room — a business that charges a fee for customers to unleash rage by destroying everyday objects, furniture, walls, etc. — in Colorado Springs. "I had a dream one night and it was my entire concept of E-motion," Valenzuela says. "I woke up and I wrote it all down."
Break Sh*t, Work It Out, Chill
Valenzuela's E-motion Fitness, which opened in 2020 in Westminster, Colo., offers personal training, a workout space and the E-motion Experience. Step one of three, as noted on the website, is to "break sh*t." E-motion Experience customers book ahead of time and arrive to a set of breakables — bottles with paint inside — to let loose on destroying in a room created just for bottle smashing.
"We need a safe space to be heard and get this stuff off of our chest. So, I thought of this cathartic release: What if we broke bottles?" Valenzuela says. "Because in rage rooms, you get old TVs or the old fax machines, and you get to smash the crap out of them. I got more of a high from breaking glass. Then, if we put paint in them, you can actually see that emotion splatter across the wall. There's that part, too, which is like, 'Oh my gosh, that felt so good.' And 'Am I supposed to be doing this?' And on that second throw, you're like, 'Hell yeah!' "
After breaking glass and getting charged up with adrenaline, E-motion clients head into a 45-minute trainer-led workout. "You're having fun, adrenaline's pumping and you're shaking," Valenzuela says. "I don't want people to just get back in their car after that. I've left rage rooms before, thinking like, 'Alright, now what? I feel like I'm gonna go flip a car!' "
She says the workout is the perfect place to turn the adrenaline into pain-blocking, euphoria-making endorphins. The third and last step is to relax, and the room at E-motion crafted especially for chilling is also inspired by Valenzuela's personal experience during a couple trips to Mexico. "My heart just lives there. It's just the vibe there, it's so great. I created this room inspired off of Tulum with the swings. There's giant chairs that you swing on, low lights all over, fake trees, fairy lights. It's really pretty in there."
Even though Valenzuela knows what it's like to lose a dream, she also knows what it's like to achieve one. E-motion has been open for two years now, so far surviving the COVID pandemic that caused so many other studios to close across the U.S. As a personal trainer and club owner, Valenzuela says she's proud of her forward-thinking idea that's taking on more than muscle-building and weight loss by adding the mental health acknowledgement. It's all part of her 11-year approach to personal training.
"I'm not trying to get everybody in shape or anything like that. I just want them to move," Valenzuela explains. "E-motion literally means 'energy in motion.' I just want people to put their energy in motion."