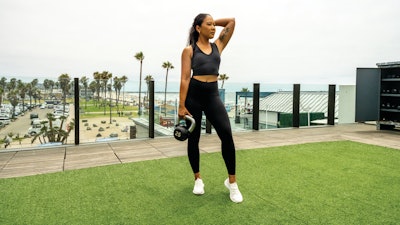 A couple thoughts on the minds of fitness facility professionals since COVID-19 halted the fitness world in March 2020: When my gym reopens, how will we draw members back in, and what will members want?
More than two years out, some gym operators are beyond just seeing signs of their operations recovering from months-to-yearslong shutdowns — they're seeing signs of success.
Scott Lutwak, CEO of FIT Athletic Clubs in California and Texas, has bounced back from the closures with new ideas, new amenities and — in one case — even a new facility. Meanwhile, in greater Vancouver, B.C., a new boutique fitness space that exchanges cardio floors and group X space for a first-of-its-kind hybrid concept is also finding growing interest.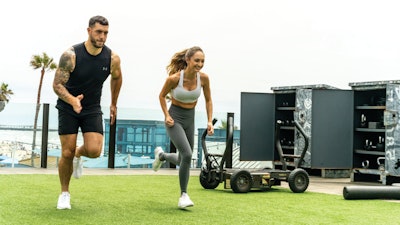 A bit of everything
As people began returning to gyms from pandemic isolation, Lutwak — who owns and operates four luxury gyms in the San Diego area — was keeping an eye on what the new formula for success could be, and that included, simply, a bit of everything.
"During the pandemic there was a lot of talk about Peloton, people never going back to the gym, home fitness, [high-tech workout] mirrors, outdoor fitness, etc., etc.," Lutwak says. "And the answer is yes to everything. It's not an either/or. You need to embrace wellness and fitness at home. You need to go outside. And yet, also we're going to create some products and some services and experiences on the inside that are going to motivate you to come inside, as well."
FIT Mission Beach — the FIT club in San Diego's iconic beach scene that opened just months before the pandemic shutdown — offers amenities like an Olympic-sized indoor pool with a retractable ceiling, a rooftop turf training area with ocean-front views, sauna and steam rooms, and specialty group X classes inside the yoga studio. Members can pump iron on the weight lifting floor or take a HIIT session out onto the rooftop to soak up sun and fresh air.
At his facilities, Lutwak also puts an emphasis on recovery, specifically infrared saunas and cryotherapy.
"I sauna regularly — five or six days a week for 30 minutes. Some people like infrared more, some people don't," Lutwak says. "I think it's established enough credibility that it's important to just have the option. I'm bringing in infrared, even though, personally, I don't know that it's better than the traditional sauna, but I know it's a little bit shorter time requirement to potentially get a similar outcome. So, I think it's important to embrace it as an option. I'm putting infrared and cryo in all my locations now. We're just kind of replacing tanning with all recovery services."
Lutwak isn't alone. He says he's seen a growing post-pandemic interest in recovery tools at other clubs. "I think a lot of facilities now are really embracing the cryotherapy, the infrared saunas, the massage chairs and Theraguns, all those kinds of things that are focused on recovery, as well as not shifting the focus away from strength training, mobility. Talking to people about how to help them sleep better, how to handle stress — these are things that weren't really common dialogue in a gym environment prior to the pandemic and now they've just become weaved into the fabric of what we're doing."
Big-box backgrounds inspire new option
The shifting emphasis on wellness also played into the development of the newly opened SafeSweat boutique in Surrey, B.C., on the northwest Canada-United States border.
When COVID hit, Andrea Kloegman already had more than 20 years of experience working in the fitness industry, had recently taken some time off for parenthood and was ready to get back to work outside of the home. "I still wanted to stay in fitness, but I was getting a little bit tired of what was happening in big-box [gyms]," she says. "And by that I mean, I'm really customer-service focused, mental health awareness, all of that. And I wasn't seeing as much of that as I would have liked in big box, and my reach was not far enough to effect the right change."
Kloegman's SafeSweat co-founder, Emre Ozgur, with more than 20 years in fitness and experience as a trainer, elite athlete and MMA fighter, lost his job as president of Crunch Canada because of the pandemic. "For many years, people would say, 'Go do your own thing.' And you don't have the courage to do that when you have a good paycheck," Ozgur says. "And when you don't have that paycheck anymore, you're willing to take some more risk."
He and Kloegman had previously worked together for six years, and both were in the right space to take more risks using their inspirations spun from big-box gym industry experience and tool it into something new.
"We kind of came together and said, 'Hey, let's do something different. Let's do something that feels right for us,' " Kloegman says. "Emre said, 'Think of a tanning salon but with weights.' And so that's how SafeSweat sort of got started."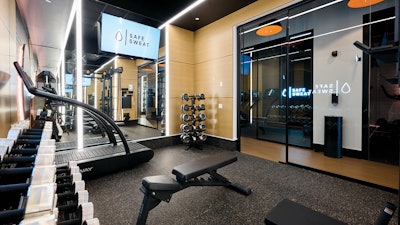 The 2,700-square-foot SafeSweat facility offers six FITsuites and two upcharged FITsuite Luxe rooms for members to have their own private workout space. The suites are reserved (similar to booking tanning bed time) through an app, and the idea is to offer an experience that alleviates any anxieties for gym-goers who would prefer a more private workout.
"We always knew, being in fitness, that gym anxiety was out there. We didn't realize to the scale that it's out there," Kloegman says. "Everybody has some form of gym anxiety. You still get to leave your house, you still get to go and have an appointment and have that accountability. But you don't have to worry if somebody's going to be looking at your shorts, or about what other people are thinking when you're trying to do something that you've never tried before. And we really wanted to bring in the mental health aspects to it. That is part of the reason why people don't feel comfortable going into big-box gyms. Working out is really tough, especially if you've never done it before, if you haven't done it in a while or you're not feeling great about yourself. Half the battle is walking in."
In addition to privacy, members get a hyper-efficient workout. They never have to wait for a machine or circuit to open up, as each suite is outfitted with various equipment to get the workout in. The suites have film-covered glass walls and doors for privacy. Inside every room is a squat rack; a condensed, adjustable workout bench with weights or Y bells; and a cable machine.
"We've had everything customized. For instance, you can pull the cables right out into the middle of the room, so that you've got more working space," Kloegman says. "We have one of our rooms with a rower, one of our rooms with a bike, and one of our rooms with a climber. Those three rooms have different cardio options." There is also a treadmill and a 60-inch screen in each room, and members have access to recovery tools.
Kloegman says that since SafeSweat opened in August, she and Ozgur have heard a lot of feedback from members, including the woman who confessed she hasn't been comfortable doing squats at the gym for two years because she was self-conscious. They've also had executives come in who prefer to continue working from the space while getting in their sweat for the day, and bodybuilders who can skip unwanted attention from curious gym-goers, plus have a more private place to practice their poses.
"Just all these things that are coming up that we didn't even foresee. People didn't know they needed it until they found it," Kloegman adds. "They love the lighting. We have a few influencers who drive over an hour to get here to film content. So the response has been better than we expected."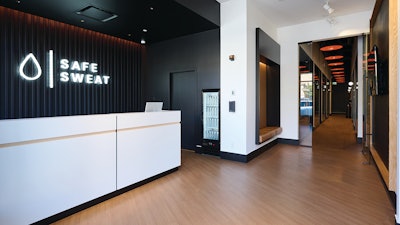 Prove the nay-sayers wrong
One thing that the larger FIT luxury clubs and the intimate boutique SafeSweat have in common: People said the ideas were no good. But Lutwak, Kloegman and Ozgur carried on to succeed anyway.
For Lutwak's FIT clubs, he's proud of the unique, palatial and varied offerings included within his facilities. The Mission Beach location, which is built around the historic swimming pool constructed in 1928 for the second World's Fair, is one example.
"What we were able to accomplish by creating a destination gym around that swimming pool, many thought couldn't be accomplished," he says. "Nobody thought that place was going to work because they were like, 'Well, we've got the swimming pool, it's open to the public, but you put in too nice of a gym in this demographic area. There's not enough people who live here.' But we put in the programming and we're oversold in that gym. And we're approved for an expansion now. We took a space that nobody thought was going to work, and now the pool is profitable, the gym is profitable. Everybody's extremely happy with the programming and the experience that they get out of that facility now."
Lutwak's success continues, too, in the San Diego area, where he is set to open doors on a new facility early this year.
SafeSweat's Kloegman and Ozgur likewise heard from naysayers.
"People said, 'There's no way this is going to work. There's no way that people want to work out on their own,' " Ozgur says. "And I said, 'You're ignorant in your thinking, because the truth is, there are more people who would prefer a private, solo-type environment than the [big-box] environment we've been giving them for years. There were a lot of people afraid of 'new.' But I think there's a lot of people in the industry who feel like maybe they don't want new competition."