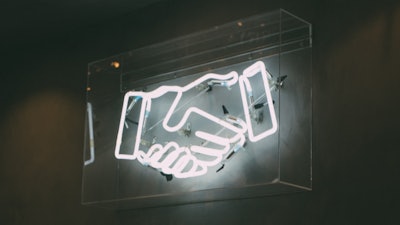 File Photo/Unsplash
A flooding disaster forced a fitness facility in San Francisco that had weathered the pandemic to shut down just when it was expecting a boost from an influx of new clients with New Year's resolutions.
"We thought we were coming out the other side. And then to have Mother Nature slap us across the face and say, 'Uh-uh. We are not done yet with you,' and have the gym close down because of flooding, it was such a punch in the gut," MX3 Fitness co-owner Dave Karraker told KGO-TV.
MX3 Fitness in the Castro District took in major flood damage after a storm on New Year's Eve pummeled the Bay Area, KGO-TV reported.
"When we were standing here, the entire wall kind of exploded with water," said co-owner Dave Karraker last week. He said a pipe burst in one of the gym walls.
"We estimate the cost to fix the wall, that's a cost of the landlord. That's going to be about $20,000. Then we have more clean up costs. (And) several thousand dollars of lost wages to employees. Every week that we are closed, we lose about $8,000," Karraker said.
Core MVMT, a competitor gym across the street, stepped up to help MX3 fitness. Core MVMT leaders set up a GoFundme campaign.
On Friday, more help arrived.
"Lululemon found out about it somehow and came to us and said, 'Hey, we want to do a fundraiser for you to support the GoFundMe'," Karraker told the news station.
The GoFundMe started by Core MVMT raised $8,000 dollars in less than a week.
Lululemon helped raise another $5,000 in less than four hours. On Friday evening, the total raised was about $13,000 of the $20,000 dollar goal.
Core MVMT and Lululemon told KGO-TV that they are just happy to help.
Owner Lisa Thomure of Core MVMT said it's been a collaborative effort with many people showing their support. Thomure also said that when her gym flooded in January last year because of a plumbing emergency, the owners of MX3 didn't hesitate to help.
All the money raised on the one-day Lululemon pop-up shop goes to help MX3.
"We have their GoFundMe linked here. We're asking for a $30 donation for all this product that is screen-printed with this design from a local artist," said a Lululemon employee.
Karraker expressed his thanks to everyone who helped, including the Lululemon team.
"I can't thank Core MVMT and Lisa Thomure enough for setting up this GoFundMe. It's so heartwarming," he said. "It makes me tear me up a lot and to have a giant corporation like Lululemon step in and also help out. It shows there's a lot of good out there, that people want small businesses to survive and thrive."