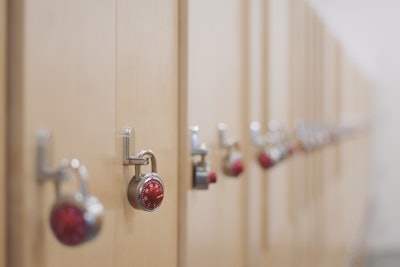 Max Harlynking, Unsplash
A 35-year-old woman used bolt cutters to access gym locker rooms and steal credit cards across the United States, according to police in Scottsdale, Ariz., where multiple such burglaries occurred.
As reported by The Sacramento Bee, the woman is accused of locker burglaries in Arizona, Nevada, Indiana and Georgia, the Scottsdale Police Department said in police report last week. Scottsdale police began investigating after there were reports of multiple gym burglaries in the city.
The woman's modus operandi involved cutting off locks in women's locker rooms at EoS Fitness, LA Fitness and Planet Fitness, and stealing credit cards, police said. She is accused of then using the credit cards to buy gift cards. In one instance, police said she stole credit cards from a woman's locker at an EoS Fitness location after cutting off a combination lock, then used the credit cards at a Fry's to buy three gift cards totaling more than $2,000, according to Helena Wegner of the Bee, citing the police report.
Log in to view the full article