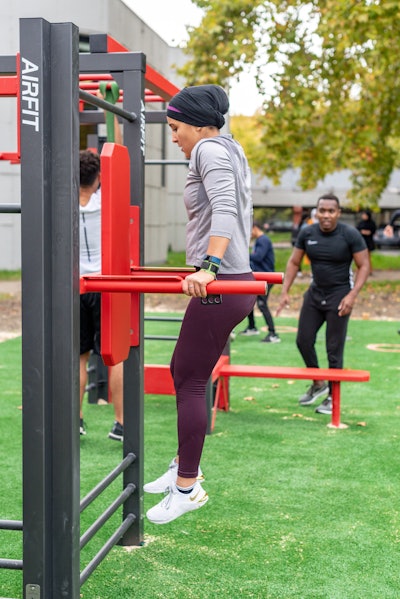 Gabin Vallet, Unsplash
An outdoor gym erected by the city of Miami, Fla., last month in Maurice A. Ferre Park must be removed, a city board ruled Wednesday night, marking a victory for neighboring residents who have fought projects erasing green space in the downtown bayfront park.
As reported by the Miami Herald, the gym was installed at the behest of the Bayfront Park Management Trust and its chair, Miami commissioner Joe Carollo. It was not included in the city's master plan and should not have been approved, said members of the Planning, Zoning and Appeals Board, who voted 5-2 to reverse the planning department's decision to grant permission for the gym and the pavement surrounding it. Unless city commissioners overrule the board, the exercise equipment will have to be ripped out, a planning department official acknowledged, as reported by the Herald.
"Here's something that was thrown together without community input, and it's a slap in the face to every resident in the city," board member Adam Gersten said. "Look at South Pointe Park in Miami Beach, which was heavily master planned. Why can't we have nice things like that in Miami? It's never going to happen if we don't do something about the changes occurring in Ferre Park."
Board chair Chris Collins and vice chair Andy Parrish asked Miguel Ferro, interim director of the Trust that runs the downtown parks with Carollo's oversight, how Trust members make decisions, such as the ones to built the gym, created the walkway lined with large dog and cat statues, chopped down a 35-foot ficus tree and placed Microtheater Miami's shipping container performance spaces in the park. Ferro said the unanimous vote to install the exercise equipment was made before he became interim director and he couldn't say with whom the Trust consults or what process the Trust uses to determine what projects are undertaken, Linda Robertson of the Herald reported.
"The residents don't want this gym," said board member Robert Rodriguez. "A group like the Downtown Neighbors Alliance serves as a watchdog for the area, and without them we would not have found out about this. You can't let the government run willy-nilly over the wishes of the people who live there."
Board member Paul Mann defended Carollo and said the gym was a good addition. "I know Commissioner Carollo is a park lover. I don't think he wants to ruin this one," Mann said. "If we deny this gym, we'd be saying we don't want anything else."
The board is an advisory board, and its decision is a recommendation that city commissioners can accept or reject, according to Robertson's report.
"We will ask the commission to reconsider," Carollo said. "I'm surprised that an outdoor gym just like the gyms that exist in scores of our parks and in parks of every major American city would generate opposition. It's because Joe Carollo is chair of the Trust and because a tiny group of maybe 15 elitists don't want it; they have state-of-the-art gyms in their condos. "But hundreds upon hundreds of people are going to use that equipment, which was approved in public meetings two years ago. We've received positive feedback from residents and visitors who look forward to exercising outside in a beautiful park that serves the whole city, not just the people who think they own it."