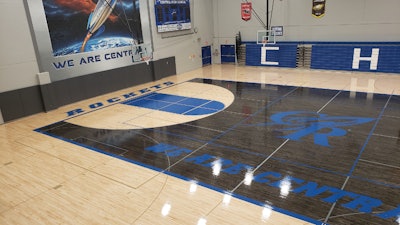 This content was supported by Aacer Flooring. What is sponsored content?
You would never know by looking at the gleaming, elegant maple floor today, but about a year ago, following a big storm in Burlington, Ill., the high school gym was a mess. Water flooded in and ruined 89 percent of the flooring, creating a problem for Central High School athletic director Steve Diversey.
Central High School, home to 14 sports and approximately 1,400 students, is part of a rapidly growing district where Diversey is in his 10th year leading athletics. When the weather disaster took out the two-decades-old gym floor, they knew they'd need to replace it.
The school had a wet, buckling, warped floor, but Diversey and the district had to check off all the insurance company's boxes before a new floor could get the green light. With help from Aacer Sports Flooring and their Certified Dealer and Partner in Sport, Stalker Sports Floors, an Aacer ScissorLoc V-Hex floor system was installed in 2020. The five-layer ScissorLoc V-Hex combines intersecting subfloor construction with VERT-resilient pads to provide shock absorption, resiliency and subfloor ventilation. CHS Rockets debuted their new flooring in November.
Diversey shares the tale of how Central High School's gym floor went from wrecked to rebuilt: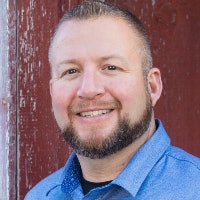 What exactly happened to the old gym floor?
In the summer of 2020, we had a lot of rain at that time. And we got a negative pressure build up inside of our gym, which ballooned the roof and caused all the water to run in through the air handlers and basically flooded our floor. And we have a great partnership with [Wisconsin-based] Stalker Sports Floors, so we called right away.
We did what we could do. We got the surface water off, but, you know, it was coming in overnight. And you don't really know until you know, and so we got Steve Stalker down and called the insurance company and all that good stuff. We had to come up with the determination of: What's the fate of the floor? Steve tested a lot of different areas, telling us what the saturation rate was and how much — what the percentages were — which were not very good, because they were all very high, meaning it's not salvageable. And Steve was pretty confident with that. We believed what he was saying based off of his expertise and his knowledge of the product — the wood and flooring.
The insurance company was still insistent on trying to save it. So, we went the route of trying to dry. They had some kind of a tarping system, we were blowing air and all these different things. As it dried, the floor began to pucker, which only showed that Steve was right. But unfortunately, when these insurance companies are going to be footing most of the bill, you have to jump through their hoops.
Well, the insurance company wanted to see if it could be repaired. Steve came back down again, cut a hole in the floor. He said, "They don't make it this way anymore. We can't repair this floor with the confidence of knowing it's not going to have issues."
That was because our old flooring was more of a metal tracking system that held things together, along with the tongue and groove. They don't make that anymore. You know, the floor is 20-something years old, so it is what it is. It was deemed a complete replacement.
It sounds like the insurance red tape slowed down the project.
Yeah, basically, they wanted to try to dry the floor before they'd look at replacement, because a lot of decision-making was cost. In the big picture of everything, it's like you end up wasting time and unneeded monies. But I get it. That's the red tape: having to get three bids to get it done. The thing is, we knew it was going to end up going to Steve due to our level of trust and past experience working with Stalker Sports Floors. But you jump through the hoops, you do what you've got to do. And in the end, it all worked out.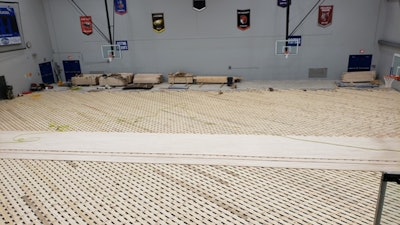 When you got the new floor, you also made some changes to the design.
Five years ago, we did a complete sand off and it was great, because we had a clean slate. And that's when we really started dabbling in to the two-tone floors. We had a state of Illinois silhouette on the floor, as well in different stain colors. We're all about branding, and we want to have a nice "wow" factor. We decided to go with a dark gray stain on the main playing surface, blue free-throw keys, blue sidelines, all of those kinds of things. And the logo's blue, the wording's blue, everything. It just pops. That's how we ended up with the design we have now.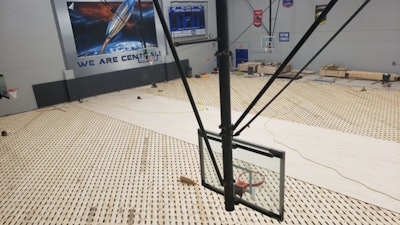 Whose idea was the gray flooring stain?
We originally were thinking blue, but Steve didn't recommend the blue because he said, "It's not going to look royal blue. You're not going to like it."
He did a sample for us, and he was right. We didn't like it. So, then he brought down the different gray stains and we liked the darker one, because part of our accent color in the gym is a dark gray. The first visual-view of the floor, it actually looks black. But then when you get on it, it does look gray — a darker gray like our wall pads. But it has the different, I like to call it a textured look. Some of the floor's lighter, some's darker. It just depends on how the stain took to the wood. To me, it's pretty awesome.
The CHS Rockets are royal blue and white, yet there isn't any white in the new floor design? Why not?
It gets gross over time, it starts getting that dingy ivory look, then it just turns yellow. At our school, we used to paint all the walls white, and now we went to this lighter silver-gray, so it's kind of the new white for us, but not officially. Our old white lines are now gray on the court for volleyball.
After being without a floor for a few months, did you have a big reveal?
Yeah, so we kept the lights off and the doors locked, and then when basketball season started, it was pretty much, "Alright, here we go, we're going to open it up!" And then our basketball kids were the first ones who got to see it and use it.
It was pretty much like, "Here you go. It's your gym now."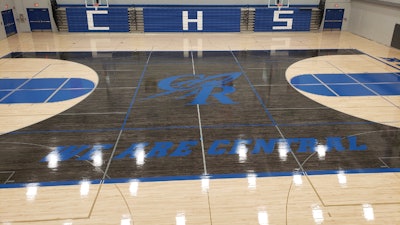 What kind of feedback did you get?
Players and officials both like the new ScissorLoc V-Hex floor. Before, their ankles, knees and other joints would bother them after running up and down on a non-forgiving floor. They don't have any of those issues or dead legs after playing on this new floor. I would recommend this system for anyone putting in a gym floor.
Visually, a lot of people were like, "Holy cow, it looks so different." Because, of course, we had new bleachers in there, we painted, and the lighting was new.
Once the flooring got ripped out, it was our time to do whatever we needed to do in there, because you don't have to worry about protecting the floor. I think that added to the overall excitement. And one thing I didn't mention: Because of COVID, we ended up doing a lot of our games through livestreaming. Alumni who had graduated from here were like, "Holy crap, is this the same gym?" It was like, "Oh wow, this place has changed so much."
What did you take away from the process?
You can only control what you can. And the crazy thing is that down here in Illinois, we've had a couple other big storms that came through. We had the tornadoes, and we had a microburst. My JV softball dugout, which is made out of cinderblock, the roof got ripped off and the whole concrete sidewall collapsed. So, it's like, okay, we've got to get that rebuilt. Over the years, you just learn that you can only control what you can, and the things that are out of your control, you just have to do your best to get it repaired and you can't stress about it. Four years ago, we had our pole vault mats get lifted out of the stadium and thrown, totally ripped and destroyed them in the storm. It took six months to get those replaced, and it's like, hey, we'll figure it out. From over the years dealing with different things, just knowing that, hey, nobody did it on purpose. We'll have to adapt. I would have been a whole lot more stressed if we only had one gym. But, you know, fine, we lost a gym for four months. Well one, it was COVID, no one was here. And two, I have a four-court fieldhouse. It's not great that we lose a court, but we make it happen.
What advice do you have for others going through the new-floor process?
If I can give any advice to anybody: My recommendation from when I started 10 years ago was, "If you're going to do something, you want to work with the right people. And you want to do it right the first time or you're going to end up paying twice."
You may pay a little more up front to do it right the first time, but you're going to be happy about it and you're not going to have headaches. If you try to cut corners and skimp on this or that — that's the biggest thing. If you're going to do it, do it right the first time.