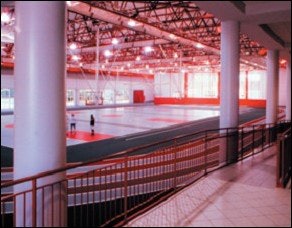 One sports surfaces manufacturer compares the likelihood of synthetic gymnasium floors ever appearing in varsity collegiate basketball venues to that of aluminum baseball bats one day cracking the big leagues. "If it happens," says Patrick Munley, director of sales and marketing at Technoledge, "it's not going to be in my lifetime."
In either scenario, hardwood enjoys a stronghold - one based to a large extent on tradition, among other factors. And while economy and durability have made bats composed of non-wood materials the staple of amateur baseball, the same characteristics are leading operators of multipurpose gymnasiums within elementary, middle and high schools, college recreation facilities, health clubs, YMCAs, JCCs, family centers, churches and military bases to go against the grain and install synthetic surfaces on their activity courts. These floors not only got game, they've got the strength to stand up to everything from high heels at a community fund-raiser to Humvees at an Army open house.
"In the professional and high college ranks, it's all wood," says Jim Dobmeier, president of Surface America. "But there are so many other gymnasiums in which wood is not an affordable option."
"If people are looking for flooring other than wood, it usually means that their gymnasium is a true multipurpose room," says John Donati, co-owner of Centaur Floor Systems LLC. "Maybe in the morning they're having fitness classes, in the afternoon they're playing sports on it, and in the evenings they're hosting meetings or church services. They need a floor that they can pull tables and chairs over, or drop food on, and not worry."
That's not to say gym floors composed of hardwood won't last just as long as synthetics if properly maintained, but according to Tom Mitchell, sales manager at Martin Surfacing, "Once you want the floor to start wearing a lot of hats - like the elementary school that uses names such as gymnatorium or gymnateria - that's where the attractiveness of a synthetic floor really comes into play."
Alternatives to hardwood flooring come in three basic synthetic forms: poured-in-place urethane, rolled sheet goods made of vinyl or rubber, and injection-molded polypropylene tiles.
Poured urethanes can be further broken down into two separate categories: those utilizing a prefabricated rubber sheet good as a base, which then receives coats of urethane for a seamless surface, and those representing multiple lifts of poured urethane, one on top of the other, starting at the concrete substrate. Costing anywhere between $5.50 and $9 per square foot installed, each method allows for alteration of the floor's resiliency. The former allows facility operators to choose from a range of thicknesses (typically 4 to 14 millimeters) of base-mat material, which is adhered in a tight side-by-side pattern to the concrete substrate and then sealed with a thin coat of two-part urethane, which fills in the joints and minor imperfections. A wear coat of urethane is then poured in a pancake-batter-like state to a thickness of up to 4 millimeters, providing the floor with a perfectly flat, seamless appearance when fully cured. Finally, a thin matte finish is sprayed or rolled onto the surface to give the floor its proper traction characteristics. From there, urethane-based paints designed to bond with the top coat can be applied for game lines and logos. If desired, more than one coat of urethane can be applied to the sealed base mat - each coat taking 24 hours to level itself and cure, and each one ultimately fusing together to form a solid floor from top to bottom.
An entirely poured floor, meanwhile, can involve either a single, full-depth urethane pour up to a quarter-inch or separate, 4-millimeter lifts of urethane. Like the surface that employs a base mat, the resiliency of the multi-lift floor can be tweaked by adding and varying the concentration of solid rubber granules to the initial lift poured directly onto the concrete substrate. Then, another lift of unamended urethane is applied, followed by a top coat and line paint.
When properly installed, poured-in-place urethane floors bond permanently to the raw concrete substrate (a tolerance of plus or minus one-eighth inch within a 10-foot radius is typically required of the slab) and exhibit tremendous elasticity, tensile strength and tear strength. Elasticity represents how far a floor can be stretched horizontally before it tears (as much as twice its installed thickness in some cases), while tensile strength refers to how much vertical pressure (measured in pounds per square inch) the floor can withstand without tearing. A floor's tear strength relates to the amount of force it takes to continue an existing tear. These characteristics will determine how a poured urethane floor will handle everything from shifts in the substrate to loads exerted by bleachers.
"When buildings go through heating and cooling cycles, everything moves, so you really want every component of that floor to move with the component it's attached to," says John Ficks, marketing director for Robbins Sports Flooring. "It prevents things like game lines from cracking and peeling and the surface coat from disintegrating."
Once installed, day-to-day maintenance of a poured urethane floor entails damp mopping, perhaps with a citrus-based cleaner. Heavy-traffic areas may require the type of industrial floor cleaning machine used in school hallways.
Should the floor become damaged, repairs are possible by cutting out the affected area down to the substrate and starting the layering process over again. The new urethane will bond to the old, with only slight surface color variations as evidence that a repair took place. Over a period of 10 to 15 years, excessive wear in areas underneath the baskets may require the entire floor to be resurfaced, which involves abrading the surface with a power sander and applying a new eighth-inch lift, top coats and game lines - at about half the cost of the original floor, according to Tom Mitchell, sales manager for Martin Surfacing. "What's not to like." he asks. "Here you've got something that's anchored, seamless, easy to repair and easy to refurbish."
Sheet goods commonly used in gymnasium flooring applications include vinyl, recycled vinyl and recycled rubber. These products offer facility operators a range of aesthetic and playability characteristics in a system that also boasts a straightforward installation. Individual sheets of flooring range in size from 4 to 6.5 feet wide, and when unfurled may measure the full length of the floor. These sheets are adhered directly to the substrate, and their seams chemically welded or heat welded. "If done properly, the seam actually becomes the strongest part of the floor," says Sam Miller, president of Sport Floors.
Because they lack a subfloor, sheet goods may not rival the standards met by hardwood floors with sophisticated subfloor systems in terms of such playability characteristics as lateral forgiveness, according to Joe Brinn, national sales manager for Oscoda Plastics. "We are not in the same class as, say, a pro wood floor," Brinn admits. "But we are a cost-effective alternative for high schools and small universities with facilities that don't require as high performance specifications." Besides costing between $4.50 and $7 per square foot installed, compared to as much as $9.50 per square foot for a recreational maple floor, sheet goods offer other distinct advantages, as well. "For example, there are certain treatments that help prevent the spread of bacteria and germs," says Robin Traum, spokesperson for Taraflex Sports Flooring by Gerflor.
Moreover, both rubber and vinyl flooring products come in a variety of colors, allowing installation of floors that employ contrasting colors to delineate court boundaries, free-throw lanes and center jump circles. This minimizes the amount of paint applied to the floor, and thus the amount of repainting necessary to keep the surface looking like new (three-point lines are still marked using paint, typically). Because pigment appears throughout the thickness of most sheet goods, no repainting of out-of-bounds areas, lanes and circles is necessary. The floors come in a variety of thicknesses (typically an eighth to a quarter of an inch), allowing facility operators to select desired cushioning and sound-absorbing qualities.
In addition to solid-color sheet goods, facility operators can choose from a number of realistic wood-grain surface patterns, making the floor similar in appearance to genuine maple or oak. "When you see it on the floor, you'd never know that it's not wood," says Tony Sain, marketing director for Lonseal.
Maintenance entails regular mopping and occasional low-speed machine buffing. Damaged areas can be patched by cutting out the affected area with a utility knife and replacing with a like-size piece of new material.
Depending on the type of sheet good used, no coating of the surface may be necessary for the floor's entire life span. Rubber, for example, can be formulated to permanently match the coefficient of friction found in the surface of a clean hardwood floor. And though they cannot be resurfaced, recycled rubber floors are incredibly durable, according to Ficks. "They don't really wear out; they tend to ugly out over time," he says. In the case of recycled vinyl, care of the floor differs little from that of a wood floor. A urethane finish is recommended to reduce scuffing and facilitate daily cleaning. For occasional refinishing of a vinyl floor, a chemical is used in lieu of sanding (as in the case of hardwood refinishing) to prepare the surface for a fresh coat of urethane.
Snap-together modular tiles represent the least-expensive (between $3.50 and $6 per square foot installed) of all synthetic gym floor systems, even as they arguably offer the most versatility. From inline hockey to elementary school basketball to the highest levels of amateur volleyball competition, injection-molded polypropylene tiles have advanced as rapidly as any synthetic surface in terms of multiuse applications.
Still, according to Gabe Martini, sales manager at Matéflex Corp., "In today's times, the number-one reason people come to us is an economic one. We're typically about a third the cost of a wood floor."
Several manufacturers offer a four-sided tile that typically measures one square foot or smaller and a half-inch thick, with the top quarter-inch representing a solid surface and the bottom quarter-inch serving as support in the form of legs or ribs. Another manufacturer's model features 52 sides forming a jagged edge around a tile roughly 6 inches square. Instead of legs, it features support nodes - small bumps set at three different heights to absorb different pressure loads exerted on the floor. These nodes comprise the bottom half of a two-part tile, and the formulation of this bottom half can be altered to the resiliency specifications of the end user. While this tile boasts a locking mechanism that produces extremely tight seams, thus giving the floor the look of a monolithic poured surface, another tile features patented lateral movement based on the slight amount of forgiveness allowed each tile by its locking pegs and loops. A third manufacturer has created a system that allows tiles to be interlocked in a staggered fashion, as a mason would lay bricks, giving the floor stability and a monolithic appearance. While one tile now offers a built-in scuff-resistant coating, another utilizes a hydroscopic material originally engineered for dashboards in Volvos that can accept regular urethane refinishing, just like a wood floor.
"Traditionally, plastic tiles have been marketed as a poor man's gym floor," says Peter Oksanen, U.S. sales director for Spider Court. "They're really not that. The advances that have been made in plastic-injection technology and with catches and latches really allow the floor to perform as well as even a traditional maple hardwood floor."
Recent performance advances aside, tile floors have long boasted one distinct advantage over wood: They are virtually immune to moisture damage. "There are school buildings built so that when you look at them from the outside, you see one continuous roofline. Where's the gymnasium. Half of it's below grade," Martini says. "Well, wood below grade doesn't work very well in every situation. If you happen to have an environment where the water table is high, you've got a problem, because sooner or later you're going to have to pull the wood out and replace it with something other than wood. Tile works real well."
Adds Annika Lundmark, marketing director for Sport Court, "Moisture will not damage the tile at all. You can flood the whole floor, and the tile is perfectly fine."
Should the floor become damaged by some other means, repair entails unlocking, removing and replacing the affected tile or tiles - a process easily completed by on-site facility management personnel, allowing the gymnasium schedule to proceed with minimal, if any, interruption.
In addition, the entire floor can be disassembled, moved and reinstalled over a variety of existing subfloors - even carpeting. "Concrete's the number-one choice, but we can go over existing floors, poured systems and, as long as there isn't any moisture damage, current wood floors - just about anything except gravel," says Munley. For some types of tile, however, installation in the true gym setting often involves covering the concrete slab with a rubber mat, which gives the tiles added resilience and sound absorption.
Wood floors will always have their place among gymnasium purists, who extol its time-tested beauty and performance. Even synthetic surface manufacturers concede that wood belongs at the highest levels of competition. (For more information on synthetic gymnasium flooring, including a complete list of manufacturers, visit www.ath leticbusiness.com/buyersguide/) Other companies that supply both hardwood and synthetic surfaces point to a happy medium. "We do a lot of combination gyms for field houses where a competition floor for basketball and volleyball is made out of maple, and the rest of the gym and the tracks are vinyl," says Howard Korenthal, president of Connor Sports Flooring Corp.
"With wood floors, you can generate more shock absorption by building different subfloor systems," says Matt Sheafer, a sales representative at Mondo USA. "When you have a 250-pound basketball player jumping up and doing a slam dunk, it's different than an eighth-grader playing a game of varsity basketball. When you talk about the professional or college-level athlete, a wood floor is probably always going to be viewed as better. But even in recreation centers at the college level, synthetic floors are a good choice. They provide a lot of comfort and versatility."