Recycled materials find new life in synthetic sport surfaces, indoors and out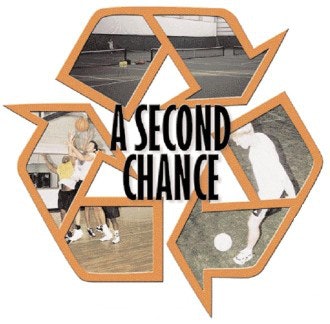 When Evan Miller began exploring the various surfaces available for the Charlotte (N.C.) Sports Center, his new 75,000-square-foot indoor facility, money was no object. Giving tennis, soccer and basketball players an opportunity to compete on surfaces usually only available to pros was his top priority.
Miller eventually settled on three types of surfaces. Coincidentally, all of them include recycled material - four indoor tennis courts made with PVC-padded and crumb-rubber-filled Kushion Kourt, patented by Tennis Technologies and manufactured and marketed by SportMaster Sport Surfaces; three indoor basketball courts made with Connor Sports Flooring Corp.'s cushioned UNIForce, which features rubber from old and defective tennis shoes (recycled by Nike Inc. and dubbed Nike Grind); and an indoor soccer field made with FieldTurf, a synthetic surface that uses a combination of ground tires and Nike Grind as a surface amendment.
But, Miller stresses, he would have chosen those surfaces regardless of whether they featured recycled or virgin materials.
He's not alone in his priorities. Environmental concerns usually aren't the determining factor when it comes to choosing sport surfaces; function, price and color are, most manufacturers say. Because much of the recycled crumb rubber that goes into sport flooring is compression-molded - rather than vulcanized, as is virgin rubber - suppliers of surfaces made with recycled materials claim greater resiliency and a higher slip-resistance ratio in their products. Meanwhile, makers of recycled rubber soil amendments cite improved drainage, better footing and greater shock absorption.
"Our products have the performance attributes people are looking for because of their recycled content," says Laura Dodge, marketing and communications director for Lancaster, Pa.-based DodgeRegupol Inc., one of several companies that make weight-room and gym flooring out of used tires. "But it is definitely the recycling process that has driven the functionality and kept costs down."
Among some of the other manufacturers taking advantage of recycled rubber, vinyl or other materials when making their surfaces and tiles are Carlisle Surfacing Systems, Dinoflex Mfg. Ltd., Enviroform Recycled Products Inc., Everplay International Inc., Humane Manufacturing LLC, Imperial Rubber Industries, Infinity Flooring, Kraiburg Inc., Linear Rubber Products, Northwest Rubber Mats Ltd., Oscoda Plastics Inc., RB Rubber Products Inc., Surface America Inc. and Tuflex Rubber Flooring.
Although propelled more by advancements in technology than by industry demand, products featuring recycled materials have helped club owners and athletic directors reap additional benefits. Baldwin (Fla.) Junior-Senior High School received building funds from a municipal waste department to help install a new 90,640-square-foot baseball infield and outfield because the school used Rebound ® , a patented soil amendment that blends recycled crumb rubber with organic compost underneath the turf. Roots wrap around the rubber pieces, which act as sponges and enable the soil to breathe and drain quickly.
"It was one of those things that we kind of backed into," says Daryl Davis, the school's booster club member who helped secure $25,000 in funding from the nearby city of Jacksonville for the project. "Originally, we were just going to check into having the grass infield removed and resodded, with a new sprinkler system added." But a representative from a local sod company suggested that Baldwin likely would receive grant money for the project, which wound up costing $121,400.
After pitching city officials, school leaders and "anybody I could find who said they might be interested in this project," Davis had raised enough money from city governments and politicians to install a new field for Baldwin's three baseball teams. "Close to 30,000 tires were put into that field," Davis notes.
Other benefits come in the form of environmentally minded users who choose the facilities they use based on such factors as surface materials. Some municipalities (many of them in California) even spec the use of recycled products in their construction projects, says Rick Kaufmann, Carlisle's technical sales manager. "We've only just scratched the surface," he says. "It's a matter of education. As people become more conscious of environmental issues, it will become even more popular."
That popularity already seems to be on the rise - despite some manufacturers' claims that many facility operators, high schools, colleges and universities remain skeptical about a product made out of recyclables. About 60 million pounds of crumb rubber - the most ever - were used in North American gym and weight-room floors, playground surfaces, tracks, ice-arena decking, aerobics-room floors, golf-club walking areas and other sport and recreation surfaces in 1998, according to the 1999 edition of the Scrap Tire and Rubber Users Directory, a publication of the Recycling Research Institute in Sheffield, Conn. "It's really proving to be a very good product," says Mary Sikora, editor of Scrap Tire News, another publication of the institute.
"Recycled rubber is the number-one selling non-carpet floor covering in the fitness-club industry," says John Donati, owner of Centaur Floor Systems, a distributor of sport surfaces. "Carpet was what we all put down in our homes and offices, so it was just a natural evolution to put it in a health club. But health clubs have different characteristics than a house. You're not dropping 100-pound barbells on the carpeting in your house."
With carpeting for weight and fitness rooms on its way out, and with some reports estimating that 245 million tires are trashed annually in North America, there doesn't appear to be a shortage of surface material. Some manufacturers are recycling scraps from new virgin rubber products, too.
"The number of markets that we fit into now is exploding," says Jerry Pillard, sales manager for Tampa, Fla.-based Tuflex.
But tires, tennis shoes and other rubber goods aren't the only materials being ground and blended into sport and recreation surfaces. Plastic milk bottles, football-helmet padding and other materials also are getting a second chance.
Among the newer companies to pitch in with products made from recycled content other than rubber are Versa-Tile, the three-year-old Baltimore-based manufacturer of flooring tiles made with 87 percent recycled plastic milk bottles gathered from curbside collections, and Max-Mor Technology Inc., which supplies 3R Foam, a cross-link, closed-cell polyethylene foam surface developed in the Netherlands.
Company president Joe Penxa says Versa-Tile has concentrated on the residential balcony market, but a big push into the sport and recreational flooring business may be forthcoming. "I'm using the recycling angle as a marketing tool," Penxa says. "There's a certain segment of the population out there that thinks it's a good thing."
Meanwhile, Max-Mor, with offices in Canada and the United States, is using the recycling angle to fill a need, says company president Fred Svirklys. Because the foam waste used to make 3R Foam for highly shock-absorbent sport and recreation surfaces doesn't deteriorate, landfills don't like it. Rather than store or burn the waste, landfills in Europe give it to Max-Mor, which then shreds it and produces the surface through a patented process. The move into North America is just beginning, Svirklys says, adding that a U.S. manufacturing plant - probably in the Midwest - will be running by sometime next year. "The demand for finding a solution for this amount of waste in North America is what brought our attention to this market," he says.
"It's a competitive market now," Rob MacKenney, sales and marketing manager for Abbottsford, B.C.-based Northwest Rubber Mats, says about recycled synthetic surfaces. "What used to just be a black mat in the weight room has turned into floors with lots of colors and uses."
Yet, given the ingredients in some synthetic surfaces, it's easy to understand why athletic directors and facility operators might still scoff at such products. "Everybody thinks that if you use recycled tires, something must be wrong with the products," says A.C. Thomas, president of Jacksonville, Fla.-based American Rubber Technologies. "They think since it's recycled, it ought to be free. A lot of people still don't believe the product can do what it does."
To support their claims that recycled rubber is a credible sport-surface material, officials at American Rubber Technologies toss into their marketing kits a fact sheet about ground tire rubber. (Sample fact: "There are not harmful effects from the rubber. … It is inert and biodegradable, but won't break down for 25-plus years.") The company also includes details about the U.S. Environmental Protection Agency adding recycled crumb rubber to its Comprehensive Procurement Guide in 1994. The guide is a list of 21 items made from recycled materials.
If that kind of information doesn't silence the skeptics, a pair of recent developments in the recycled-surfaces world might.
On Sept. 11, the University of Nebraska became the first Division I-A institution to use FieldTurf in competition. FieldTurf, a synthetic surface that combines a non-abrasive polyethylene/ polypropylene blend of grass blades with an in-fill mixture of fine-grade silica and ground recycled rubber, replaced the traditional synthetic surfaces used at Memorial Stadium over the years.
Adding further credibility to surfaces incorporating recycled rubber is Nike's Reuse-A-Shoe program, with which a handful of synthetic surface manufacturers already have contracts. With the assistance of retail collection partners across the country, Nike gathers old and defective athletic shoes (regardless of brand) for cutting, grinding and cleaning. The resulting granular material, dubbed Nike Grind, is separated into three categories: upper fluff, midsole foam and rubber outside. The inherent resilient and cushioning properties of these materials are then used in the production of surface products. A portion of the sales of those products are donated to the Nike Foundation for developing new sport surfaces in underserved communities.
"Ten years ago, recycled paper was cumbersome. It could not be used in faxes, copiers or printers due to its coarse composition and residue remaining from abrasion," says Amy Howard, marketing manager for RB Rubber Products, based in McMinnville, Ore. "Today, one can hardly tell recycled paper from non-recycled paper and can use it in any standard office application. The rubber industry has also benefited from recycling's evolution. New tire-processing technologies allow faster, more efficiently made raw material for everyone."
Despite all of these strides, the challenge of educating facility operators, athletic directors and users about the benefits of surfaces containing recycled materials remains. Granted, though, it's not as great as it was five years ago, and many manufacturers even compliment their customers on their increasingly sophisticated understanding of surfaces made from recyclables.
That range of knowledge runs from environmentally conscious officials at some colleges and universities who have pledged to incorporate as many recycled products as possible into new construction, to potential buyers who may not even realize the surface they're considering is a recycled product.
"But once people use recycled rubber," says Dale Ukrainec, Dinoflex's national sales manager, "they never go back."