Accurately calculating a sports suface's lifecycle cost depends on a combination of factors, including investments in installation and maintenance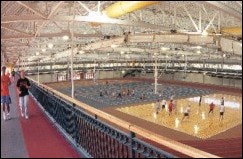 Today's sports world is fraught with turnover. Rare is the college basketball coach who eschews financial prosperity for program loyalty, or the star athlete who sticks around for his senior season, if only for one more chance to lead his team to postseason glory.
The floors on which these individuals compete often have far greater staying power, and rightly so. After all, what athletic facility operator would want to deal with the hassle of installing a hardwood gymnasium floor or a synthetic multipurpose surface every few years? Accurately calculating a sport surface's lifecycle cost thus becomes an important part of the product-selection process. On the minds of operators of all types of sports and recreation facilities - from professional arenas to college field houses to community centers - is the question: "How much is this thing going to cost me in the long run?"
The answer can depend on a number of factors, including installation costs, routine and periodic maintenance requirements, expected life span, and the cost of refurbishment or replacement. Although sports flooring industry insiders agree that routine maintenance needs are fairly standard across the board (virtually all surfaces need to be dustmopped daily), other cost factors can vary depending on the type of surface:
• Installation Costs. Wood floors have a higher installation cost than synthetic sports surfaces, but the mere image of gleaming hardwood courts can factor significantly into most any facility operator's purchasing decision. All things considered, conventional wisdom holds that if an organization has the money up front, it likely will choose wood.
According to Daniel Heney, the Maple Flooring Manufacturers Association's technical director, a typical unfinished maple sports floor can be installed, materials and labor included, for roughly $12 a square foot. By comparison, prefinished, engineered wood surfaces - which are generally composed of several compressed layers of plywood subbase topped by a hardwood wear layer and arrive on-site finished with a polyurethane coating - cost $9 a square foot to install.
The installation costs for synthetic surfaces can vary greatly. According to information gleaned from a number of providers of poured-in-place urethane systems, a urethane sports floor can be installed for anywhere from $5 to $7 a square foot. "The variables are the size of the job and the market. For example, in southeast Texas you're going to see really low numbers compared to places like Chicago, Boston or New York," says Robert Dougherty of Conica Technik AG. "Smaller jobs are going to be around $6 a square foot. Larger jobs can go down to the $5-a-square-foot range." Pad-and-pour systems - which feature a rubber underlayment, in addition to one or two layers of urethane - can cost as much as $1.50 more a square foot than full-pour systems, in large part because "the labor is a little more intensive," says Dougherty.
Meanwhile, rolled sheet goods such as vinyl or linoleum can cost anywhere from $4.50 to $8 a square foot to install, with higher-end products also attributing their cost premium to thick rubber underlayment pads. Installation costs for modular tile sports floors generally run around $5.50 a square foot. On the other hand, rubber systems - which usually feature either two or three layers and can range in thickness from 6 to 12 millimeters - cost $7 to $8.50 a square foot to install completely, says Mondo regional sales manager Neil Silver. "And by completely, I mean striping of all game lines and logos painted in two colors."
• Maintenance. A floor's specified purpose - or in some cases, purposes - will dictate its maintenance needs. "Ask yourself what you are going to do on that floor," says Tom Mitchell, general manager of Action Floor Systems, a manufacturer and distributor of both hardwood and synthetic sports floors. "On a wood floor, you always have to make sure you have the right athletic shoes on to prevent scuff marks. On a synthetic floor, you can have 300-pound guys in loafers playing whatever."
No one can deny the versatility of synthetic flooring. But its ability to accommodate a variety of activities, athletic and non-athletic, comes with a price. "You'll get people asking, 'Can the women's group have a luncheon on the floor?' or 'It's raining. Can the kids come inside and play?' and 'By the way, would you mind if the kids had their school dance in here.' " says Mitchell. "Sure, you don't have to baby synthetic floors as much as wood, but it's still a floor. I mean, if you don't take care of concrete or asphalt, that'll go, too."
Some facility operators might still believe their synthetic floors are maintenance-free, as was the common sales pitch in the 1970s, but John Beynon, president of Beynon Sports Surfaces, says it's important for them to understand that this isn't the case. "The problem with synthetics is that people's level of expectation for them is to be like crystal, when it should be like glass."
Dougherty agrees that maintenance is the one line item most often disregarded by facility operators, especially those at institutions with limited budgets, such as public schools and churches. "They never think about it and this is what happens: They'll come up with the money to do the building and install the surface, but they won't have enough money to maintain it - and that's unfortunate," he says. "The one thing I tell people to buy is an automatic scrubber. It's a time-saver, yes, but it also does a better job of sucking up dirty water. A mop just moves it around on the floor."
Walk-off mats are also budget-friendly floor preservers. "They get the sand and stones off shoes, and they're not expensive," adds Dougherty.
Industry experts agree that scuff marks created by improper footwear cause the most wear and tear to synthetic floors. "If I let people wear whatever footwear they want, no matter what product I have, maintenance is going to be tough," says Anthony Cordova, institutional business manager with Sport Court Inc., a manufacturer of modular tile sports flooring. "But if you take good care of that floor, it's going to last."
For most synthetic floors, that means scrubbing weekly or biweekly with a manufacturer-specified cleaning product, although certain neutral cleaners will also do the job. These floors should be scrubbed with a non-alkaline cleaning product, either immediately after non-athletic activities (if held periodically) or quarterly. Including the cost of labor and materials, daily maintenance of a 10,000-square-foot area (all subsequent figures are based off of this standard size) should cost around $3,300. You should also factor the cost of biweekly ($1,800) and quarterly maintenance ($1,400) into your annual budget.
Because wood is porous and naturally absorbs and releases moisture, it demands an additional measure of care. Spills and moisture on wood floors need to be immediately wiped up, heel marks removed, and the HVAC system carefully monitored (the MFMA recommends maintaining an indoor relative humidity between 35 percent and 50 percent year-round). Annual screening and recoating also needs to be done.
What will all this maintenance cost a facility operator annually? According to the MFMA, annual screening and recoating of a solid wood floor costs $2,800. And don't forget the annual cost of daily dustmopping, which runs $2,088 (174 man-hours at $12 an hour).
• Life Expectancy. The MFMA stands firm by its life-expectancy quote of 38 years for maple sports floors. That said, Jay Winger, vice president of Schelde North America's flooring division, says that the longevity of prefinished, engineered wood floors, which became popular in Europe three decades ago but haven't garnered much attention on this side of the Atlantic until recently, rivals traditional hardwood surfaces. "It's the same type of product that you see more now in residential applications," he says, adding that the residential floors' finishes are purported to be so low-maintenance and long-lasting, "manufacturers can give away 50-year warranties. Obviously, we can't do that with ours."
Synthetic sports surfaces can last anywhere from 10 to 30 years. Although he knows of one urethane installation that has endured 33 years, requiring only one resurfacing during that time, Beynon says that facility operators should get 10 to 15 years of service from their urethane floors. Rubber floors from Mondo come with a 10-year wear warranty, but Silver says that it's not unheard of for a rubber surface to also outlast its warranty. According to Stephane Leudet, national sales manager for Taraflex Sports Flooring by Gerflor, PVC sheet goods sports floors have a life expectancy of 25 to 30 years, if properly maintained.
But recent years have seen the arrival of imports from overseas that are challenging the status quo. New to North America is one linoleum-based product that, because it can be recoated simply with the application of a new wear layer atop the old, comes with the claim of a 50- to 60-year life span.
• Refurbishment/replacement. Roughly once every 10 years, a maple sports floor will need to be refinished, which involves stripping the old finish (either by chemical stripping or sanding) and applying a new top finish coat. This process can cost $11,000, or $1,100 per year, if amortized over the 10year period for which a new finish coat is expected to last.
Engineered wood floors only need to be screened and recoated once every five years, but they tend to need major refinishing work almost as often as their solid wood cousins. "They come with an aluminum oxide, UV-cured urethane coating," Winger says of prefinished floors, which can be sanded down to the tongue-and-groove depth before requiring replacement. "With this coating, you can go 10 to 15 years before the floor needs another finish. And then, 15 years later, you can sand it down and refinish it again."
Polyurethane spray coatings can extend the life of urethane floors by five to 10 years, but so can a little common sense. "In multicourt facilities, I recommend rotating open courts" to reduce the amount of wear to the key areas of a basketball court, says Beynon. "People usually go into a field house and shoot at the first basket they come to." Invariably, though, high-use areas of a urethane surface such as the keys will eventually show wear, often much sooner than other areas. For this reason, Beynon recommends recoating worn areas with polyurethane spray every 10 years. "You can do both keys for about $3,000 to $4,000," he says.
PVC sheet goods floors, meanwhile, will need to have their game lines repainted every eight to 12 years, says Leudet, who estimates the cost of this task at about $.50 per square foot for a 5,000-square-foot floor.
In Mitchell's estimation, "refurbishment is where the cost differential occurs" between various types of synthetic floors. For instance, he figures the cost to replace a tile floor to be twice as expensive as replacing a monolithic surface because after 15 or 20 years, the adhesive used to glue tiles down "becomes suspect." Ripping up old tiles and stripping the receiving surface of adhesive remnants, according to Mitchell, can cost about $1 a square foot. Add to that $5 or $7 a square foot to apply a brand-new surface. That compares to the $3 or $4 a square foot Mitchell says it costs to "facelift" a urethane surface - which, in essence, involves applying a new layer atop the old surface and rubber underlayment.
But after two face-lifts, urethane floors could be due for a complete overhaul. "After 20 to 25 years, you might need to take a look under there," says Mitchell, suggesting that there's no way to tell how well today's products will stand up to the test of time, despite manufacturers' claims of longevity. "That's something we're going to have to find out with the evolution of our industry. It'll have to play out over the next 10 to 15 years."
Though the future performance of a sports surface may be uncertain, most any facility operator will be able to clearly recall its past undertakings. That said, Leudet recommends that facility operators reevaluate the overall quality of their surface after a period of years, whether it has been refurbished or not. "When discussing the lifecycle cost of sports flooring, the process should go beyond dollars and cents to consider the durability of the floor's sports characteristics after 15 years," he says. "After 15 years, is the material still DIN-certified. What happens if an end user buys sports flooring that loses some of its qualities after 5, 10 or 15 years?"