Wall pad manufacturers and risk managers alike lobby for more room beyond court boundaries.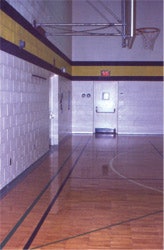 Katie Patrick, a 14-year-old basketball player at Sarcoxie (Mo.) High School, crashed into an unpadded gym wall during a 2002 practice and suffered what physicians termed a traumatic brain injury.
The gym, built next door to the high school only five years ago, belongs to First Baptist Church, which leased the space to SHS for basketball and other sports practices. While plaintiff's attorneys argued that the lack of wall padding represented negligence, that was only part of the problem, according to Todd Seidler, a risk-management specialist who examined the gym and provided expert testimony in the case, which was settled this January. The distance between the court's end line and the wall that Patrick struck was less than four feet.
Had the practice been held in any high school gym, that distance - or buffer zone, as Seidler calls it - would have been in compliance with current recommendations outlined by the National Federation of State High School Associations. The same could be said if the practice had taken place in a collegiate facility and NCAA guidelines were invoked. NFHS rules state that "there shall be at least three feet and preferably 10 feet of unobstructed space outside boundaries" of basketball courts. The NCAA uses similar language on its court specification diagram.
And that's what bothers Seidler the most. "After an injury, everybody says, 'Well, we meet the guidelines of the high school federation or the NCAA or whomever,' so everybody thinks it's just fine," says Seidler, coordinator of sport management at the University of New Mexico. "We don't believe that it is fine."
Along with Herb Appenzeller, co-author of the bimonthly online newsletter From the Gym to the Jury, Seidler presented the case against the three-foot buffer zone last month during a Sport & Recreation Law Association conference hosted by UNM. There, Seidler hoped to survey fellow risk managers regarding the issue and convince the SRLA to draft a position paper. The ultimate goal is to lobby both the NFHS and NCAA to change the minimum-distance language in their facility specification guidelines.
In anticipation of the conference, Seidler circulated an e-mail survey among risk managers. When asked to characterize the safety of a three-foot buffer zone, 27 of 51 respondents (53 percent) indicated that such a zone is "very unsafe," while another 22 called it "unsafe" or "marginally unsafe." No respondents considered three feet to be "very safe" or even "safe." When asked what the minimum required distance should be between a court end line and an unpadded wall or obstruction, 41 respondents (80 percent) identified 10 feet or more than 10 feet. When full padding is added to the equation, 22 respondents (43 percent) still indicated 10 feet or more, while 24 respondents (47 percent) chose something between 6 and 8 feet inclusive, and five chose 5 feet. Finally, when asked how wide padding should extend on the wall beyond the court end line, 27 respondents (53 percent) indicated either the "whole wall" or "width of court." Another 23 respondents chose 15, 20 or 30 feet, while only one chose "width of lane."
While admittedly unscientific, these results nonetheless send a clear signal to Seidler. "It's pretty evident that these people in risk management think that three feet is totally inadequate, if not ridiculous," he says.
Wall padding manufacturers, too, have been quick to join the discussion. Thanks in large part to the efforts of executives at Promats and Resilite Sports Products, ASTM International's Standard F2440-04 "Standard Specification for Indoor Wall/Feature Padding" was approved on Dec. 1, 2004. In addition to outlining recommendations regarding any given pad's shock absorbency, the standard also advises that pads be positioned no more than four inches off the floor and cover an area at least six feet high.
Though not mandatory, the ASTM standard has already effected change. Porter Athletic, another pad manufacturer, upgraded its entire product line to meet the new performance benchmarks, save one pad that already did. But even the most protective pads offer no safety benefit if not first specified and properly installed - an all-too-common scenario of negligence, according to Porter's own research.
Last year, the company reviewed 56 sets of randomly selected architectural plans for new gymnasiums in a variety of academic, municipal, commercial and church settings. On average, the indicated dimension for the space from the floor to the bottom of the wall pad was 6.79 inches, almost three inches higher than what is recommended in the ASTM standard now in place.
Half the plans depicted an 8-inch gap between floor and pad, and 43 percent of the plans failed to specify any padding at all.
To help change the way gyms are perceived from a safety standpoint, Porter has produced a three-ring binder containing 23 pages of accident case studies and risk-management recommendations, including those of Seidler, who reviewed the document at Porter's request. Members of the Porter sales staff are now expected to reference the material during site visits. "It helps them educate the customer," says Greer O'Brien, Porter's director of marketing. "It helps them work with the architects and the building owners to better determine the overall safety requirements of their facilities."
Potential Porter clients are also asked to fill out a safety survey, including questions relating to current gym usage and buffer zones within each gym, "so that we can also take a look at what's actually happening out there," O'Brien says.
What's happening, in many cases, is that gyms are being used for many activities beyond basketball and volleyball - from indoor baseball practices to physical education classes that teach inline skating techniques. Porter's blueprint review found no plans that called for wall pads around court lines for sports other than basketball, and the average number of wall pads specified for installation was 12.25 per project, or the equivalent of 24 feet, 6 inches of padding width.
It's quite a leap, then, to another point on Seidler's safety to-do list - that entire gyms be padded. NCAA men's and women's basketball rules supplements for 2006 mention wall padding for the first time ever, stating, "It is recommended that padding that meets current ASTM standards be used on walls and other facility features in or around the playing area that a student-athlete might contact during play. Padding should be installed no more than four inches from the floor up to six feet." Still, governing bodies are falling well short of pushing a genuine safety agenda, according to Seidler. "The high school federation doesn't even address padding," he says. "The NCAA didn't until this year, and it doesn't specify how much. To follow NCAA guidelines, you could put up one 2-foot-wide pad."
It's not clear what guidelines, if any, were followed in the construction of the First Baptist Church gym in Sarcoxie. According to Missouri Lawyers Weekly, "The church's building committee acted as the general contractor, which maintained control over all stages of the building's development, including design. Although the church building committee had been advised by the Missouri Baptist Convention to hire professional architects and general contractors for the project, the church opted not to hire such professionals. The building committee did not design or install padding on the walls underneath the basketball goals in the gymnasium."
When contacted by AB in February, Bill Vinson, deacon at the church and a former assistant coach of Patrick's seventh-grade basketball team, doubts the accuracy of that account, though he admits he wasn't privy to the entire design process.
Seidler's take is that volunteer welders installed the wall-mounted goals and another volunteer marked the court in accordance with the backboards, even though it created a court longer by several feet than standard high school court dimensions. "If they had made a standard high school court, they would have had plenty of buffer zone," Seidler says. "One of the recommendations I made to the church specifically in my report was, 'You can still have a safe court by simply restriping it, putting up pads and moving the baskets.' "
When asked if any measures have been taken to enhance safety in the gym, Vinson says, "Everybody's at risk. You just can't get away from that. We didn't feel like the gym was really anything out of the ordinary as far as risk."
According to SHS athletic director Phil Lewis, the school's basketball teams still practice in the church gym, which now features wall padding. "They did put up padding - nine months after the injury," Seidler says. "That was my complaint about them. If you know it's dangerous, why don't you do something to fix it?"
And so the often-frustrating fight for gym safety goes, even as "needless injuries" mount at a several-per-year pace, according to Seidler. "It's often the result of ignorance, not understanding the problem," he says.
NFHS assistant director Mary Struckhoff, for one, admits to being unaware that the three-foot buffer zone has created much cause for concern. "It might be an outdated rule, but no one has told us it's obsolete," says Struckhoff, the federation's rules editor for basketball. "It has not been brought to our attention that this is a problem."
Behind the continued efforts of wall padding manufacturers and risk managers alike, such lack of awareness among governing bodies could soon be sidelined. Says Struckhoff, "If there's a position paper coming, we certainly would be interested in seeing it."