Rolling out synthetic turf over other sports surfaces has its tricky aspects, especially in situations in which two technologically complex products are involved.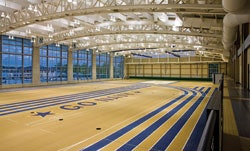 When the U.S. Naval Academy's Wesley Brown Field House opened in May, it was something of a first in the realm of multipurpose facilities. While the two proprietary surface systems specified for the project - Mondo's hydraulic banked track and AstroTurf's Magic Carpet® synthetic turf conversion system - had previously been used singly in a number of facilities, this was the first time that these two sophisticated systems had ever been paired.
After the fact, members of the project team say they were confident they could deal with any difficulties. However, Steve Terrill, senior designer with Dallas-based architecture firm HKS Inc., says that during construction, even some surface specialists expressed reservations.
"We were having dinner one night halfway through construction, and one of the consultants said he'd just gotten the sample of the track surface," Terrill says. "He said, 'This has a lot more friction than any other floor I've put turf over - I sure hope this works.' I thought to myself, 'We're paying millions of dollars; it had better work.' This was the first time for all these guys, engineering two surfaces in this particular way. But it worked like a charm."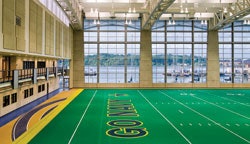 A fast, state-of-the-art indoor competition track is within the reach of anyone with the space and money to set aside a dedicated facility. Accommodating other sports within the same footprint, however, is something that requires some finesse. Court sports (basketball, volleyball, tennis) can be played on a wood, vinyl tile or synthetic surface inside the oval or beyond it, bearing in mind the placement of covered pits for field events such as pole vault, long jump and so on - but field sports pose a knotty problem. The Mondo hydraulic system ably addresses this situation by allowing the banked turns - each composed of a series of interlocking studs that expand and contract as the banks are raised and lowered - to flatten and disappear in multipurpose-space mode.
Actually utilizing the open space for field-sports practices requires a consistent surface, and synthetic turf is perfect for such an application, assuming that personnel and storage issues are addressed. Turf sections that must be temporarily put into position and joined (and then disassembled and put away) are relatively easy to store but time-consuming to put together. The Magic Carpet (a roll of turf to which an underlayment pad has been permanently affixed) does away with the assembly problem by keeping the turf in one piece, with the turf roll stored either on a floor-mounted system that sits against a wall of the field house, behind an end wall (with the turf emerging from a "mail slot"), or in a trench under the floor.
What makes specifying both systems in one location complicated is the mechanism that allows Wesley Brown Field House's 370-foot-long turf roll - which, at approximately 1.05 pounds per square foot, weighs about 70,000 pounds - to be pulled across the floor and into position. Unrolling the turf, done using winch hooks attached to a steel bar, relies on the principle of friction reduction, utilizing a series of ducted air diffusers to "float" the surface over the floor. These ducts must share space under the 70,0000-square-foot field house floor with the Mondo hydraulics, the field-sport pits, any number of electrical outlets placed for race timing systems, and sleeves for net systems serving other sports that might be played on the infield courts. In this case, the Naval Academy's volleyball team plays its competitive matches in the field house, with spectators sitting on temporary bleachers that are stored outside and rolled in when needed.
Mark Mitchell, owner of Mitchell Machine Works in Dalton, Ga., has worked in some capacity (primarily fabricating the rolling system and blower ductwork) on nearly all 20 North American Magic Carpet installations since the first was completed at Harvard University in 1981. Having "seen it all," Mitchell was nonplussed about the challenges of this particular project (and the virtually identical one he's currently working on at Texas A&M, which is set to open in February in time to host the NCAA Division I Indoor Track and Field Championships). "It was a little more difficult from a planning, coordination and engineering standpoint," he says. "It meant that we had to bury our pipes deeper and work around where our blower outlets come out. It was just a matter of working together."
Mitchell's crew gets involved in the planning of any Magic Carpet installation about two years before the building breaks ground. At the Naval Academy, his first close-up look at the hydraulic track system didn't cause him nearly as many difficulties as the field house's hardwood basketball court (and no, he says, as the veteran of three previous turf installations over the same type of pebbled track surface, he was not the uncertain consultant to whom Terrill spoke over dinner).
"The floor has three sets of blowers, and we had to work around three basketball courts where we couldn't put any blower outlets," Mitchell says. "On the inside of the track, we had one or two jump pits, a pole vault off to one side and sprint lanes all the way down one side - it was an interesting floor plan. The challenge was to accommodate all of that and still maintain symmetry in our blower outlet location."
So far, the operation hasn't hit any snags - and literal ones are a rare but real danger with movable turf. "It's a knitted product," Mitchell says. "One of the things that's difficult about putting a field over a track system is that there are a lot of cutouts in the floor - pit covers, things like that - so getting the cover transitions smooth is important. If there's the least little edge you can leave a big hole in your turf."
Terrill says that from a programming standpoint, the high-tech track was of utmost importance to the Naval Academy. From an operational standpoint, though, the turf got the most attention. "It had to be simple enough so they could have students who work part-time at the facility be able to handle it," Terrill says. "It's not like a pro venue where you've got a crew of workers being paid to deal with it every day."