A comprehensive renovation of the recreation center at the University of Illinois at Urbana-Champaign has been completed.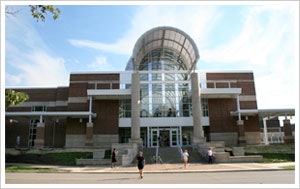 The renovation of a main recreation center at the University of Illinois at Urbana-Champaign was so comprehensive that it warranted a name change. With 120,000 additional square feet, the Intramural Physical Education Building recently reopened as the Activities and Recreation Center. The facility - featuring wireless Internet access throughout - boasts an Internet café, a pro shop and a 150-seat auditorium. Other amenities made possible by the $54 million renovation include a 34-foot climbing wall, an instructional kitchen, massage therapy rooms, a wellness center, 15 racquetball and squash courts, a full gymnasium, a 1/5-mile indoor track, 34,000 square feet of fitness space, indoor and outdoor 50-meter pools and a 35-person sauna.
Florida International University officials hope that the opening of the campus' new football stadium in September helps turn the football program around. (As of this writing, the Golden Panthers had won just four games in the past three seasons.) Initial signs are encouraging, as more than 16,000 fans came out to the opening game at the new stadium, nearly filling it to capacity. Part of a multiphase project, the stadium includes 1,400 club seats, a 6,500-square-foot club area and 19 suites. Future phases will add an adjacent field house with locker rooms and weight training facilities, and seating capacity will eventually be brought up to 45,000.
More Grand Openings
Vassar College, in Poughkeepsie, N.Y., recently completed an $8.6 million renovation of Prentiss Field, which serves soccer, lacrosse and baseball programs. The renovation added a lighted, eight-lane, quarter-mile track, a synthetic turf field and a baseball field with dugouts.
Ernie Raimondi Park, the largest in West Oakland, Calif., recently reopened after a $5 million renovation to its 10 acres of sports fields and open space.
Monroe Community College, in Brighton, N.Y., has unveiled its $12 million PAC Center, which includes an indoor, synthetic turf field, a three-lane track, training rooms and administrative offices.
The Cherokee Nation recently celebrated the grand opening of the 25,000-square-foot Male Seminary Family Recreation Center, in Tahlequah, Okla.
Far Hills Country Day School in Bernardsville, N.J., is enjoying its recently opened 17,900-square-foot athletics center, featuring a 10,350-square-foot gymnasium.