A roundup of groundbreakings and grand openings.
Groundbreakings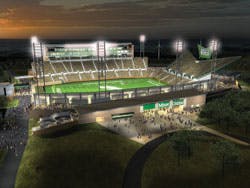 November saw the official groundbreaking ceremony for a new football stadium (above) - what will be the centerpiece of the Mean Green Village - at the University of North Texas. Designed by Dallas-based HKS Sports & Entertainment Group to reach LEED Gold certification standards, the $78 million stadium will replace 57-year-old Fouts Field when it opens for the 2011 season. The multipurpose stadium will hold approximately 30,000 fans and will feature increased tailgating space, luxury suites, an amenity-filled club level, a retail store, a corporate deck and the Touchdown Terrace. A brick exterior envelope and the unique shape of the north stands were created to form an iconic image when viewed from the nearby interstate. Paved walkways and bike paths throughout the site's park-like environment will connect it to the main campus. . .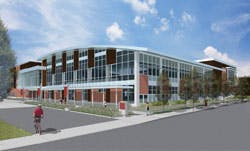 Ground was broken recently on the campus of Western Oregon University for a new health and wellness center (below). The project will add approximately 80,000 square feet of academic, recreation and athletics space to an existing physical education building. Recreation components will include a two-court gymnasium with an elevated track, two racquetball courts, three multipurpose rooms, a 2,400-square-foot strength training area, a 3,600-square-foot cardio area, a 40-by-40-foot climbing wall and locker rooms. Eight thousand square feet of new space will serve the Wolves football team. Designed by Portland, Ore.-based Opsis Architecture, the $30 million project will incorporate numerous sustainable elements, such as a stormwater management system and natural ventilation, in an effort to achieve LEED Gold certification.
Grand Openings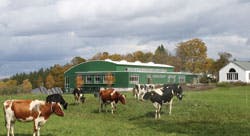 Sixteen sun-tracking photovoltaic solar panels atop the new 16,800-square-foot field house (pictured) at The Putney School in Putney, Vt., will help the $5.1 million multipurpose facility produce as much or more energy as it consumes in a given year. A candidate for LEED Platinum certification, the building is heated and lighted through solar energy when it is available, and the school is receiving 6 cents per kilowatt-hour for excess electricity that is fed back into the grid. The field house includes a full basketball court, a fitness room, showers, office and community spaces, and a ski waxing room with access to groomed trails. . .
The University of Iowa recently celebrated the opening of the 26,000-square-foot Institute of Orthopaedics, Sports Medicine and Rehabilitation. The $5.9 million facility features 16 exam rooms and four treatment rooms, 5,100 square feet dedicated to rehabilitation services, and numerous subspecialty clinics devoted to treating disorders of the hands, shoulders, feet and ankles.