It wasn't the action on the court that got fans' hearts pumping at a high school summer volleyball match held at Goshen College Recreational-Fitness Center in Indiana this past Monday.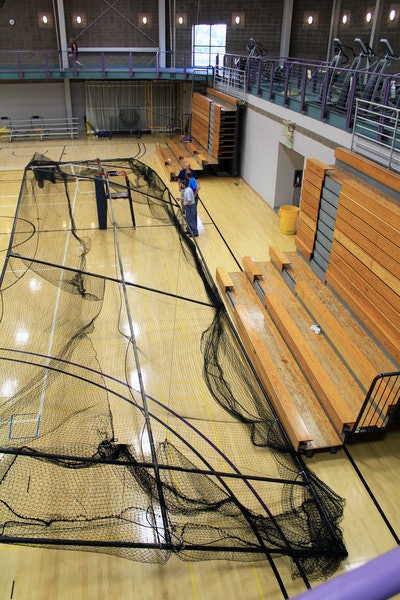 Just before a match was scheduled to start, the steel cables of a ceiling-suspended baseball cage broke, causing the structure to fall onto a section of bleachers. 
"There was a large pop and then one of the sides came down and there was more pops and then I saw the nets coming down," Goshen student Sam Heberling told Goshen News. "I was reffing on that court. I was under it. It came down on me. It hit me in the hand and wrist and it is a little sore." 
Heberling and four adults attending a high school summer volleyball league game sustained injuries. Three were taken to a hospital to be evaluated while the gym was evacuated and the evening's events cancelled. As of Tuesday afternoon, one of the victims remained in the hospital in fair condition.
School officials say this is the first time they have had any problems with the cage and will be investigating the cause of the incident.
RELATED: Inspections, Monitoring Key to Optimal Gym Operation
"It is kind of a strange event," said vice president of student affairs Bill Born. "We will do our legwork checking all the different components to see what is the issue, but that will take a little bit of time."