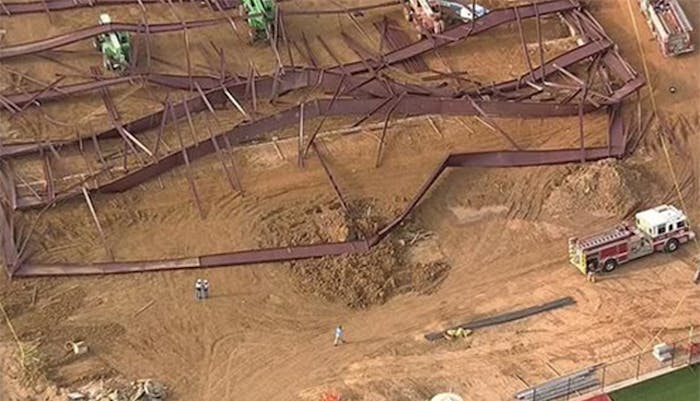 After two deaths in one week, Argyle Independent School District near Dallas is halting work on a new high school athletic facility.
The first tragedy occurred on April 2 when the structure collapsed, killing 36-year-old construction worker Julio Ledesma. The building, which had an original price tag of nearly $300,000, was designed for athletes, coaches and the school's band. Before it collapsed, the frame of the building stood 50 feet tall and 180 feet long.

On the morning of April 2, witnesses say the structure began to "wave."

"The walls, they started moving, and it all collapsed, like all sides just caved in and it created a huge noise," a student at the school told CBS News.

Ledesma was working in a bucket on a vehicle when the building fell on top of it.

On Tuesday, tragedy struck the site again. This time, 22-year-old Danny Moran was killed after being run over by an 18-wheeler driven by his father. The 18-wheeler was being used to haul away debris from the steel frame collapse.
Danny Moran's family says he was working for his dad's trucking company at Argyle HS construction site. @cbsdfw pic.twitter.com/Y2NKw0jUc8

— Andrea Lucia (@CBS11Andrea) April 7, 2015

According to the Denton County Medical Examiner, Moran ended up too close to the truck's rear wheels and was run over. He was helping guide the truck forward from the passenger side. It is not clear how he got caught in the back wheels.

The Argyle School Board called an emergency meeting Tuesday night where it unanimously voted to suspend construction on the practice facility. The school will also hire a safety consultant to recommend how to move forward.

After the frame collapse on April 2, OSHA investigated the work site to see if safety regulations were violated. OSHA said the site employees work for a subcontractor, Warnick Metal Building Erectors of Haltom City.

CBS News reports that company was involved in a mother building collapse in 2007 in Fort Wroth. It was sued for failing to "properly weld the structure." In 2012 OSHA fined the same company $2,900 for a serious safety violation.

The general contractor, Northstar Builders Group released this statement on Tuesday night:

"We are deeply saddened by the deaths of these good men. Our hearts go out to their families, friends and co-workers. Northstar Builders Group is responding with all available resources to ensure the Argyle project goes forward toward a successful completion. We are cooperating fully in the investigation and we do not have all the answers at this time. We look forward to a clear understanding of what happened and the factors that contributed to the accidents."

The facility was scheduled to open this fall. There is no word on a new completion date.