Seen mostly in multipurpose activity courts, practice gyms and family life centers, synthetic indoor sports surfacing has not fully adhered itself to the consciousness of those specifying floors in competition venues — at least not in the United States, where hardwood has been considered the basketball gold standard for more than a century.
But the non-wood market has changed. Certain synthetic systems have come and gone, while others have evolved to offer nearly everything a wood floor can deliver in a form that's more versatile and easier to maintain.
"I often say, 'Wood is good, but...' when referring to synthetics in the U.S. market," says Randy Niese, general manager of synthetics at sports flooring manufacturer Robbins Inc. "Synthetics can provide all the positive aspects of wood, except the traditional sound of the ball bounce, with other positive aspects that wood typically cannot provide." According to Niese, past president of the American Sports Builders Association's indoor division, positives include resistance to less-than-optimal environment conditions, absolute uniformity of ball bounce, and acceptance of indoor spike use, among others.
"It used to be you'd try to make a product do multiple things and it wouldn't do anything well, so we tried to stay away from that sort of thing, generally," says architect Reed Voorhees, senior vice president at St. Louis-based CannonDesign. "But now with the technology and materials and systems, there are products that do a lot of things extremely well. Being a full-time sports person, I spend a lot of time researching products and materials, and I've always liked trying to find materials that are newer and do things better than they have in the past."
Among the mainstream synthetic products available today are pad-and-pour polyurethane systems, in which foam pads are adhered to a subfloor and coated with a liquid polyurethane that cures onsite; cushioned vinyl or PVC systems, in which rolls or sheets of material are heat-welded together for a seamless surface; rolled and sheet rubber; and modular polypropylene tiles. "Modern synthetic products are quite different from the product offerings 25 or 30 years ago," Niese says. "These are not your father's floors."
So what should those specifying indoor sports surfacing think about when comparing today's synthetics to wood? Here are some considerations: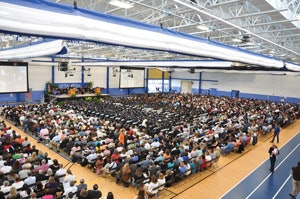 SENSORY APPEAL
Courts used for competition in the United States are predominantly hardwood.
"NCAA and NBA surfaces are virtually all hardwood," Niese says. "This establishes a perception of what a competition indoor court should look like, feel like and sound like. It doesn't necessarily mean that hardwood is the only choice, or even the best choice, for a particular indoor court application."
High-level facilities are increasingly viewing their competition courts as works of art, but synthetics offer their own aesthetic options. "Northern maple hardwood flooring certainly can provide a natural beauty to the indoor gymnasium, and when finished with solid-color borders and attractive logos, the overall appearance can be quite stunning," Niese says. "However, synthetic products can also contribute to a great overall appearance. Cushioned vinyl flooring is offered with a printed wood-like appearance, as well as solid colors, so the general appearance will resemble that of hardwood. Meanwhile, rubber sheet flooring and padded polyurethane are offered in a wide range of colors."

PERFORMANCE
The performance of hardwood sports flooring can be tweaked depending on the subflooring system specified, and the same is true of synthetics. The shock-absorption on a pad-and-pour synthetic floor can be enhanced by building the floor on top of two layers of plywood. Such a system can be further altered by adjusting its actual components — specifying thicker pads, for example. Likewise, rolled vinyl flooring can be selected to suit the desired resilience, with common thicknesses varying from three to more than eight millimeters. "Generally, the thicker the floor, the more shock-absorbent it is," says Joe Covington, current ASBA indoor division president and president of Covington Flooring and NAH Sports Flooring. "You can build shock-absorption in a synthetic floor just like a wood floor, but you're going to pay for it. The more pad, the higher the cost."
"Synthetics are generally quite adaptable to specific needs and desires relating to athletic performance," Niese says. "At the time of product selection, there are options for adjusting the structure of the system, as well, to create higher load capacity, higher impact resistance, etc. This is done by adjusting the structural compounds. Hardwood systems may also have some latitude in performance modification. But as a rule, these types of adjustments are easier in synthetic products than they are in maple systems."
Moreover, once installed, the performance of a synthetic floor is consistent throughout. "Uniformity in synthetics is a given," Niese adds, "with or without modification."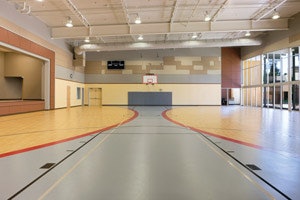 UPKEEP
At its most basic level, the maintenance of both hardwood and synthetic sports flooring is the same. Regular removal of dust, dirt and other abrasive contaminants is essential to enhancing the life span of either type of floor.
Beyond that, a wood floor should be lightly abraded and recoated at least once a year, then sanded and refinished once every 10 years over its 40- to 50-year life. A synthetic floor should be power scrubbed regularly and, in the case of a pad-and-pour system, recoated every 10 to 15 years. "With a wood floor, you're sanding and refinishing — taking stuff off until you get down to the nails. With a pad-and-pour urethane, you're actually adding something to the top," Covington says. "If you've had one down for 10 years and want to change the court marking, well great. We'll go in there and abrade it, put a half-millimeter of urethane down, restripe it like you want it, and boom, you have a new floor for just a fraction of the cost."
Covington estimates the fraction to be roughly half the per-square-foot cost of the initial installation — say, $3.50 down from $7. "Now, with a wood floor, if you sand and finish it, you're going to spend about $2 per square foot, but you can only do it about four or five times," he says. "And then if it gets wet, goodbye. It's gone."

RESISTANCE TO MOISTURE
"We've all heard it: wood and water don't mix," says Niese, adding that spills can be spot cleaned with a damp cloth without a second thought. However, prolonged exposure to moisture — both water and humidity — can have a damaging effect on a wood sports floor. From shrinkage gaps between boards in dry conditions to cupping and buckling during periods of high humidity or standing water, a wood floor is constantly absorbing and releasing moisture to maintain equilibrium with the moisture conditions of its environment, Niese says. These extremes, as he calls them, are avoided by maintaining a hospitable indoor environment, and through proper maintenance of the floor itself.
That said, synthetic sports flooring isn't immune to moisture-related issues. "Because synthetic products are adhered to the substrate, they can be negatively affected by moisture from below, which may cause loss of adhesion," says Niese. "However, as a rule, synthetics are not affected by ambient moisture and are very tolerant of accidental spillage."
They can tolerate more than that, according to Covington, whose companies' service area includes the Louisiana Gulf Coast. "We've done some wood floors down the coast after hurricanes — did them two or three times — and they could have put a synthetic floor in there that performed the same, but it just didn't look like wood," Covington says. "And we're like, 'You could have spent $100,000 instead of $300,000, and you never would have had to replace it.' If it got flooded, you just clean it up and go from there."

PERMANENCE OF INSTALLATION
Hardwood courts at the highest levels of competition, particularly in multipurpose sports venues, are regularly pieced together, played and removed to make room for another activity — ice hockey, for example. That type of portability is not possible with most synthetic alternatives, save snap-together modular tiles.
But like hardwood floors, certain synthetic flooring products will have a life cycle. The notable exception is pad-and-pour polyurethane systems. "Synthetic products can widely vary in permanence," Niese says. "Some are virtually permanent, while others are systematically removed and replaced. Prefabricated products are generally removed and replaced, while in situ products — those poured on site — are generally not removed. Unless there is a problem stemming from moisture from below, or the building is razed, the installation can be resurfaced in perpetuity."
---
This article originally appeared in the May 2015 issue of Athletic Business with the title "Why Not Synthetic?"