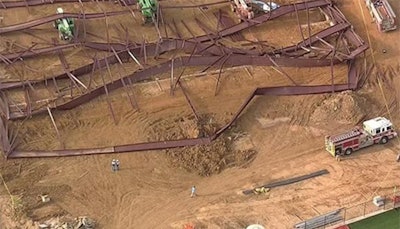 Two workers have died in the construction of a new athletic facility for Argyle High School near Dallas. Now video of the structure's collapse that killed 36-year-old Julio Ledesma has been released.
The footage of the collapse, which occurred on April 2, was was captured by Argyle security cameras. Without warning, the steel structure begins to sway and then buckles. Ledesma was working on a lift at the time. You can see the footage in the news report from Fox News in Dallas-Fort Worth below:



"The walls, they started moving, and it all collapsed, like all sides just caved in and it created a huge noise," a student at the school told CBS News that day.

On April 7, 22-year-old Danny Moran was killed at the site when he was accidentally run over by an 18-whller driven by his father. The semi was being used to haul away debris from the steel frame collapse. The school has halted construction on the facility.

Construction will not resume until the district reviews the findings of a safety audit they're commissioning after these two tragedies. Argyle ISD has not yet selected who will do the audit, and there's no timeline about when it will be completed.

PRIOR COVERAGE: HS Athletic Facility Construction Halted by Deaths