This article appeared in the April issue of Athletic Business. Athletic Business is a free magazine for professionals in the athletic, fitness and recreation industry. Click here to subscribe.
If you find yourself at a basketball game at Redwood Valley High School in Redwood Falls, Minn. (population 5,200), pay attention to the action on the court. Otherwise, you may get caught eyeing your phone and wind up starring on the gymnasium's 10-by-7-foot video board.
The so-called "Oblivious Cam" is just one of a number of features that have become staples at Redwood Valley indoor sporting events over the three years the school has owned and operated the board. The October 2013 installation represented the nation's first in terms of four-millimeter-resolution technology in a high school gymnasium setting, and exemplifies a growing trend of schools investing in the indoor fan experience. "As the indoor LED display market has grown and pricing has reached levels of affordability, there are an increasing number of high school athletic programs installing video boards in their gyms to create a whole new atmosphere of fan engagement, information and entertainment," says Doug Winkelmann, vice president of scoreboard sales at All American Scoreboards.

Schools have investment choices, depending on what each wishes to accomplish. Daktronics — the manufacturer behind the scoring, video and audio overhaul at Redwood Valley High School — offers video boards that accommodate live video (and instant replay) in addition to produced video and advertising spots, player lineups and profiles, and fan prompts and other animations, as well as boards that do everything those other boards do except live video. According to Tom Coughlin, the company's national sales manager, Daktronics has roughly 60 high school gym installations nationwide of the live-video variety, and about 150 of the other. To give some idea of the indoor trend's infancy, Daktronics has approximately 125 live-video board installations at prep football fields in Texas alone.

DIFFERENT EVENTS, BENEFITS
The big-picture disparity, which Coughlin estimates to be 75 percent to 25 percent in favor of outdoor video at the high school level, can be explained in part by the nature of the sports those boards serve. "Football just sets up so well for instant replay. After every play there's a break," he says. "Basketball, it's tough. Somebody could have a slam dunk, but unless you're going to play the instant replay and hope somebody takes their eyes off the court to watch, the ball might not be dead."
This is why many high schools opt to forego live video and instant replay capability on their indoor boards. However, schools still mulling indoor video should consider the broader benefits that such capability brings to the gym setting. Some schools, including Redwood Valley, are finding that the gym has become the preferred venue of non-sporting events solely for this reason (think a Christmas choral concert and its abundant close-up potential).
On the manufacturing side, one company that used to deal only in outdoor LED signage debuted its indoor video board at the 2015 Athletic Business Show in New Orleans, hoping to tap into the expanding high school market. "The possibilities are endless," says Christine McKelvey, marketing and art department manager at Stewart Signs. "You can use it to live-stream speeches, graduations, homecoming dances, and advertise upcoming events or fundraisers. It's a multi-use infotainment platform that can be a source of pride for any school."
Indoor video also allows year-round exposure for sponsors, whose paid advertising commitments invariably help drive the board purchase. Says McKelvey, "It's a rare school investment that can end up paying for itself."

HANDS-ON LEARNING
There is an educational component, as well. Schools that have brought video indoors now have a year-round vehicle for teaching students production and operation skills, and the live-video option only enhances that experience. "I love running the camera and putting the kids up on the board," says Redwood Valley senior Maria Bebeau, a member of the school's four-person video board production team. "They get so excited."
Bebeau and her video-production classmates "pretty much do everything," she adds, including a personal pet project this past season that involved asking girls' basketball team members trivia questions in prepackaged video clips. "I saw it at a WNBA game," she says. "I thought it was really cool and that we should do that, too, so during time outs the crowd has something to look at."
The video production class at Redwood Valley predated the purchase of the gymnasium video board, and communications teacher Virgil Felt became the project's manager, ultimately hand-selecting students to create the new board's content. This included setting up meetings with the 24 area businesses whose agreement to help fund the project included the running of 15 seconds worth of advertising on the board during every event held in the gym. One such spot chronicled the remodeling of a grocery store, which runs separate spots for its deli and gas station. Advertisers prescreen and approve all student work before it's displayed. "I'm a real big proponent of the idea that if kids are turning out quality stuff, we have to get it out there so people can see it," says Felt, recalling how he advocated for the board's purchase. "If it's good, I want to share it with people."
More under-the-gun training may take the form of recording a Redwood Valley gymnastics meet taking place in the hockey arena, then compiling a highlight clip of that meet for display at halftime of a basketball game being played simultaneously. "It has to be quick, and it's okay if it's not perfect," Felt says. "A lot of these kids obsess sometimes over perfection. When you're in production, you just have to roll."
And the students get more than hands-on experience. "If they take this class, these four students have to agree to work at least eight events, and I have to pay them $25 a gig," says Felt, adding that the stipends were all part of the original budget plan. "I pay them for their knowledge."
Schools from much larger communities have called to ask Felt to share his knowledge of the production process, and visiting teams at Redwood's River Riot wrestling invitational have inquired about the board and its benefits. "I think what really helps sell a project like this is the fact that you can get kids involved and get real learning happening," Felt says. "This is critical thinking at its best."

---
MONITORING NEW WAYS TO KEEP SCORE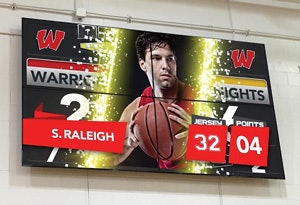 LED boards aren't the only means of bringing video indoors. ScoreVision, a startup company based in Omaha, Neb., has introduced software designed to unite the best of iPad and high-definition multimedia monitor technology to handle scorekeeping and more within the gymnasium setting.
Replacing traditional scoreboards and video boards with off-the-shelf commercial-grade TVs, perhaps configured as multiple-screen video walls, the software allows users to score sporting events using an iPad-compatible program that integrates other visual capabilities — from a waving American flag during the National Anthem to player photos splitting the scoring screen when each home basket is made. The monitors can double as practice tools, with coaches showing scouting reports or drill tutorials in the gym. Durability concerns are addressed with a non-glare shield that creates a buffer between the TV screens and, say, an overthrown baseball.
Of course, video production and sponsorship opportunities can be applied to sporting and non-sporting events. "If you think about it, on the high school level, the gymnasium is actually the headquarters of the school," says Susan Runnels, ScoreVision's director of business development. "You have pep rallies, assemblies and speakers. You may have prom, parent-teacher conferences and graduations. It's definitely a community changer."
Moreover, the software pushes real-time scoring and statistical information to iPhones through a fan app, availing the same information appearing on the wall of the gym to parents and others unable to be there in person.
"We're not a hardware company," ScoreVision vice president of operations Wayne Lallman explains. "But once you've invested in that hardware, there is nothing that exists on a TV, VCR, DVD, laptop or Apple computer that you can't put up on those boards. They're really everything in one."
---
This article originally appeared in the April 2016 issue of Athletic Business with the title "High schools are seeing the value in gymnasium video board investment"