This article appeared in the April issue of Athletic Business. Athletic Business is a free magazine for professionals in the athletic, fitness and recreation industry. Click here to subscribe.
---
Best Lights Inc.
Best Lights manufactures the latest LED and T9 technology. The company's fixtures and patented reflector designs achieve higher light levels while saving clients millions of dollars in energy costs. Durable lights, like those pictured at Boston University, pay for themselves through energy savings and are perfect for indoor tennis, basketball and volleyball, as well as activity in field houses and soccer and hockey facilities, including air-supported structures. Typical no-risk return on investment is one to three years. Free energy analysis, as well as utility rebates and financing, are available.
www.bestlights.com
(800) 545-2928
---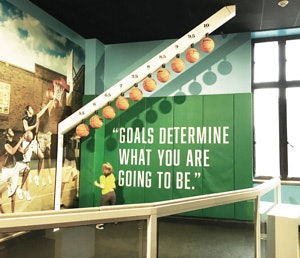 Humphrys-CoverSports
Humphrys-CoverSports provided EnviroSafe™ wall padding and accompanying netting for three of the half-dozen interactive stations in SportsZone, a new permanent interactive exhibition at The Franklin Institute in Philadelphia. CoverSports manufactured kelly green padding with "GO!" graphics in the "Race Against Pro Athletes" challenge, custom-cut white pads enclosed with nearly 300 square feet of knitted nylon netting custom cut and hemmed to specifications in the "Perfect Your Pitch" booth, and kelly green padding imprinted with a quote by Hall of Famer Dr. J in an area that tests standing jump and leaping ability.
www.coversports.com
(800) 445-6680
---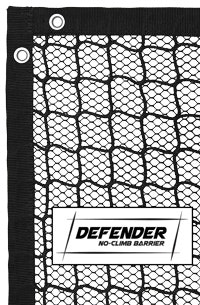 InCord
Defender™ Barrier Nets are the latest in stacked netting solutions from InCord. The versatile net panels provide safety barriers for use in active play areas to keep the action contained and guests safe. Defender nets also may be used for field fencing, fall protection and as no-climb perimeter barriers. Net panels can be installed vertically or horizontally to protect walls, ceilings and any space that requires a barrier with impact-absorbing qualities. Public areas and off-limit areas can be fenced or enclosed with Defender net panels for safety while maintaining guest and spectator visibility and access.
www.incord.com
(860) 537-1414
---
Jaypro Sports
The Master Equipment Controller 2 (MEC2) system operates a variety of gymnasium equipment, including basketball backstops, divider curtains, batting cages and height adjusters. It also allows on/off control of auxiliary components such as scoreboards, lights and fans. The MEC2 comes standard with a touchpad, a 12-volt power supply and a main relay board capable of operating up to eight gymnasium components and/or up to 16 auxiliary components. It is easily expandable to control additional components as well.
www.jaypro.com
(800) 243-0533
---
Kay Park Recreation Corp.
Tip and Roll Bleachers from Kay Park Recreation provide extra seating where needed — indoors or out. The lightweight, all-aluminum bleachers come with three or four rows in standard lengths of 7½, 15, 21 and 27 feet. Outdoor bleachers are available in 5-, 8- or 10-row models, including highway-towable hydraulic-folding Speedy Bleachers.
www.kaypark.com
(800) 553-2476
---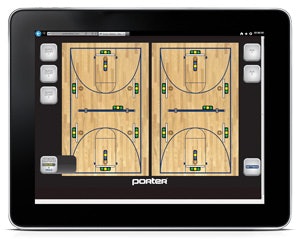 Porter Athletic
The Powr-Touch 5 from Porter is an advanced gym control solution optimized for wireless control. Cutting-edge S.C.O.R.E technology allows users to control their entire gym with an iPad or other wireless device. The easy-to-use graphic interface features a custom court layout of the user's facility, and an unprecedented ability to create preset court configurations allows for the quick change of ceiling-suspended equipment from one sport to another.
www.porterathletic.com
(888) 277-7778
---
Schelde Sports North America
The company that introduced the world's first lightweight aluminum and carbon volleyball net systems recently unveiled its strongest, lightest all-carbon telescoping volleyball net system. The all-new EDGE from Schelde Sports, made with high-strength carbon fiber, delivers the ultimate combination of rigidity and ultra-light weight, with end posts weighing a mere 17 pounds and winch posts weighing only 22 pounds. Telescoping posts feature pin-stop net-height settings, and — like all winches — are covered by a limited lifetime warranty.
www.scheldesports.com
(888) 724-3533
---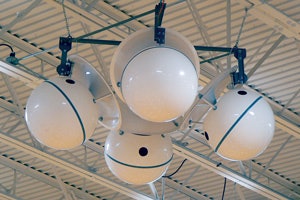 Soundsphere
Soundsphere's omnidirectional loudspeakers for gymnasiums provide intelligibility and dramatic full-range sound. A single speaker may be enough in some gyms, but when more sound power is desired, Soundsphere offers the multiple-speaker Q-12A Combo systems, which maintain the single source of sound important for intelligibility in acoustically challenging spaces. These systems can also include the optional Q-SB2 sub-bass speaker for strong, extended low frequencies.
www.soundsphere.com
(855) 663-5600
---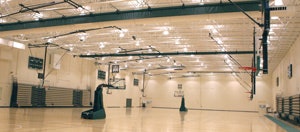 Spalding
Spalding offers free evaluations toward the inspection and servicing of basketball, volleyball and gymnasium products. The GymPro program is a floor-to-ceiling 60-point facility assessment with a written inspection report completed by expert professionals. The company offers convenient appointment times and reliable communication, and trained and experienced professionals will evaluate and educate clients on the performance of all equipment, as well as prioritize maintenance and recommend any needed repairs.
www.spaldingequipment.com
(800) 435-3865
---

Sports Tutor Inc.
The Volleyball Tutor Silver Model can vary ball trajectory to produce any desired set, pass or dig while delivering serves at speeds of up to 60 miles per hour. The Silver Model's release point is 5½ feet high to simulate a real player. A separate dial controls the amount of spin on serves.
www.sportsmachines.com
(800) 448-8867
---
This article originally appeared in the April 2016 issue of Athletic Business with the title "Product Spotlight: Gymnasium Gomponents"
---
RELATED: Find more solutions for your facility in the Buyers Guide