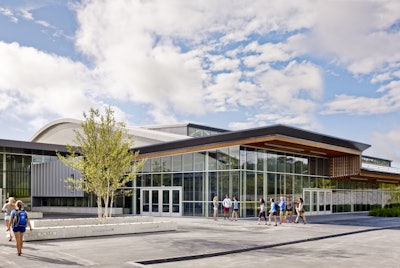 Virtue Field House | Middlebury College
In the right hands, even field house design can be an exercise in architectural creativity. Take Virtue Field House, for example, which manages to surround straightforward programming spaces — a 200-meter track, a synthetic turf infield — with a parabolic roof and angular building forms to create an exterior aesthetic that's both "elegant and restrained," in the words of one judge.
As part of rigorous master-planning, careful consideration was given to how the field house relates to an existing athletic center and outdoor fields. Used by all of the college's sports teams, the field house allows Middlebury to host NCAA indoor track and field meets for the first time.
View the full photo gallery>>>
---
Judges' Comments:
"Wonderfully refined massing to appropriately fit its site, particularly given this is a field house." — Katie Barnes
"This project took a very creative approach to breaking down form and scale. The parabolic roof shape and the unexpected wood detailing make this project special." — Tracy Carusi
"The design of this facility could best be described as 'fitting in' to the context. The precise and unique composition of exterior facade and soffit detailing continue to the interior. This facility is efficient and functional, a flexible facility in all respects."— Jeff Penner
---
Architect of Record:
Sasaki Associates | Watertown, Mass.
Cost: $29.14 million
Square Footage: 120,000
Funded By: College donations
Major Facility Components: I200-meter track, 20,000 square feet of synthetic turf, spectator seating for 500
---

A big thank you to our seven judges: Katie Barnes, Barker Rinker Seacat Architecture; David Body, David Body Sports Planning Consultant; Tracy Carusi, Collins Cooper Carusui Architects; Greg Houston, Marmon Mok Architecture; Philip Laird, ARC/Architectural Resources Cambridge; Dave Larson, TMP Architecture.; and Jeff Penner, Stantec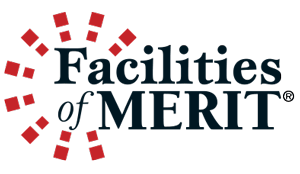 The 2016 Athletic Business® Facilities of Merit® awards were selected by a panel of sports and recreation facility architects during two days of judging in Madison, Wis. The 10 winners are being announced during these two weeks, and profiles of all 10 will appear in the October issue of Athletic Business. The awards will be presented to the facility owners and architects at the Athletic Business Show in Orlando on Friday, Nov. 18.
See more of the 2016 Facilities of Merit