Editors Note: This article originally appeared in our sister publication, Wood Floor Business. Read the full original piece here.

The Problem
I was commissioned by an insurance company to determine if a gym floor was able to be repaired and refinished or if the entire floor required replacement. The claim was a "subrogation" issue, which is when a claimant's insurance company contacts another insurance company for reimbursement. Most often in subrogation claims, the purpose of the inspection is to confirm cause and determine extent of the damage, as the reason for the damage is not always in dispute.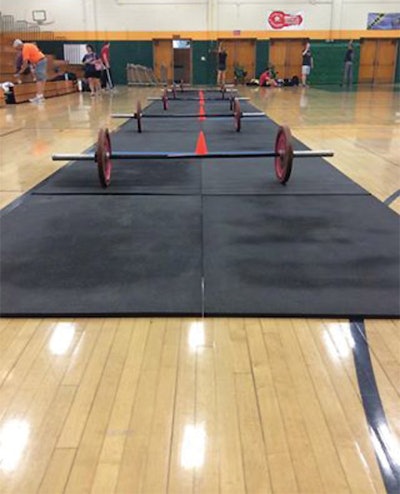 What Happened
This case involved a wood basketball court of 21⁄4-inch maple strip nailed to a wood substrate. It was located in a school gym that had been rented out for a CrossFit competition. Mats had been placed over the floor where the weightlifting competition was held. The weights were lifted overhead and often dropped on the floor, breaking boards. The school system had replacement coverage, but the renters had a repair policy. I was asked to address whether there was enough wood left to resand the entire floor if the broken boards were replaced. The floor was approximately 40 years old and, according to building maintenance staff, had been refinished, although they were unsure how many times.
The Inspection
The cause of the problem wasn't in dispute—the flooring clearly had damage from the impact of the competition weights. The flooring had open areas at the time of the inspection, so both overall thickness of the flooring as well as the remaining wear layer (over the top of the tongue) could be easily measured. I found there was a full ¼ inch of wood left in the wear layer. On inspection of the perimeter of the room, I found old finish under the bleachers. The change was abrupt and consistent with sander marks, indicating the bleachers were not removed for refinishing. There was also some water damage around the water fountain and patch repairs throughout, so it was clear the floor had been repaired previously.
Read how to fix the floor on our sister publication, Wood Floor Business.