Look across the width of Northwestern University's new indoor practice field and it feels as if you're barely indoors at all.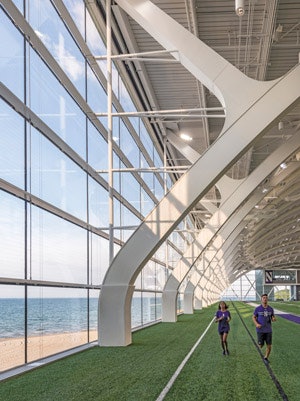 The north facade of Ryan Fieldhouse abuts the Evanston, Ill., shoreline of Lake Michigan, with a 400-by-42-foot curtain wall running the entire length of the facility's synthetic turf field. Typically exclusive to airports and convention centers, a curtain wall of this magnitude is unprecedented in multisport fieldhouse design, which tends to favor utilitarian shelter from exterior elements over expansive exterior views. To make views from Ryan Fieldhouse as unobstructed as possible, designers at Perkins and Will employed an innovative system that suspends glass panels in tension from a ribbed roof structure, which takes the brunt of the wind load, thus eliminating the chunky vertical and horizontal aluminum supports common to expansive curtain wall. Instead, glass panels are supported by a system of relatively thin horizontal girts and vertical tension rods — the only exception being the 7-foot-high band of glass rising up from field level, which requires even less view-obstructing support. "This is obviously a very specific and amazing site, and capitalizing on it was something that we and the university certainly wanted to do," says Perkins and Will principal Bryan Schabel, adding that another unique feature of the field — its second-level elevations dictated by site constraints — enhanced the curtain wall's impact. "It provided some opportunities and actually made this even more interesting because you're above the water in this context. All this glass is out of respect to the site."
---
This article originally appeared in the April 2020 issue of Athletic Business with the title "Fieldhouse curtain wall captures extraordinary views." Athletic Business is a free magazine for professionals in the athletic, fitness and recreation industry. Click here to subscribe.