Check out these products as seen in the May 2021 issue.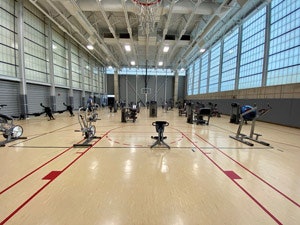 Mondo
Mondo Advance is a durable, high-performance gymnasium and multipurpose resilient surface that exceeds coefficient-of-friction standards for improved athletic performance — making it perfect for basketball and volleyball. Environmentally friendly Mondo Advance flooring can withstand static and rolling loads from bleachers and chairs. The flooring is easy to maintain, fire resistant, and includes antibacterial and antimicrobial agents throughout. The vulcanized rubber will not break down or compress over time. It is 100 percent recyclable and GREENGUARD Gold-certified.
www.mondoworldwide.com
marketing@mondousa.com
(800) 361-3747
---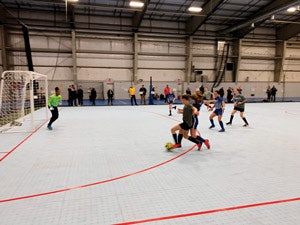 Ultra Base Systems
Ultra Base's multi-patented base replacement system provides the structure, drainage, safety and player performance in a single, precision-molded, easy-to-install modular panel solution. Courts without concrete and fields without stone are forever a reality with Ultra Base and Tour Links. Ultra Base Systems can take the construction guesswork out of a project by offering easier installations, better results and no limitations.
www.ultrabasesystems.com
sales@ultrabasesystems.com
(727) 391-9009
---
RELATED: Find more solutions for your facility in the Buyers Guide
---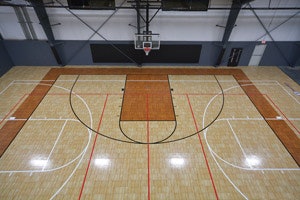 SnapSports
SnapSports TuffShield® Maple athletic surfacing gives facilities the look and feel of a real wood floor at a fraction of the cost. This high-performance modular sports surface delivers without the maintenance and cost of a suspended hardwood floor. Light, dark and gray finishes allow for endless designs modeled from the best collegiate and professional courts. Available with SnapSports' patented ShockTower® technology, the industry's only shock absorbent sub-structure allowing athletes to play better, faster and longer.
www.snapsports.com
sales@snapsports.com
(800) 664-3865
---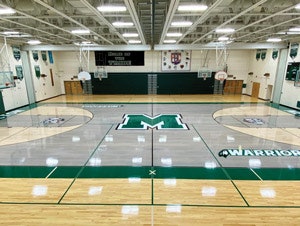 Aacer Sports Flooring
Aacer Sports Flooring, a Maple Flooring Manufacturers Association-certified mill, is an innovative manufacturer of high-performance hardwood flooring and subflooring systems for the sports industry. From yoga to high-intensity college sports, Aacer has a system to meet any surfacing need. Aacer's flooring receives high marks for vibration reduction, shock absorption, resiliency, moisture resistance and dead-spot elimination. Aacer prides itself on delivering products that are consistent and of high quality, which ultimately allows for easy installation.
www.aacerflooring.com
sales@aacerflooring.com
(877) 582-1181
---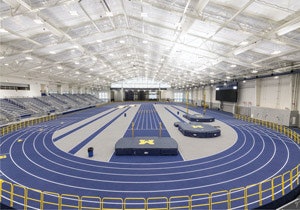 Keystone Purchasing Network
Turnkey athletic installation or renovation can be completed under the Keystone Purchasing Network — a national cooperative purchasing program. By utilizing FieldTurf, KPN contracts for athletic fields, as well as courts and indoor and outdoor tracks. Facility operators can use KPN to minimize project costs and work with pre-vetted, experienced manufacturers and builders that understand all types of facilities. "We are extremely satisfied with our KPN experience," said Sean Bruno, a superintendent who recently used KPN. "We highly recommend it to others and look forward to using it again."
www.theKPN.org
info@theKPN.org
(888) 490-3182
---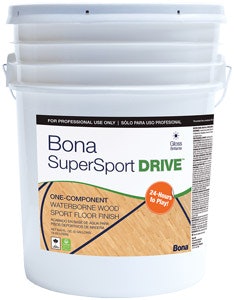 Bona
Bona SuperSport DRIVE® is a one-component finish with the superior features of a premium two-component finishing system. It provides a tough, urethane finish with good build. Bona SuperSport DRIVE is highly durable with a vibrant gloss sheen, is safe for the environment and is ready for play in just 24 hours.
www.bona.com
mary.otto@bona.com
(800) 872-5515
---
RELATED: Eight Factors Influencing Gym Floor Purchases
---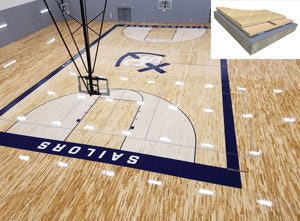 Action Floor Systems
Action's AnchorFlex floor system features a factory-fabricated subfloor system with open-cell foam pad and polymer T-block anchors for dimensional stability, comfort and strength. The system allows for vertical and natural horizontal movement while providing great ball response. The Action AnchorFlex system is resilient, has uniform feel and offers consistent shock absorption to maximize playability and reduce potential injuries. Action AnchorFlex is MFMA PUR-compliant, passing PUR test standards as confirmed through third-party testing.
www.actionfloors.com
info@actionfloors.com
(800) 746-3512
---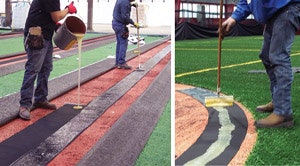 NORDOT® Adhesives by Synthetic Surfaces Inc.
The NORDOT® "4-Series" of adhesives are a premiere choice for installing wood gym flooring, padded gym flooring or other athletic, recreational and aquatic surfaces indoors. These one-part, user-friendly, solvent-based urethanes have little odor, low VOCs and are easily applied by stand-up squeegee (as shown in these photos), trowel, glue box or roller. Over the past 47 years, NORDOT® Adhesives have built a well-earned reputation worldwide for their ease-of-use, high "green strength" (grab, tack, grip), superior water resistance and unrivaled long-term durability.
www.nordot.com
info@nordot.com
(908) 233-6803
---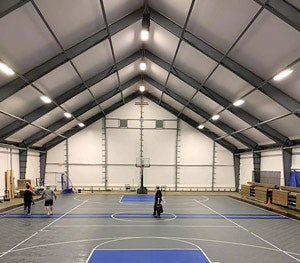 ClearSpan Structures
ClearSpan's new HD Beam Building combines an I-Beam frame with the company's exclusive Armor Shield covering. The I-Beam provides a dependable frame and exceptional structural integrity, which allows a facility of any size to be constructed. Accompanied by the durable Armor Shield covering, the HD Beam Building is a high-quality solution for those looking to add any type of athletic or recreational facility.
www.clearspan.com
trussinquiry@clearspan.com
(866) 643-1010
---
These products originally appeared in the May 2021 issue of Athletic Business, a free magazine for professionals in the athletic, fitness and recreation industry. Click here to subscribe.