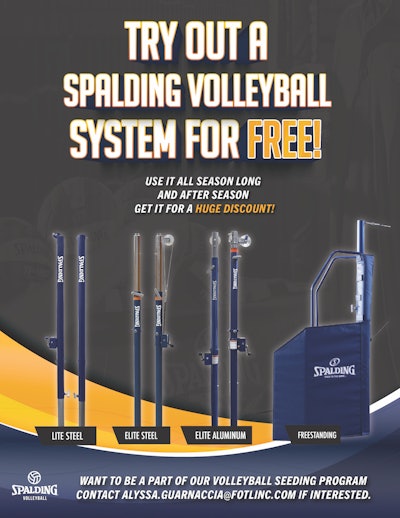 This content is supported by one of our advertising partners. What is sponsored content?
When capital is in your budget for new volleyball equipment, it is imperative that you pick the right system for your space and use. After all, most schools don't plan to replace their court system for at least five years, and many systems will be in place much longer than that. Continue reading to find out which system will fit best in your gym!
If you are interested in getting a Spalding system put in your gym by this fall, you may qualify for our BRAND NEW volleyball seeding program! We are offering 5 different schools the opportunity to use a Spalding system for their entire fall season FOR FREE! At the end of the season, if you love it, which we think you will, you can purchase the system for a MAJOR discount! If interested, please contact alyssa.guarnaccia@fotlinc.com for more information! If you are unsure what system you would choose, continue reading below to find out what system would be best for your gym!
The Spalding Lineup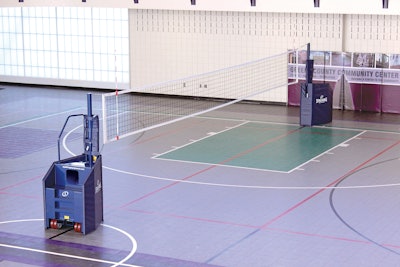 Portable systems on wheels are the favorites of rental companies, who often set up tournaments in facilities such as convention centers, where there are no floor sleeves, or add them to facilities with existing permanent court sets. For schools who can't get approval to install floor sleeves into the wood gymnasium floor, these sets are a great option and compromise. There are two styles: the Original Freestanding has two big end bases. The Freestanding 2 is smaller, sleeker and less expensive. Both easily wheel in and out of a space.
LITE Steel: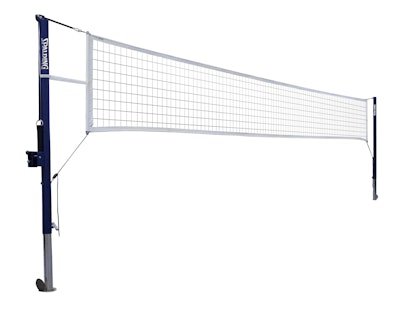 A sleek design that weighs 34% less than the traditional system and has more stability and less deflection and bowing during play. The LITE Steel has visual settings on the bottom of the pole instead of the top, creating better leverage when changing heights. A system that is redesigning the way we set up volleyball nets. Are you ready to step into the future?
Visual Settings: Men's, Women's, Junior's, and Elementary heights.
ELITE Aluminum: Coaches' Choice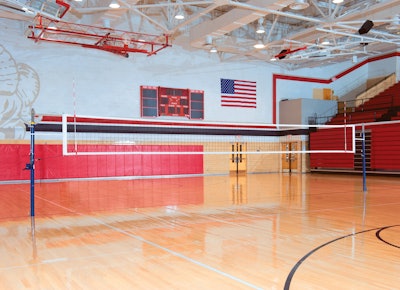 A design that is lightweight and easy to set up and has an enclosed pulley to help keep the cable from falling. This high-end system is ideal for groups needing any combination of men's, women's and juniors' heights. It's still light-weight for times when the poles need to be taken down for different usage of the space, but has the sturdiness of the steel sets. And since it is telescoping instead of a pin-stop system, makes height adjustments easier. As with the Multi-Sport system, it uses permanent sleeves. Can be used as a single court or set up for multi-court play. The reliable net for a school or club.
Visual Settings: Men's and Women's heights.
ELITE Steel: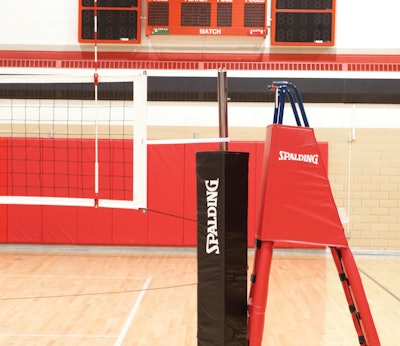 If a semi-perm or perm placement is desired, Spalding offers a Steel system. Due to its heavier weight and minimal deflection, It is best used for situations in which the net may never need to come down or rarely is taken down but is not limited to daily movement. Most go with the Elite Aluminum or Light Steel systems, due to the weight of the Steel systems. Created for the highest level of competitive play. The improved pulley guard is designed to prevent cable misalignment. The ELITE Steel can be used as a single court or set up for multi-court play. This system has the capabilities to be used for the younger groups while staying its high standards for the elite level.
Visual Settings: Men's, Women's, Juniors, and Elementary.
Slide Multi-Sport:

A light weight and easy set up system that can switch from one sport to the next. With the sliding capabilities, you can easily adjust the height even after the net is set up. They are installed on floor sleeves, which provides stability above and beyond portable systems and ease-of-use second to none. A great system for someone looking to cover multiple sports with limited storage space.
Visual Settings: Men's, Women's, Junior, Elementary, Badminton, and Tennis heights.
For schools with existing equipment and permanent sleeves, Spalding offers sleeve adapters. The Spalding uprights are a 3-inch outer diameter, and the adapter sleeve fits snuggly into an existing 4-inch sleeve in the floor. They drop right in to adjust to the new equipment.
Most systems come with padding in addition to the posts, net and antennas, but an Upright Package is also available that includes two posts and antennas. Spalding offers 18 colors of vinyl, and as an optional upgrade, the school's name can be added to the padding or top and bottom edge of the net. The posts can be further customized via powder coating.
All Spalding parts, nets and accessories come with a one-year warranty, the Multi-Sport posts & pistons have a five-year warranty. Plus, the competition posts and pistons carry a limited lifetime warranty.
For more information on Spalding's Volleyball systems click here.