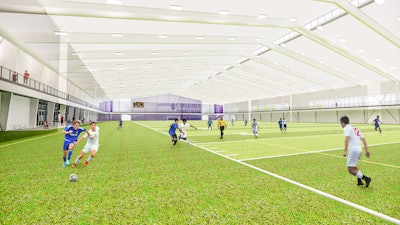 Rendering Courtesy of Kahler Slater
Columbus Community Hospital recently held a groundbreaking ceremony for a new $45-$50 million field house project in Columbus, Neb. 
Designed by Kahler Slater and TSP Inc., the new 265,000 square-foot sports complex will serve the Columbus area community providing fitness, wellness, and rehabilitation services. 
A 108,000-square-foot synthetic turf fieldhouse will be built next to the hospital's existing Health and Wellness Center and will include an indoor soccer and football field and a suspended running and walking track. 
To enhance community wellness and support competitive sports, the state-of-the-art complex will also include a two-court gymnasium, eight pickleball courts, tennis courts, racquetball courts, locker rooms, a physical therapy suite and numerous community amenities. 
 The project will also partially renovate the current Health and Wellness Center. Construction is expected to be completed in 2023. — Kahler Slater, Columbus Hospital
---
The Bowers Center for Sports, Fitness and Well-Being at Elizabethtown College in Pennsylvania is a beacon for student health and wellness on campus. 
The 82,000-square-foot multidimensional bowers center is the largest building on campus and features cardio, strength & fitness areas, group fitness rooms, athletic training area, six athletic locker rooms, an indoor track, three multi-use courts, a demonstration kitchen, relaxation room, lounges with fire places and outdoor courts and activity areas.
Prior to the center opening, most students had to travel off campus to find recreation and wellness opportunities, therefore the Bowers Center has filled a critical campus need.
"(The Bowers Center) has recharged our athletics programs with new spaces for training. It's an amazing facility many of our peer institutions simply don't have," Director of the Bowers Center Whitney Crull says. 
Building off an already strong health education program, the Bowers Center creates exciting new programming opportunities around nutrition, mental health, exercise science and more. – CannonDesign
---
The University of Missouri hosted the groundbreaking for the new Stephens Indoor Facility in Columbia, Mo. Mizzou's Department of Athletics held the ceremony in mid-November at Memorial Stadium and Faurot Field.
The 86,400-square-foot facility, named for MU alumni and donors Brad and Rachel Stephens, will be located adjacent to the South End Zone Facility.
The Stephens Indoor Facility includes a full-length football field with appropriate run-off distances beyond the end zones and along the sidelines for student-athlete safety. The facility will feature an upper mezzanine level with a viewing lobby and gameday facilities including expanded restrooms and VIP premium indoor tailgating opportunities.
St. Louis-based architect HOK and its Kansas City, Mo.-based sports division, HOK-Sport, are leading the planning and design. The project received unanimous approval from the Board of Curators in May 2021 and is expected to open in Summer 2023. — MIzzou Athletics
Submit new and notable athletics facilities via email to editors@athleticbusiness.com.