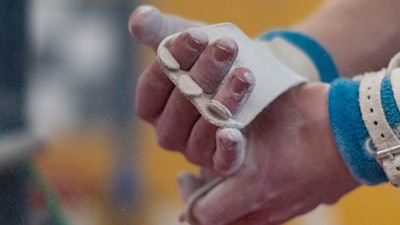 A school district in Washington has turned an old Toys "R" Us building into an expansive gymnastics facility.
The Puyallup School District's gymnastics squad has now moved into the space after the school board approved the lease agreement through Feb. 28, 2022.
The facility, which used to house a Toys "R" Us, is 31,607 square feet. It will primarily be used for gymnasts to practice and compete. The school district will pay $11,356 for the space.
Puyallup School District spokeswoman Sarah Gillispie told The News Tribune that 40 students participate in the gymnastics program.
"The teams are very excited," athletic director Jim Meyerhoff said. "They can actually dedicate the entire time to practice and refining their skills."
When the program shared a space with other sports, the gymnasts and coaches had to spend a lot of time assembling and disassembling their equipment every day.
"It's the sport that demands specific equipment and specific building space — it's always a challenge," Gillispie said. "It's a delicate balance being able to find that space in our facilities."
Another benefit of the new space is that gymnasts will be on spring floors instead of just wrestling mats.
"Being able to have that equipment up and available for the entire season in one location is not only efficient, but it's really going to be able to help the district leverage our gymnastics equipment district-wide in one location," Gillispie said.