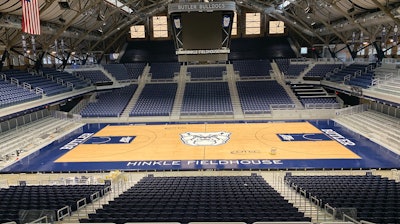 [Photo Courtesy of Cincinnati Flooring Co. ]
"There are two things that I don't want to see on a gym floor, and that's water or tape," says Mike Allen, president of Allen Sports Floors, who has served schools across Texas, Oklahoma and Kansas for more than two decades. "I don't care — there is not a tape in the world that is meant to go on the floor. I know they did it. I've put it down myself as a coach. It doesn't matter if it's two minutes or 10 months: You take a chance every time that — when you peel that tape up — you're going to take finish off the floor."
It's not just tape that poses a risk to wood athletic floors. Flooring contractors in different parts of the United States share a few ways to take the sting out of maintaining wood sports surfaces.
Moisture is the enemy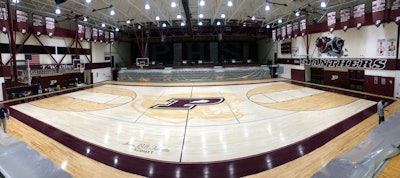 Maintaining a wood floor that lasts more than seven decades — which the Maple Flooring Manufacturers Association says is the average life span of athletic-use maple flooring — takes some routine upkeep like daily sweeping and heel-mark removal, annual sealing and incremental sanding and refinishing. But sports flooring professionals and the MFMA say there's one sneaky — and common — enemy that could cut short your floor's life expectancy.
"When I started in this business, I thought, 'There's no way this can last. There can't be that many gym floors," says Chuck Maricle, president of Cincinnati Floor Co., which has been in operation since the late 1800s. "But you would be amazed at the number of gymnasium floors that get wet. It's just unbelievable."
The 128-year-old Cincinnati Floor Co. is one of the oldest gymnasium floor contractors in the United States. The company has offices in Columbus, Cincinnati and Indianapolis, operating in a region serving Indiana, Ohio, Kentucky and West Virginia. "We have installed the practice facilities for the Cleveland Cavaliers, the Indiana Pacers, the Atlanta Hawks. We're fortunate enough to do most of the major colleges in our territory: Indiana University, Butler University, University of Dayton, Xavier University, and some work up to Cleveland State."
Maricle worked for Cincinnati Floor for 22 years before he bought into the partnership, eventually bringing his three sons to the business, too. He explains what happens when wood floors meet with moisture. "When a floor gets wet, the floor swells," he says. "The boards get larger. Then assuming it dries back out — which it may or may not — many, many times there's large cracks in the floor, because as the boards have grown, they've pushed against the board next to it. And there's a compression set, so the board is actually a little smaller than it was before it got wet. When it dries out, it's possible that the nails or staples that were used to attach to the subfloor have rusted." He said that the wet-to-dried floor would have cracks and could have a rattle, affecting the safety, which is typically why it would need to be torn out and replaced.
"We many times tear it out when it's wet," Maricle says. "We do have some owners who want to wait and see what happens once it dries. Depending upon the amount of water that gets on the floor, we can take a look at it, take moisture readings, and we can give you a pretty good guess as to what it's going to look like when it dries out. And for small amounts of water, sometimes we don't have to repair it all. But repair is a big part of our business."
When it comes to maintenance basics, Maricle says most folks follow the recommendations from the MFMA. For sanding and refinishing, the MFMA recommends once about every 10 years. "I think a lot of people don't realize that they wait too long to get it sanded and refinished," Maricle says. "The oil-modified urethanes amber over time, so they get dark, turn yellow. And if you've sanded it all the way down, and started over, the floor looks absolutely brand new. Most of the floors don't wear out from sanding it too many times. Some do, but most floors get wet before they get sanded all the way down."
However, he says Cincinnati Flooring has sanded and refinished more frequently than that, not because of safety, but because the client wanted to change up their flooring graphics package.
A move toward splashy graphics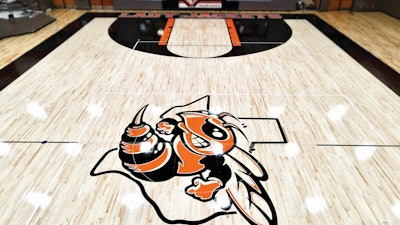 Maricle and Allen say they've both seen a trend in the past decade that clients are spending more money on their flooring graphics packages. "We have seen the graphics packages change, and different ways to apply the graphics," Maricle says.
Allen says his company in Texas, which he started in 1997, has helped rural communities transform their basic courts into splashy surfaces. "We started off with small schools, and a lot of these rural communities, they had a basic court," Allen says. "We brought in big oversized logos, letters. We have a process that we do that we call bleaching on every one of our floors. We just tried to bring that stuff in to give the rural community kids a gym that they see on TV."
Maricle says Cincinnati is also working on a few high school floors that look less like a prep floor and more like the pros. "A couple of the high school floors that we're doing, the graphics package has been thought out, looked at, evaluated and re-evaluated — that has come out with some really cool graphics that we haven't done a lot of, with different stains. And we do colored stains that are pretty unique."
Staining has gained popularity for sports flooring because it can keep the wood looking pristine, longer. "I think it's come from a number of reasons," says Maricle. "For us in particular, in our part of the country, the floor moves a lot, expands and contracts. When you put a solid painted area, when the floor expands and contracts, it'll fracture that paint, and many of the owners aren't crazy about the paint fracturing. There's nothing we can do; the paint isn't going to hold the floor together. The difference between painting it and staining it is that those [stained] colors remain fast."
Staining is a little more expensive than painting, but Maricle says that if a client is considering a design with solid-colored areas, he'll discuss staining versus painting options.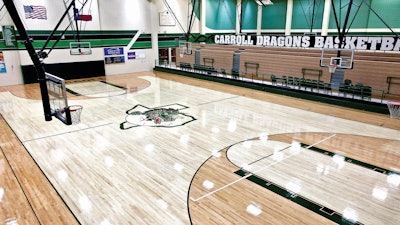 A few routine maintenance steps — avoiding moisture on the floor and not using power scrubbers that require water — can help operators keep their sports floors looking spiffy. And while gyms can't avoid some accidents, such as water on their floor, there are the avoidable offenders — back to tape: "We just cringe when we walk in" and see tape, Allen explains. "My guys are all trained, and they'll try to pull the tape up slowly, and to use mineral spirits to weaken the tackiness of it, but you never know. I've had it where it didn't peel any finish — and I've had them peel every bit of it off all the way to the raw wood."
Previous to his flooring career, Allen was a coach himself (who confesses to using tape at the time), and says he has found multiple ways to help coaches run drills without putting offensive adhesive down on the finish. One way is to paint lines for certain drills in a color the student-athletes can see on the floor — such as tan on a light-colored floor — that the coach can use during practice, but that's not visible from the stands on game day. He also suggests dry erase marker can be used for more temporary or flexible drill outlining. But the risk of getting tape-related damage is that "most of the time, it's deep and the only way you're ever going to make that look right again is to resurface the gym."