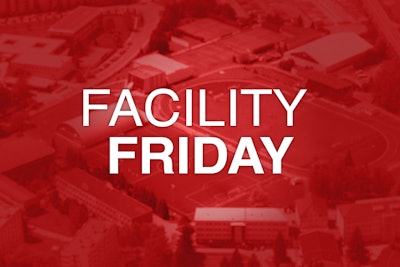 Millennium High School in Goodyear, Ariz., elected to spend bond money on building a new state-of-the-art, all-purpose gym that has both a boys and girls team room, a huge weight room, a hall of fame section, three regulation-sized basketball courts all next to each other, a big Diamond Vision, and a tunnel through which players will be able enter in a purple haze with a smoke machine in pre-game.
The gym, which has a seating capacity of a little more than 2,400, was built where the old freshman softball field was (that has since been relocated on campus). A groundbreaking event for the 45,000-square-foot, multipurpose facility in Goodyear off of Wigwam Boulevard began March 2021. The project cost $16.25 million.
Earlier in May, the school had an assembly in the new gym with a ribbon-cutting ceremony.
It has three courts in the same space, baseline seating, a tunnel leading to the locker rooms, a new weight room that leads to an outside turf field, the boys and girls team rooms, and flat-screen TVs, including four in the training room.
This came out of the 2019 bond through voters that paid for the facility.
At the entrance are the big purple letters TIGER PRIDE that lights up at night.
In the lobby, the Tigers will start a Hall of Fame section. There are also video scoreboards and a shot clock above each basket. The Arizona Interscholastic Association will be implementing the shot clock next season for the first time in boys and girls basketball.
It is set up for strobe lights to give the pregame an extra jolt of excitement for the players.
The new wrestling room is twice as big as what the school has had. On on wall, it says in big bold capital letters, "HARD WORK BEATS TALENT WHEN TALENT DOESN'T WORK HARD."
There is a huge equipment room to hang uniforms. The teams room still need the custom theater seating to be installed. — Arizona Republic
---
An athletics practice facility and student recreation center envisioned at Minnesota State University Moorhead could be a permanent building and cost as much as $25 million.
InForum reported last week that a steering committee tasked with facilities planning was in the early stages of working on the so-called Dragon Dome, an indoor facility that would allow Dragons outdoor athletes (football, track and field, soccer, softball) to practice indoors during the winter, as well as give students a place to recreate.
It wasn't immediately clear if the facility would be a permanent structure or an inflatable bubble that comes down each spring.
Athletic director candidate Chad Markuson, who mentioned the Dragon Dome during a public meet-and-greet Tuesday, told InForum that the current plan is to make it a permanent structure. He told the newspaper the cost would be somewhere in the neighborhood of $20 million to $25 million.
The facility is in its pre-design stage.
"The structure we are talking about right now is more of a permanent building, not a put-up-and-take-down bubble. Where the pre-design is leading us right now is not the bubble format, it's more of a permanent building. Which I think is better for us in this environment," Markuson said.
The facility is still years away from being built, if it is built at all. This is a big project for MSUM.
"We don't have a hard timeline. Right now we are finishing up our pre-design phase, where we have the general design and what the dollar amount is. Next will be, how are we going to finance this? Is it through private gifts, student fees, general fund? What is the funding model and how can we implement that?" Markuson said.
In response to an audience question, Markuson said preliminary plans are for the facility to be built south of Nemzek Hall where the MSUM tennis courts and old football practice fields are located.
"There's nothing set in stone yet, but that's the general vision," Markuson said. — The Forum of Fargo-Moorhead
---
The football program at Florida State University will be getting a massive shot in the arm under athletic director Michael Alford.
It all began this spring when the Seminoles unveiled the new locker room, outfitted with the latest technology to help take care of the players.
A hype tunnel was added.
With spring practice complete, the practice fields and the field inside Doak Campbell Stadium are being completely redone. It's been 15 years since this has been completed.
One of the biggest additions coming — which will help the football program compete with its peers — is the football-only facility. Ground is set to break in December, and it looks as though FSU is on track to make it happen.
The first floor of this massive facility, which will run along Stadium Drive and finish in front of the Moore Center, will hold the weight room, locker room, all recruiting spaces, and will also hold event space areas.
The second floor will hold the coaching offices and something no other program has nationally, a team space where they can walk thru, watch film, and get access to the turf room to work on things after film sessions.
The Blueprint Intergovernmental Agency voted 7-5 on Thursday, Feb. 24 to give $20 million to Florida State University for the Doak Campbell Stadium renovations.
Blueprint, the agency in which the funding is being provided through county taxpayers, put $116 million on the table in total to fund nine projects, including the $20 million Doak project. — FanNation, FSUNews.com
---
For nearly 13 years, the Rovers' track and field program had been without a home track. Rootstown last hosted a meet on April 29, 2009.
That changed in March when the Rovers hosted Ravenna and Streetsboro on March 30 on its brand new all-weather track that was first unveiled in the fall after an April 28, 2021 groundbreaking.
The 13-year race to get there, though, had many hurdles and admittedly seemed like it may never happen.
However, what began as a seemingly overwhelming goal became a reality through discipline and patient perseverance.
Maybe even a little bit of good-natured stubbornness and most certainly a lot of hard work by countless community members.
The idea for an all-weather track dates back to August of 2005 when Dale Hluch initiated the creation of the Rootstown Foundation and Alumni Association after he saw a "mom trying to push her baby around the track in a stroller and struggling through the mud," according to Rootstown alumni, coach and current foundation president Denny Pickens.
Hluch's idea centered around the idea to create an organization that would focus on the improvement of district facilities, while also creating positive opportunities for the community's students.
While the all-weather track was a point of emphasis, the foundation also worked to raise funds for a new set of bleachers on the visitor's side of Robert C. Dunn Field and has also awarded 13 scholarships to Rootstown graduates.
The cost of the eight-lane, all-weather track, and its coordinating updates to the field-event areas, was approximately $337,000. The project was funded two-thirds jointly from the foundation and Rootstown Sports Boosters and one-third by the district by using permanent-improvement funds (none of the district's contributed funds came from operating funds). — Record Courier