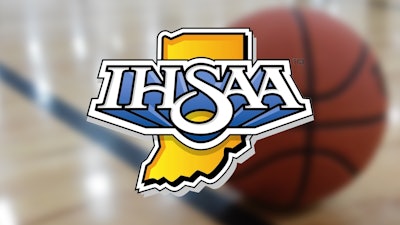 The Indiana High School Athletic Association announced Monday that the Class 3A boys' basketball sectional will be moved to accommodate an assistant coach of a participating school who requires a wheelchair.
As reported by the Courier & Press in Evansville, Southridge High School's Memorial Gymnasium, which was built in 1951, is compliant with The Americans with Disabilities Act with access to the gym itself but not down to the floor. IHSAA assistant commissioner Brian Lewis told the Courier & Press that the associationwas notified in early to mid-January about possible ADA compliance issues with Memorial Gymnasium. He said there is "zero question" the gym is compliant for spectators, but the concern came with floor access.
"The concern came with access to the floor, which had never been an issue before," Lewis said. "This is one of those unique situations that was brought to our attention."
Lewis would not specify which school has a coach with wheelchair-access needs. Memorial Gymnasium has a bowl-style setup requiring spectators to use steps to reach the gym floor. There is no lift solution for anyone requiring a wheelchair, Kyle Sokeland of the Courier & Press reported.
Southridge athletics director Scott Buening said the school, located in Huntingburg, was notified in mid-January of a potential ADA-compliance issue with Memorial Gymnasium.
The Southwest Dubois County School Corporation attempted to find solutions for new accommodations, but none that were ADA-compliant could be installed before the postseason opens, Kyle Sokeland of the Courier & Press reported. The sectional is scheduled to run from Feb. 28 through March 4.
Southridge is also scheduled to host the Class 2A regional on March 11. The IHSAA said that is still the case.
"We are in the process of providing an ADA-compliant solution to Memorial Gym floor," said Buening. "But we do not anticipate this solution will be completed prior to the regional."
The IHSAA said Memorial Gymnasium will again host the sectional in 2024.
"Southridge was more than willing to accommodate and make any changes they possibly could to fil those needs," said Lewis. "They weren't given enough time to do that. Between now and next year's sectional, they will make accommodations to be ADA-compliant to the floor."
For now, the 2023 sectional and its seven participating schools will head to Washington High School, 33 miles to the north.
"The Hatchet House is one of the iconic venues for high school basketball in the state," Washington athletics director Larry Cochren said. "We obviously run several tournaments, and the IHSAA asked us to make the switch. As an IHSAA-member institution, we will do what the IHSAA asks us to do."