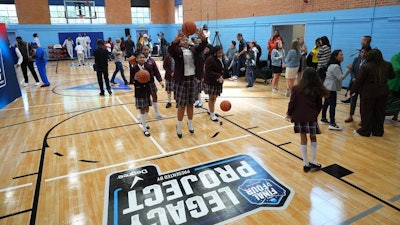 Each year, in collaboration with Unilever, the official personal care partner of the NCAA, the NCAA facilitates a basketball court restoration project in the host cities of the Men's and Women's Final Fours to foster goodwill and sportsmanship.
Recipients of the 2023 Legacy Project presented by Degree were the Blue Triangle Community Center in Houston's Third Ward and the Mattie Nash/Myrtle Davis Park in West Dallas.
Unilever is in its 12th year as an NCAA corporate partner and has been the presenting partner of the Legacy Project since 2018.
Student-athletes from Texas Southern men's basketball team and Blackshear Elementary School students helped break in the new basketball court and gymnasium at the Blue Triangle Community Center. The $100,000 renovation is one of the last revitalization projects at the community center, which was damaged by Hurricane Harvey in 2017.
Charlotte Kelly Bryant, the 92-year-old founding president of Blue Triangle, thinks this gymnasium revival will do wonders for the community.
"It will really invite more youngsters in that have not come before," Bryant said. "Kids have always followed the ones that have the basketballs."
Meanwhile, student-athletes from Dallas Baptist University held a clinic for over 30 local kids after the ribbon cutting for the new outdoor court at Nash/Davis Park.
Nearly all of the new court was filled with students, local residents and former student-athletes for the introductory ceremony.
"The lasting legacy of this court will allow children in their neighborhoods, and surrounding neighborhoods, to interact socially and learn the importance of teamwork and good sportsmanship," said Monica Paul, executive director of the Dallas Local Organizing Committee for the Women's Final Four. "This is a special day. There's no better time than during the culmination of the 50th anniversary of Title IX to make strides that impact and lift."