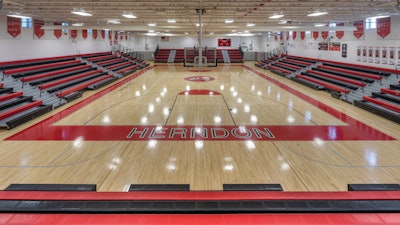 Photo courtesy of Helmuth Humphrey, Apertures Inc.
Game night at the gymnasium can apply a full-court press to the senses: the low buzz of the spectators, sounds of players' shoes squeaking against the polished floor, officials' whistles and overhead buzzers, the scent of popcorn and bready pretzel and pizza concessions, the vibrations from shuffling fans on the bleachers.
Architects designing modern gymnasium projects in North Carolina, Virginia and Colorado want to take that sensory experience and elevate the setting. They say their current work is inspired by collegiate atmospheres and geared toward creating multi-use spaces that offer a more sophisticated feel for high school players and their spectators.
A diverse arena
In Fountain, Colo., the new Trojan Arena was created for the district to have a tournament-worthy space that would also accommodate larger-scale events.
Previously the Trojans had to play at a nearby middle school, forced away from their home gym because it didn't meet occupancy standards to host state events. When completed this fall, the new Trojan Arena will have a 4,000-seat capacity for games, and will go up to 4,800 when hosting graduations — surpassing seating capacity at Colorado College's Ed Robson Arena, Colorado State University-Pueblo's Massari Arena and Northern Colorado's Bank of Colorado Arena. Christopher Mannino, vice president at CRP Architects, says the demand for a larger sports venue that could be flexible for other events is what drove the $40 million venue's inception.
"The genesis of this project was borne out of the need for a larger sports facility for Fountain-Fort Carson's Five-A sports program and athletics," Mannino says. "Their sports programs have really grown over the years. They wanted a facility that would support basketball, volleyball and wrestling, where they can hold regional metro championship games, as well as state championship games. With that, they also wanted a facility that could support their annual graduation and also for the performing arts; they'll still hold concerts and guest speakers. It's a pretty diverse multi-use facility for them."
Trojan Arena was designed to accommodate three sports. There are five courts for basketball, with four tournament courts and one main competition court in the center. Motorized curtains will divide the four tournament courts for separate games. The space will accommodate volleyball tournaments in the same manner.
"The fit and finish of this building is very high level," Mannino says. "The wood floor is a collegiate-type floor that we see in high-end colleges. They have the portable basketball goals for the competition court, which you'd see in professional sports. They fold up and roll into a storage unit. And we've accounted for all the storage of the volleyball equipment. We specify portable racks and they can cart them out and store them, very organized, in their storage room."
For wrestling at the arena, mats are hoisted and stored high up within the structure when not in use.
"They'll lower down these hoists, and they can load the mats up, and it will just hoist them right back up to the ceiling out of the way," Mannino says. The Trojan Arena facility is unique in that it's two stories and has a basement, which offers an additional 17,000 square feet of storage. A freight elevator serves all three floors for easy transport of equipment between conversions, such as for stage equipment and platforms for performing arts events.
1960s makeover
A renovation project at Newton-Conover High School in North Carolina is set to break ground later this year, and the $50 million cost includes demolition and replacement of the current two-story academic wing, plus renovations to modernize the school's facilities and give the campus a more collegiate feel, including a new competition gymnasium and a state-of-the-art strength and fitness facility.
The school's current gym was built in the 1960s and seats about 1,300, says Tom Balke, architect with Little Diversified Architectural Consulting, a firm based in Charlotte, N.C. Balke says in addition to the added gymnasium space, one need for the school was an area to accommodate spectators or visitors before an event begins.
"From a public perspective, when you come to the gym, there's no real lobby or pre-function space," Balke says. "The whole experience needs a new update for Newton-Conover. What happens at this campus for athletics, arts, academics, is very important to all the people here. Athletics — as well as academic and food service elements — are all getting almost a complete makeover."
Balke says Newton-Conover High School's existing auxiliary gym and its fitness, strength and conditioning spaces were inadequate, so the design strategy was to create a new competition gym and redevelop its neighboring spaces.
"That competition gym is coupled with a new student common and dining area that also serves as the pre-function area for the gym," Balke says. "So they're getting kind of a lot of bang, so to speak, for the buck. It serves as a great pre-function space; it's almost student union-ish. When we speak about a campus atmosphere there, their existing school is made up of several buildings, so we're kind of expanding on that and creating a college-atmosphere outdoor quad space."
Balke explains that from the student common, spectators and gym-goers can look down into the gym through windows, viewing the gymnasium's events.
"Having this idea of the student common right adjacent to the gym kind of gives it a more open holistic feel that the aspects of physical wellbeing and social wellbeing both play a big role in student life," he says.
Newton-Conover's gym also elevates the fan experience with top-loaded bleachers. In a more traditional environment, fans walk onto the gym floor, along the court sidelines and up into the bleachers. With top-loaded bleachers, fans descend onto the bleachers from the top to fill the arena, allowing for less interruption to the activities on court.
Newton-Conover's existing auxiliary gym will also be put to good use, as the space will become an approximately 4,500-square-foot strength and conditioning area to support all Red Devil student-athletes. As part of the full project, health career and technology classes will be located near the renovated strength and conditioning space, with the aim that the adjacency will provide crossover opportunities between the academic and fitness areas.
Transforming to arena seating
A school modernization and gym addition project that was finished in 2022 for the Herndon (Va.) High School Hornets transformed the existing gym from a two-sided bleacher-seating setting to a four-sided arena-seating experience, elevating the gym's look from a prep space to a more collegiate one.
Eliel Alfon, principal architect and co-owner of Virginia-based Hughes Group Architects, says that when the project is finished, the gymnasium will transform from about 10,800 square feet to 14,900. And though the square footage isn't doubled, impressively the renovation project will nearly double the gym's capacity from 850 to about 1,650.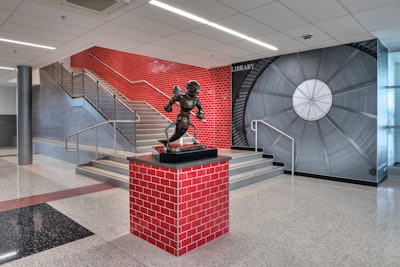 "We tried to convince them, you have an opportunity to have an arena-type seating, which has a better sightline, because of the length of this one — just how the gym is configured when you expand it," Alfon says. "And it took them a while to get sold to that, and now they have this nice arena kind of seating, which is more of a collegiate kind of feel, even though it's in a smaller scale."
The facility includes a full-size basketball court with three cross courts and drop-down divider curtains that can also be configured for volleyball. The Hornets can use their gym for practices in different configurations, as well as for hosting competitions. The goals are retractable and the bleachers are motorized with molded rubber seating. An auxiliary gym at the school offers more space for baseball usage, drop-down dividers for pitching and batting practice. Other auxiliary space is used for dance and wrestling, which lessens the need for flexibility in the renovated gymnasium.
The reconfigured gym also offers a special differentiation between the fan and player experiences.
"The key to this one is the spectators have sort of a separate entry, as well as the athletes, during competition," Alfon says. "They don't intermix. So they feel it's almost like a collegiate kind of experience — on a smaller scale, obviously."
Herndon's modernization project also created what Alfon calls a main street for the campus, as students had said they were confused by the school's maze-like configuration. The main street corridor allows students or visitors to easily access the gym, cafeteria, multipurpose rooms and other functions of the building itself, including simplifying access for after-school-hours events. The main street also includes a trophy wall for the Hornets to boast their victories, and allows access to the weight room.
"The main street becomes the heart of the campus at the school itself," Alfon explains, "where you can access the gym directly, you can access the auditorium directly, creating a major artery of the campus."
Today's era of gymnasiums
Mannino, who has been with CRP Architects for 33 years, says in his experience he's seen high school sports programs become more sophisticated, and the interest in indoor sports — and sports of all kinds — has grown in that time. That trend makes special facilities like Fountain-Fort Carson's $40 million high school arena project, set to open in October, more attractive in today's era of gymnasiums.
"I'd say most school districts probably do not have the funds to build this type of facility. It's very unique," Mannino says. "I think it's going to get a lot of attention, and I think as more districts see this build, they're probably going to want one."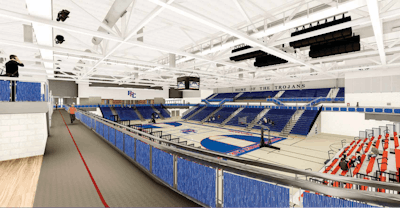 Balke, who has been working at Little Diversified Architectural Consulting since 1988, says the idea of expanding design concepts beyond just what's happening on the court into more of a community concept has been inspiring, especially in the still-young Newton-Conover High School project that's slated for completion in 2027.
"What I see that we're trying to do is kind of a connection — not just the gym, but what's happening around it. Can there be connectivity to that, so that the events are more than just the game itself?" he says. "A lot of people like to participate, and frankly, they might not be interested in sports or the game, but they like to be part of the community and what's going on. And things like fitness space are being thought about more holistically. Thinking more about physical fitness of student-athletes, whether they're competing in interscholastic sports or not, is really thinking more about the whole kid."