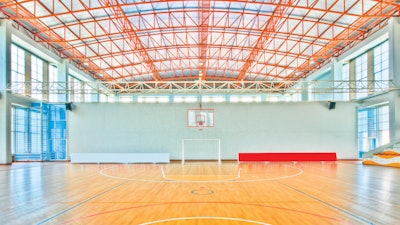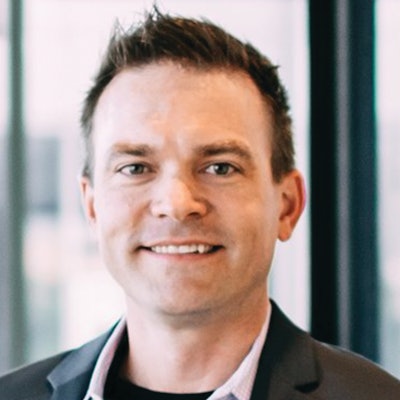 When a pump in Bullard (Calif.) High School's North Gym air conditioning unit failed this past August, it wasn't a matter of just sweating through the scheduled girls' volleyball game against Visalia's Redwood High School. According to The Fresno Bee, temperatures outside at game time were 108 degrees and temperatures inside the gym soared to a stifling 105. Bullard's athletics staff followed Fresno Unified School District's protocol for dealing with extreme weather and canceled the match.
During a Sept. 5 volleyball game at Paw Paw (Mich.) Schools, the temperature outside was around 99 degrees, and the gymnasium, which has an air intake system, was measured to be around 88. The school considered air conditioning for the gym a few years ago, but those funds were directed elsewhere at the time. While it's only a few weeks out of the year that the system would be needed, the school district is once again soliciting updated pricing on air conditioning.
Incidents like the ones at Bullard and Paw Paw high schools are becoming more common, as summer temperatures continue to set records across the country. This "new normal" is anything but, and coupled with traditional programming (think late-spring commencement) that can pack thousands of people into the gym space, everyone is feeling the heat and wondering what to do about it. Whether you're a high school in the Midwest, or a junior college in the Southwest, and you're considering adding air conditioning to your gymnasium, you'll want to hear what Joe DeBell, a mechanical engineer at ME Engineers, a company with 15 offices around the world, has to say about bringing down your home court temperature.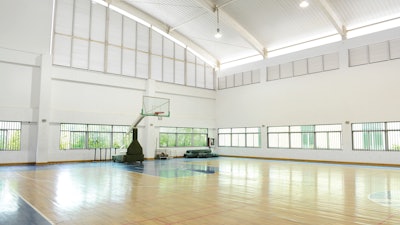 Retrofits can be sticky
Just because gymnasiums are big and roomy doesn't mean they don't get hot. In the summer months, especially in warmer climates, gymnasiums, like any other space, have to be air conditioned to be comfortable. Unfortunately, many existing facilities weren't equipped for cooling and, as such, are a little sticky for engineers looking to retrofit a system into an older building.
"It's surprising to me how many schools were built without air conditioning back in the '60s and '70s," DeBell says. "But they were strapped for cash, and I suppose they had to deal with what they had, right? Over my 23-year career, I've done a ton of schools where we retrofitted air conditioning into the school, which is a difficult endeavor just because of the existing walls and chases, and trying to get it incorporated in the electrical service, which has to be able to support standard air conditioning. There's a lot of wrinkles that we have to work through in that kind of project."
Here's a couple additional things DeBell says should be considered in the event that you're proceeding with a retrofit.
• Often older buildings were not insulated properly, especially considering how stringent recent iterations of the energy code have become. The capacity needs to account for both the internal and external cooling loads of the space. If the building has poor insulation, system efficiency will be impacted and utility costs will likely increase.
• Air handling equipment is heavy, requiring structural support to be analyzed if it is to be mounted on the gym roof. Placing the equipment at grade is an option but that comes with its own sets of (mostly aesthetic) concerns.
• With any large-volume space, air distribution/circulation must be considered. Placing return grilles down at the occupied elevation and high-volume low-speed (HVLS) fans up in the ceiling are two ways to counter air stratification.
• Older buildings often do not have adequate plenum space above the ceilings to accommodate HVAC equipment and ductwork distribution. Even if there is a void space, it may be occupied by materials that are not plenum-rated. That is to say, it cannot be used as a return-air plenum. For these reasons, it is common to retrofit these spaces with packaged through-the-wall unit ventilators. Units of this type can provide heating, cooling and outdoor air ventilation to a space with minimal demolition of the existing architecture. In the era of electrification, variable refrigerant flow (VRF) systems are also a good option that can provide all-electric heating and cooling even at low ambient outdoor temperatures.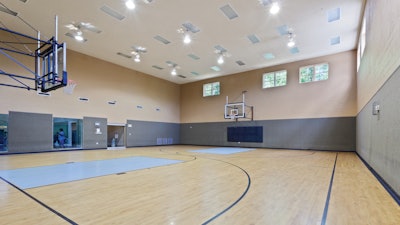 Tamper resistance
Any air conditioning system installed in a gymnasium will need to be able to withstand high-flying projectiles, as well as potentially mischievous teenagers.
"It has to be robust and tamper resistant," DeBell says. "Basically, when you have impact concerns about basketballs and things that are flying through the air, everything has to be protected, and then tamper resistant — you're going to end up with troublesome high schoolers at times who want to beat the crap out of something, so you have to be careful with that."
Here are a few ways to protect your HVAC system and its components from the perils of the gymnasium:
• Install HVAC equipment in a location that minimizes exposure to flying projectiles. Elevate the equipment, if possible, to keep it out of the direct path of any potential projectiles.
• Erect physical barriers or screens around HVAC components. These barriers can be made of wire mesh, plexiglass or polycarbonate panels. Ensure that the barriers do not obstruct airflow or access for maintenance.
• Securely mount HVAC components to the floor or wall to prevent them from being displaced by impacts or vibrations.
• Install protective netting above the HVAC equipment. These nets can catch flying objects and prevent them from damaging the components below.
Zoning
Zoning the gymnasium as a separate space from the rest of your facility will help account for the unique nature of the gym, as it's likely used much differently than the rest of the building.
"The system has to be separate from the rest of the AC in the building, in that it has its own zone," explains DeBell. "In gymnasiums, there's either nobody in there, maybe a few people practicing, or everyone in there for some sort of event — a school gathering or a game with spectators. The internal load of that space really spikes for, you know, two- to four-hour periods of time and then drops back off again. You want to make sure it's zoned on its own, so you can control setpoint temperature."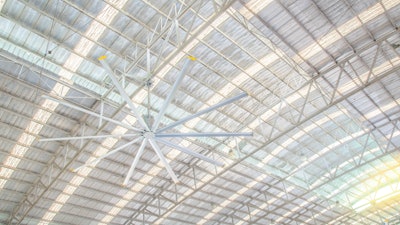 Destratification fans
While cooling is one thing, a gym also needs to be heated during the winter months, and typically the same system handles both jobs. Drum diffusers pointing down from the ceiling may work great for cooling a gym, but when it's time to heat the space, the hot air coming from those diffusers will already be high and wanting to move higher, offering no real heating for those spectating or playing below. One way this can be countered is by putting air returns low in the space and mounting fans near the ceiling.
"Fans can help in these big spaces. There are low-speed, large-blade fans, HVLS, and there are little canister-style ones that you just have more of them around," DeBell says. "But their whole purpose is just to stir the space up to make sure that the hot air isn't stratifying high in the space and that the air temperature throughout that whole volume is staying consistent."
Humidity
The recommended indoor humidity level for gymnasiums typically falls between 40 percent and 60 percent, although specific requirements may vary depending on the activities performed and the equipment in use. Monitoring humidity levels and adjusting HVAC systems accordingly is essential to achieve these targets and create a comfortable and healthy environment within gymnasiums. When humidity levels are within the recommended range, HVAC systems can operate more efficiently, reducing energy consumption and operational costs.
Managing humidity levels is also important to protect wood floors.
Says DeBell, "Flooring... manufacturers typically have a required temperature range and relative humidity range that they want the space to stay within and to ensure that their flooring doesn't warm, whether it's expanding or contracting."