Special-Needs Changing Rooms Have Expanded to Give a Little Bit of Privacy to a Lot of Different People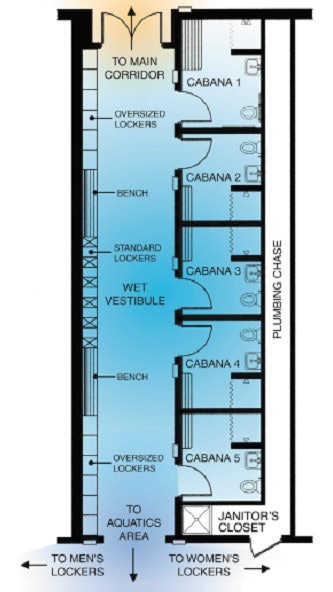 The family locker room, an idea that became popular less than a decade ago, was once a revolutionary concept in community recreation center design. This is no longer true. Family locker rooms have become so popular for a variety of users that it would be difficult to imagine building a center without at least one.
Now more widely and accurately called "special-needs changing rooms," the concept is simple - provide locker room space for opposite-sex parents with young children and anyone needing the assistance of a companion. Special-needs changing rooms eliminated awkward problems by providing these patrons with shower, toilet and changing areas separate from the main locker rooms.
Their success was immediate and extraordinary; demand exceeded supply in almost every instance. As a result, SNCRs have grown into a major building component of new municipal recreation facilities, and they now have a tremendous impact on construction budgets.
Much has been learned during this evolutionary process. Perhaps most surprising is the fact that almost all patrons benefit directly or indirectly from an SNCR. Although designed for families and patrons with special needs, many senior citizens appreciate the accessible features, particularly the safety of extra grab bars. Couples find it convenient to share a locker and bring only one lock. Still others simply seek added privacy, such as post-surgical patients or obese individuals.
Perhaps least expected was the benefit to those patrons who see their recreation facility as a respite, a place to relax, unwind and recharge. With SNCRs, those patrons don't have to contend with noisy, excited children - either because the children are using their own changing room, or because the respite-seeking users are. SNCRs therefore have an impact on facilities' marketing plans, as locker rooms, once an expensive necessity, become assets equal in some patrons' minds to the gymnasium, fitness room or lap pool.
Many facility owners see this as an asset to be exploited. New or planned municipal recreation centers in Wheat Ridge and Evergreen, Colo., have been designed to include six SNCRs each. The planned Evergreen facility, in Buchanan Park, will devote 200 percent more space to SNCRs than the year-old Wheat Ridge center.
More significant than the proliferation of SNCRs is the design evolution these spaces have undergone and the impact they have had on buildings' overall square footage, circulation, interior design and construction budget.
Early versions of the family locker room ranged from a dressing stall with a bench to a separate room with a shower, toilet and dressing area located inside the main locker room. Some centers created a separate family locker area with private stalls for dressing and showers, with toilets, sinks, hair/hand dryers and lockers located in an adjacent room. Each of these solutions was successful in its own way, but as the demand for the facilities grew, these configurations prompted new and more innovative designs.
SNCR square footage in some de signs has become equal to the square footage allotted traditional locker areas for men and women. As a result, the overall building square footage of these centers has increased, accommodating the new locker areas while maintaining ample space for other program components, as well.
One primary reason for square footage growth in these rooms has to do with a significant paradigm shift in the design. As previously noted, early versions experimented with separate changing stalls containing individual showers. Patrons then shared a common toilet and sink. This worked fairly well, but proved inefficient when patrons were forced to wait to use the separate toilet and sink to finish dressing. Today, it is more typical to find fully contained rooms, sometimes referred to as "cabanas," that include a shower, bench, toilet, sink, mirrors, baby changing table and an electric hand/hair dryer. Individual cabanas then open to a common space containing large-capacity lockers and leading directly to the aquatics area and the building's main circulation corridor. At least one (and often several) of the cabanas is outfitted with accessible showers and fixtures, extra grab bars and a full-length bench, allowing adults to change while lying down if necessary.
The open corridor surrounded by cabana changing rooms has several advantages, both practical and aesthetic. In terms of traffic flow and access, this arrangement provides clear passage from the main hallway to the pool for classes, patrons using wheelchairs and event spectators. The openness of the passageway also provides another view into the aquatics area and helps discourage inappropriate behavior and misuse of the changing rooms by teenagers and others.
In traditional locker room environments, sight lines and separate areas for sinks, toilets and lockers dictate the familiar maze-like arrangement of walls. No longer limited by these constraints, the family locker corridor is straightforward, open and clearly marks a major transition space between the exciting, animated aquatics areas and the rest of the facility. Because the family corridor tends to bustle with activity as various patrons move between lockers, cabanas and aquatics areas, designers are provided with a setting for a dynamic space, one potentially quite different from the stark, utilitarian feel of traditional locker areas.
Separate rooms, each outfitted as described, have an impact on the budget. Even utilizing finishes similar to those in traditional locker rooms, SNCRs are more expensive. As you might expect, added doors, walls, lighting and ventilation requirements all increase the project costs. Operators and designers have to weigh this added cost against potential loss of revenue and/or goodwill if a family locker room is excluded - especially if this is a feature provided by nearby community centers. If a family locker room is a priority, and a space compromise is necessary, one solution might be to downsize the men's and women's locker rooms, and shift resources to the family locker area.
There are numerous ways to configure a family locker and changing area. The following design considerations refer to family locker rooms in general, but are based on the layout outlined above, consisting of separate cabana rooms arranged around a common locker and circulation area.
• Quantity. The exact number of cabana rooms should depend on patron demographics and the features of the aquatics area. High concentrations of families with small children and/or seniors increase the demand for rooms. Aquatics areas catering to families and seniors with features such as zero-depth entries and lazy rivers will have greater need than those primarily serving competitive swimming. New centers tend to have at least one cabana per 3,800 square feet of aquatics area, and as many as one per 1,400 square feet.
• Walls. Materials that are durable, moisture-resistant and easy to clean are still the best choice for any locker room. Walls are typically constructed of concrete masonry units and finished with ceramic tile or epoxy paint. Often a combination of these two finishes offers the best value.
• Floors. The ability to maintain slip-resistance and an attractive, clean appearance dictates flooring materials. Ceramic tile, although one of the more expensive options, is the preferred choice, as it performs well in both these areas. Other options include sealed concrete and poured quartz epoxy surfacing.
Concrete is often considered as a cost-saving alternative to ceramic tile. When reviewing this option, however, consider that broom-finished or stamped concrete, while offering good slip-resistance initially, can wear down with heavy use and require resurfacing. Additionally, while plain concrete can be economical, patterned and colored concrete require special skill to install and carry a premium cost, sometimes more than ceramic tile.
Poured quartz epoxy flooring is another economical option worth considering, as it offers good long-term slip resistance and comes in a variety of colors. Poured epoxy, however, does wear with heavy use, revealing traffic patterns, and can be difficult to keep clean.
• Ceilings. Ceiling materials need to create a waterproof barrier that is easily cleaned. Water vapor escaping into the ceiling cavity will cause damage to the structural members above. Plaster, or an acrylic polymer coating much like stucco, applied to an appropriate substrate provides good, watertight protection and should be a minimum treatment for ceilings in showers and drying areas. A cost-saving alternative for other areas is epoxy paint applied over water-resistant gypsum board.
• Doors and frames. The locker room environment is naturally corrosive to ferrous metal. Metal doors and frames are subject to constant use, and exposed parts will be the most susceptible to decay. Fortunately, there are several options for doors that reduce this risk. Stainless steel offers the best protection and durability. Steel doors can be galvanized and then epoxy painted, which offers good protection and durability. Aluminum doors, prefinished with a high-performance exterior paint, will also perform well. Finally, there are now composite doors made of fiberglass panels, which will not rust, but repair is difficult and the standard color options are limited.
Doorframes, unless part of a prefinished aluminum storefront system, should always be made of stainless steel. Frame legs touch the floor and are in constant contact with water because of splashing and cleaning, and therefore require the highest degree of protection. If possible, hardware for doors should also be stainless steel, including hinges and the inner hardware mechanisms.
• Toilets and sinks. The trend in SNCRs is to provide rooms containing the plumbing fixtures and accessories a family needs to dress and shower. Arrangement of the rooms allows for efficient use of space and easy maintenance. Often a 3-foot-wide plumbing chase is included behind (or between rows of) changing rooms to allow easy access to valves and fittings. Toilets and sinks are arranged along this chase and wall-mounted to aid floor cleaning. A word of caution: When considering the use of automatic flush valves on toilets, remember that these devices frighten many children.
• Showers. Avoid shower doors if possible; curtains allow easier access and require less space. Showerheads present a special problem, as required maintenance seems directly proportional to adjustability. Accordingly, the life expectancy of handheld showerheads typically included in accessible showers rarely exceeds two weeks. Nonadjustable heads are available, but are typically not preferred by patrons. If considering adjustable showerheads, keep many extra heads in stock. A bench made of waterproof material and secured to the wall with stainless steel hardware should be located next to the shower. This is not only convenient for the user but helps keep most of the water in one area.
• Drains. Provide two floor drains, one in the shower and one centered in the room to catch drips from wet swimsuits and potential overflow from fixtures.
• Baby-changing stations. A foldaway baby-changing station should be included in every changing room. To parents with young children, this is a much-appreciated amenity, especially since showering and changing in and out of swimsuits usually involves a diaper change. It is also a good idea to provide a small, wall-mounted, stainless steel waste receptacle. These are a better option than plastic trashcans on the floor, which clutter and impede cleaning of the space.
• Hooks. Provide as many hooks as possible. Dry clothes, wet swimsuits, towels, gym bags, diaper bags, goggles and jackets all need a place to hang, as the floor will almost always be wet and bench space is typically limited.
• Electric hand/hair dryer. Providing this feature not only eliminates the problem of paper towel waste, clean-up and restock, it can also eliminate the need for a blowdryer outlet. The built-in timer encourages patrons to finish more quickly, freeing the changing room sooner.
• Lighting. Generally, two sources of light are adequate. Provide one fixture rated for wet locations in the shower, and another rated for damp locations to illuminate the rest of the room. It's very important not to compromise the waterproof ceiling with penetrations. Use either surface-mounted fixtures or recessed units that seal completely.
• Lockers. Lockers are located in the common circulation space outside each changing room. Materials for the lockers should be as water-resistant as the budget will allow. Phenolic and solid plastic materials with stainless steel hardware offer long-term service at an admittedly high cost. Plastic laminate is a lower-cost alternative that works well if a water-resistant core material is used. If not, water from wet swimsuits and constant water spray from cleaning crews can destroy your investment. If, for budgetary reasons, standard particleboard is used for plastic laminate lockers, realize that these will need to be replaced within five years. Metal lockers are another possibility, depending on the ability of the facility's HVAC system to remove moisture from the air efficiently. (Metal lockers' coatings are impervious to water, but unless the locker is made of stainless steel, scratches can lead to rust.)
Regardless of the material specified, mount lockers off the floor, away from moisture as much as possible. Locker size is important. Families want to be able to put all their gear in one place secured with a single lock or key. Lockers should be at least 24 inches wide, 18 inches deep and 30 inches tall, or roughly twice the capacity of a standard locker. It is also a good idea to provide a few standard-size lockers in full and half heights to accommodate those who do not need large lockers.
• Security and safety. Despite the open nature of the family locker room corridor, additional supervision may be required to ensure patron safety and to discourage misuse of cabanas. Typically, this means staff should walk through the space frequently enough to let patrons know that the area is being monitored and that facility rules and policies will be enforced. At peak times, staff walkthroughs can also help ensure that cabanas remain available to patrons with families and special needs by directing other patrons to use the regular locker rooms. Such monitoring can also help identify maintenance and cleaning needs.
As the popularity of SNCRs continues to grow and design concepts change with the needs of patrons, there will be more pressure to increase the square footage allotted to these spaces. The inevitable limited construction budgets will therefore require refocused attention on all locker room areas, and facility planners should consider trading traditional locker space for expanded SNCRs. The family changing room concept is now an indispensable component of new municipally operated and collegiate recreation centers. It is a trend that is here to stay.