Push-button technology takes on the dirty job of eradicating MRSA in showers.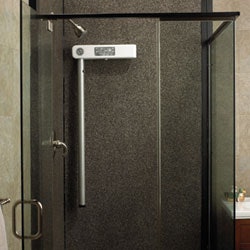 Shower cleaning is a dirty job, and nobody likes to do it. Even S.C. Johnson & Son's Scrubbing Bubbles® - "We work hard so you don't have to" - are going the extra mile for consumers these days, coating tub and tile automatically with the push of a button on containers suspended from domestic showerheads. But in this age of methicillin-resistant Staphylococcus aureus (MRSA) and other health-threatening bacteria that thrive in warm, moist environments, shower cleanliness has taken on even greater significance for the managers of athletic, recreation and fitness facilities.
Frequent hand-washing and daily showers are recommended by health experts as the best means of preventing a MRSA outbreak, even as those same experts acknowledge that sharing towels, razors, gym equipment and showers can exacerbate the potentially deadly bacterium's spread.
A new commercial product may help ensure a safe environment for institutional shower users while virtually eliminating the need for spray-bottle-toting facility staff to hit the showers on a daily basis. Less frequent but potentially damaging power washes, too, could become a thing of the past, according to Chandler, Ariz.-based Intelligent Consumer Products Inc., which has begun marketing The Shower-ShowerTM automatic shower cleaning system as the only product of its kind currently available to the commercial market.
Units designed for individual shower stalls feature a wall-mounted control panel with a vertical spray column at the opposite end of a hinge (picture the swinging arm of a car wash). At the push of a button, the panel arm swings open as much as 25 inches into the shower space, with the spray column rotating 360 degrees and three fan spray nozzles providing overlapping shower surface coverage. Once the button has been pressed, the shower user has 30 seconds to exit. An infrared motion detector will first delay and ultimately abort the sanitizing/cleaning cycle if it senses the shower is still occupied after subsequent checks. In communal showers, a ceiling-mounted track system carries as many as four spray carriers to assigned disinfection zones. Infrared sensors at each showerhead allow occupied shower areas to be used even as others are being cleaned and sanitized.
Each spray column draws from two separate tanks of concentrated EPA-approved liquids - a sanitizer strong enough to kill MRSA and other health-threatening bacteria, and a shower cleaner, which controls fungus growth. The shower is first sprayed with water to wash away any residual dirt particles. A chemical sanitizer is then applied and allowed to sit for an EPA-recommended amount of time (as long as 10 minutes, depending on the chosen chemical) to break down the cell structure of any existing bacteria, before being rinsed away with water. Finally, the shower cleaner is applied and rinsed.
Though yet untested in the athletic, recreation and fitness realms, trial units are now in place in several fire and police departments, and negotiations are under way to outfit the Arizona State University wrestling locker room with The Shower-Shower. According to inventor Percy Whitmore, who is seeking multiple patents for the product, installations will pay for themselves many times over in labor cost savings alone. Based on seven 12-minute cleanings per shower per day, a 24-shower installation costing $48,000 will see a complete return on investment within four months, says Whitmore, who estimates a product life expectancy of 10 years. More important, he adds, the units instill in shower users the confidence that facility operators have made a commitment to health and safety.
"The old model is to clean the shower once a day, and think that's enough," Whitmore says. "But if I have a staph infection and lean against the shower wall, and then you come in after me, the fact that the shower is cleaned at the end of the day makes no difference. If the shower isn't cleaned after every use, it's like you're having to shower with all the people who used it before you."