Glen E. "Bo" Schembechler Hall houses the University of Michigan's football offices, a Michigan football museum and team locker rooms. Until a recent renovation, it also reflected a desire of the late coaching legend whose name graces the facility (opened in 1990) to begin building class unity among incoming freshmen by having them dress in their own space - separated from the rest of the varsity by the locker room's wet areas.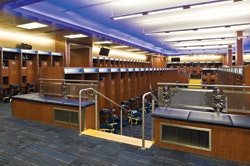 Rich Rodriguez, who coached the Wolverines from 2008-10, had different ideas, and that posed logistical challenges in the locker room. Rodriguez wanted all of his players in close proximity, with a players' lounge replacing the former freshman locker room. Prior to the renovation of the spaces, 63 lockers accommodated the freshmen (as well as graduate assistants, student equipment managers and miscellaneous staff), with 89 lockers available to upperclassmen in the other room. Some lockers were sacrificed in the merger, which coincided with the 2009 construction of the adjacent Al Glick Field House, but packing the current 125 lockers into one room still required some creative planning. The solution was to split the lockers between separate tiers, allowing for elbow room and eye contact between team members.
"The thought process behind it was that the whole team could kind of see the whole team," says UM associate athletic director Rob Rodemacher. "This design enabled that."
The current locker room is 5,000 square feet, not counting the 1,560-square-foot players' lounge resulting from the freshman locker room conversion. "If we could have had a big round room with all the lockers facing each other, we would have, but we just didn't have the footprint," Rodemacher says.
Bays of lockers projecting into the room could have possibly accommodated the added players, but designers quickly punted on that concept, as well. Says Bill Frederick, project architect at TMP Architecture Inc. in Bloomfield Hills, Mich., which handled the renovation, "The difficulty there was you did not have a situation where you had visual contact with everybody, and that was something that the university and the football team wanted. It isn't a series of alcoves or separate spaces. It's one space, one team."
Sightlines have become a key consideration in team locker room design, according to Todd Ballew, a senior associate at Atlanta-based Heery International Inc., which designed the West Virginia University football locker room (with input from then-coach Rodriguez) as a half-circle with rows of lockers fanning out from a centralized point. "The trend is to make the coach visible from every locker, so the locker room becomes a meeting room," Ballew says. A similar layout exists at Texas Christian University, according to Josh Weiss, who handles marketing for Longhorn Locker Company LLC, which furnished the TCU space.
Adds Andrew Barnard, president of Denver-based architecture firm Sink Combs Dethlefs, "It's more important when the locker room is part of the stadium, and not in some other location, to have a place where the coach can address the entire team and get players fired up."
But creating team cohesion is sometimes easier said than done, given specific circumstances. For the past 10 years, football players at the University of Oregon have dressed on two levels within the same Len Casanova Athletic Center locker room - the entire Ducks' roster stacked around a central atrium, allowing players and coaches to visually connect as best as possible.
"One of the challenges with the old locker room, beyond dated aesthetics, was sightlines," says Tim Canfield, managing partner at Portland, Ore.-based design firm Downstream, who suggested the two-story approach to architect Corey Martin. "The layout of the locker room was such that there were rows of locker blocks that made it impossible for the coach to see everyone in the room. The room felt divided. From a functional standpoint, we needed to fit roughly 120 lockers into the room, and the only way to create nice large custom lockers and accomplish the sightlines we wanted was to raise the ceiling. Then we could create a common area in the middle with sightlines to every area of the room, upstairs and down."
This "more connected sense of place that creates a better sense of team," as Canfield puts it, was possible when seven feet of wasted space was discovered above the suspended ceiling of the existing locker room. Mechanical, electrical and plumbing elements were reworked, a mezzanine was added, and a stairwell and elevator (for injured players) were specified. "We were quite lucky," Canfield says. "There are strict codes tied to adding mezzanines. The added height we needed happened to already be there, and this was our ticket to the second level."
Oregon is currently designing new locker facilities in an entirely new football building set to open within the next 18 months, rendering the two-story space obsolete - but only at Oregon. "This one served a great purpose, to make sure the coaches could see all players at all times during pregame, halftime and postgame," says Jim Bartko, the university's executive senior associate athletic director.
It's still a locker room solution that could work for other football programs that find themselves in a spatial pinch. "Football teams are very large. With more than 100 players, support personnel, coaches, recruits and visitors all potentially being in the room on game day, a large space is ideal," Canfield says. "Many programs have space challenges tied to pre-existing structures. When not enough horizontal space is available, going vertical and adding a second level in order to optimize space, increase individual space and locker size, and enhance sightlines can be a great way to go."