Waterfalls, HD TVs and LED backlighting in custom colors are all wonderful things to have in an athletic locker room — if you have a few million dollars to spend. While the juggernauts in collegiate athletics compete for the title of "best locker room in the country" (hoping it leads to other titles), most college and high school athletic programs are working on a more limited budget.
But even at smaller schools that may never be able to boast "best in the land," athletics administrators and boosters know how impactful an inspiring atmosphere for student-athletes can be. "Just paint in general can be huge," says Mindy Inthalangsy, multimedia designer with RDG Planning & Design in Des Moines, Iowa. "If you walk into a locker room and there's a big logo on the wall, that goes a long way just for boosting a team's confidence and conviction."
Small upgrades, from a new coat of paint to a set of banners, can have a major impact on student-athletes' morale without breaking the bank.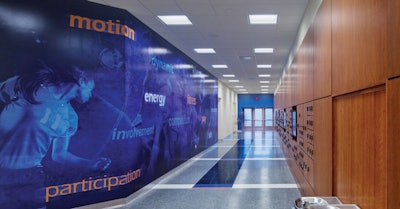 Start with paint
A fresh coat of paint is a welcome addition to any locker room. If team colors aren't already reflected in the paint choices, they should be. "You need a boost of color and a big logo," Inthalangsy says.
The logo and colors can also inspire patterns or other details. At the University of Florida's Southwest Recreation Center, for example, the school's gator logo inspired an alligator-scale pattern. "You can be a little inventive," Inthalangsy adds. "A lot of people ask for the same thing, and your challenge is to make it different."
Some creativity is good, but too much can be overwhelming, according to Inthalangsy. "You want to be selective," she says. "You don't want to paint all your walls red or your lockers red and black."
Instead, consider impact points, such as across from the locker room entrance or above the main lockers. If money is available, replacing the lockers can quickly improve the locker room environment, but painting them might also be an option. "I think you can do some great branding, especially with a school that has a couple different colors," Inthalangsy says. "You can do some good striping and layout."
---
RELATED: PRODUCT SPOTLIGHT: 2017 Locker Rooms and Laundry
---
Perhaps nothing has branded the University of Iowa football program in terms of competitive edge-seeking more than the 1979 decision of then-coach Hayden Fry to paint the visitors' locker room at Kinnick Stadium pink, a tactic countered last season by visiting Michigan, whose equipment manager redecorated the space — covering the walls with blue tarps and block "M" and Jordan-brand logos.
Painting the floor is also an option for some facilities, but probably not the best one. "The least expensive thing to do to a floor would be to paint it, but they're not very slip-resistant then," Inthalangsy says. "You could put an epoxy down and then a nice graphic."
Carpet or tile that incorporates school colors or branding are a better way to go when considering flooring options, though they come with a steeper price tag and greater maintenance requirements.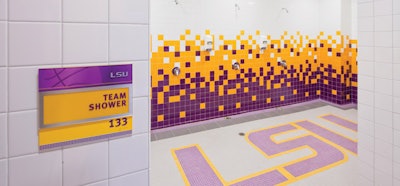 Make a graphic statement
After fresh paint, a logo is the next-biggest improvement Inthalangsy suggests. "If you walk into a locker room, you want it to emote a feeling of power," she says. "Especially when that's translated to a team's competitor."
Wall graphics can come in a range of materials, varying in price and durability. An adhesive vinyl, for example, is on the less-expensive side and lasts about two years, Inthalangsy says. "Then you have vinyl papers or wallpapers, and those depend on the adhesive. A high-tack adhesive will last five-plus years. With low-tack adhesive, sometimes the graphics don't stick as well and will fall off."
Product longevity is an important factor to consider for programs that like to refresh their brands and graphics more regularly, or those that anticipate a major rebrand on the horizon. "That's one of the first questions asked," Inthalangsy says. "Do you have a marketing-communications team you're working with? Knowing what their brand is right now, if they're going through any changes, is really important to the look and feel of the graphics and brand in the space.
"What I run into a lot are schools that want to use their photography, but they want it to be timeless — they don't want to show the faces of people," she continues. "Sometimes it gets a bit tricky to manipulate a photo in such a way that you can't see the head or you can see part of it and not make out who it is. There are filters and other little tricks you can use to mask those things."
---
More from AB: Sharing Can Optimize Team Locker Room Space
---
Temporary graphics or details might be another way to go, particularly for locker rooms serving different athletic teams at different times of the year. "Maybe you do a banner for one sport, and then you're able to take that down and put up another for another sport," Inthalangsy says. Another temporary option could include magnetic logos and imagery on lockers, but their temporary nature and easy access can make them prime targets of theft or vandalism.
As with paint, graphics should be put in high-impact locations — preferably overhead and out of reach. "You could put graphics up anywhere, but putting them down low, you then have to think about whether you want to put any type of coating on them," Inthalangsy says, noting that anti-graffiti coatings are available but can potentially double the cost of the graphic.
Placing graphics up high isn't always the most cost-effective option, either. "Putting them up where there are a lot of things underneath or things protruding from the wall that can't be moved makes it much more difficult and expensive to install."
The important thing is to be prepared with ideas and open to discussing alternatives. "When you're talking to someone about doing graphics, it's important to discuss what your fabrication and production budget will be," Inthalangsy says. "It can get a little pricy, and that's something to know up front. You can talk with your vendor, and if they say the graphic carries a price that's beyond your budget, you can work with them to bring the project cost down."

Furnishings provide the finishing touch
Walls can make a big impact when communicating a team's brand, but so can locker room furnishings — specifically the lockers themselves.
Whether traditional hinged-door models, the increasingly popular open-faced professional-style lockers or even bulk storage lockers, many manufacturers allow the specification of custom colors and graphics to create a fully integrated branding of the locker room space. Traditional metal or plastic lockers can be all one color or two-tone, with the cabinet reflecting one school color and the door another, for example.
An open-faced pedestal locker offers several options for branding — from the nameplate at the top of the locker to the built-in seat at its base. The school or team name can be specified for the nameplate in lieu of individual player names, while team logos can appear on the locker's back wall, on the bench upholstery or the face of the footlocker drawer beneath it — or all of the above. For lockers that lack built-in seating, folding chairs can carry a team's branding on both seats and chair backs at reasonable cost.
Even equipment that travels in and out of the locker room can look like it belongs. Ball carts are now available with coaching whiteboards for lids and school branding options on all four sides.
---
This article originally appeared in the July | August 2017 issue of Athletic Business with the title "Simple ways to improve branding in a locker room" Athletic Business is a free magazine for professionals in the athletic, fitness and recreation industry. Click here to subscribe.