Search "Vince Lombardi" and "Locker Room" on Google, and you'll find photos of one of the NFL's most storied coaches sitting on a metal folding chair in an otherwise non-descript concrete room. Behind the players Lombardi is addressing, cleats, helmets and street clothes are stuffed into metal cubbies. The locker room, even at the professional level, was an afterthought in the 1950s and 60s, a place where athletes changed into their uniforms and maybe got a halftime pep talk from the coach. Other than that, business was taken care of on the field.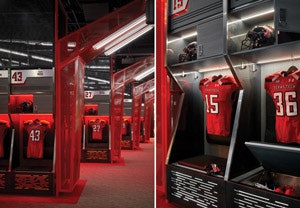 Fast forward to 2017. The locker room has been dramatically reimagined at all levels. At the college level, student-athletes might spend eight hours a day in their locker room, which these days resembles more of a luxury hotel suite than a changing facility. At the professional level, the locker room is seen as a competitive advantage, featuring mind-boggling, high-tech, performance-enhancing amenities. Even the locker rooms at some high schools have evolved beyond rows of metal lockers and are now seen as a place to build community among student-athletes and foster a common team vision.

Personal touches
The University of Wisconsin-Whitewater women's soccer team has had its share of success recently — advancing to the NCAA Division III championship game this season. During its ascent on the field, the team has been grounded in a recently renovated locker room, designed to communicate success with input from players and coaches alike.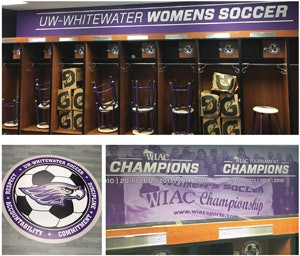 "It was important to our current and past student-athletes that the design recognize the program's history of success, as well as the resources and core values that are instrumental in reaching and maintaining our success," head coach Ryan Quamme says, noting that the design accomplished this by including graphics that highlight past team and individual accomplishments in the categories of NCAA tournament appearances, national rankings, conference championships and other honors.
The Warhawks' facility is just one example of how college teams think about their locker rooms. Depending on the motive, locker rooms are also instrumental in landing the best personnel. "For an NCAA program, it's usually strategic," says Byron Chambers, architect for Gensler, which has designed a trio of locker rooms for Division I teams in Texas. "They're looking to appeal to a 16-, 17-year-old man or woman, and really trying to help themselves out from a recruiting standpoint."
It's not hyperbole to say the goal is to overwhelm, while also communicating the team's history, community, culture and core values.
"For Texas A&M, it was really about changing the perception of their basketball program to a much more cutting-edge program with swagger — to take their program to the next level from a recruiting standpoint," Chambers said. "Their particular locker room for men's basketball was laden with a lot of personal technology and personal touches."
Recruiters want student-athletes to imagine themselves as part of their team's community, culture and history.
Some of those personal touches are game-changers for any college student, much less a student-athlete juggling practices, games and academics. One extreme example are the enormous multipurpose "lockers" that Texas A&M included. One side of each unit doubles as a study pod, replete with a desk and Mac computer. Players can retreat to these spaces to do school work or watch game film in peace and quiet.
Gensler architect Jonathan Kelley says University of Texas head football coach Tom Herman was looking to make a statement with his team's locker room renovation. "He made a promise to that team that, 'We're going to change things here.' That locker room was a way of saying, 'We believe in this program, and we're going to do great things,' " Kelley says.
Beyond the initial wow factor, personal touches are also important during student-athlete recruiting visits. For instance, a recruiter might have a player's highlight reel cued to display on a screen above one of the lockers, or hang in the locker a uniform bearing the player's last name.
"It's the shiny object, so to speak. But it's really a very personal space for the athlete, too," Kelley says. "This is an opportunity to give a student-athlete — at those Division I schools that have the budget for it — a very personalized experience. The locker feels like it's customized for that athlete."


Accommodating the elite
The game plan changes at the professional level, as is evidenced by Mark Cuban's recent revamp of the Dallas Mavericks' locker room. The original locker room at the American Airlines Center, which opened in 2001, was already considered first class for some of the gadgetry included in the lockers — individual TVs and gaming consoles. The frills at the professional level aren't about recruiting but rather ensuring player comfort and bolstering performance. Every nicety is seen as one more piece in the championship puzzle.
The locker rooms of today are indeed as much recruiting vehicles as are the elaborate recreation centers showcased during campus tours.
"At the professional level it's very, very different," says Chambers. "Mark's focus was completely on performance: What could the locker room do to enhance performance? That's kind of the goal for the athlete. The approach is different."
To that end, Cuban commissioned a locker room to end all locker rooms. The lights are set to optimize a player's circadian rhythms to increase processing and retention. The space features advanced humidity control and a ventilation system that pumps oxygen into the room. There's also an aromatherapy component that diffuses a special "Mavericks" fragrance. The layout was even changed to facilitate more efficient access to the showers. If that's not enough, Amazon's Alexa personal assistant was integrated throughout the facility.
"There's almost more of a spa feel to some of these facilities," Kelley says. "When you walk in, you may not even know you're in a locker room."
Chambers says that the Mavericks' organization was very open to input from coaches and players. "I think Mark knew the importance of that. It wasn't us designing something in a box but really getting buy-in from the athletes — Devin Harris, Wesley Matthews — and having them be part of the process was extremely important."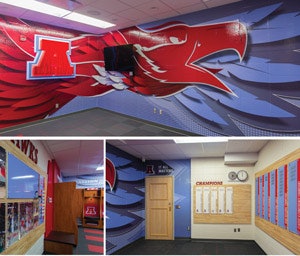 High school too
High schools are also increasingly aware of the kind of pull a first-class facility has with student-athletes and their families. Loren Zemlicka, a designer at Thysee Design, which does large-scale branding for facilities, has worked on the University of Wisconsin-Madison men's basketball locker rooms, as well as a high-profile high school locker room that made news a few years ago.
"There are those high schools that are actively recruiting," Zemlicka says. "The general presentation of your facilities is very important. They know that families — when they're looking to move or relocate — are looking at the facilities, and a lot of them are looking at athletics and recreation facilities. That's part of that family's decision."
Thysee was part of a locker room redesign at Arrowhead High School in Hartland, Wis. The project, which was partially funded by a private donor and done as a surprise for the basketball team over the course of a weekend, made national headlines for its slick design.
Zemlicka says practical needs were the initial catalyst for the renovation. "The Arrowhead project was all spurred by the need for new HVAC and new showers and all of that," he says. "They had the money, and it was time to do it."
There's almost more of a spa feel to some of these facilities. When you walk in, you may not even know you're in a locker room.
In a perfect example of how things are constantly trickling down from the professional and collegiate levels, the donor who footed the bill for the interior design wanted to give it that "shiny object" effect. "That donor had a very specific interest in helping the basketball team," Zemlicka says. "The coach came to us because of his relationship with the UW program and he knew the coaches there, and he wanted to use the guys who did the UW locker room, so we got the nod."

The $662,602 Arrowhead locker room — $275,000 of which came from the aforementioned donor and went directly toward interior design — made the pages of Sports Illustrated for its outsized graphics, subdued lighting and horseshoe layout. When looking back on the project, Zemlicka admits that the locker room arms race is most definitely on — even at the high school level.
"It just keeps getting bigger and grander and more over the top all the time," he says.
There are a variety of reasons for upgrading a locker room. Some operators may simply need to replace the plumbing and change out rusty lockers. Others might see the project as a way to entirely re-envision a faltering program. Whatever the reason for the revamp, today's locker rooms can be so much more than just a place to change and shower. "It's no longer just a place to tape up and put your shoulder pads on," says Kelley. "The locker room, especially at the collegiate level, has really become the player's home."
---
This article originally appeared in the January|February 2018 issue of Athletic Business with the title "Home sweet home: Reinventing the locker room." Athletic Business is a free magazine for professionals in the athletic, fitness and recreation industry. Click here to subscribe.