Prior to this past spring, Nick Grill would lug his lacrosse bag and stick the eight blocks from his residence to the Marquette University lacrosse offices — recently carved out of an existing campus building — where the stuff could be stored temporarily in a back room. On game day, a soccer locker room became the temporary home for Grill, his Golden Eagle teammates and their gear.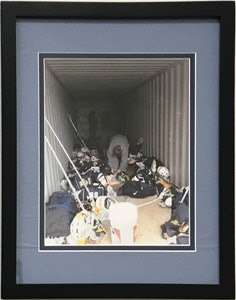 "When I got here that's all the team knew, so there were no bad thoughts about it. It was just something that we did," says Grill, a rising senior defenseman at Marquette. "We had great leadership when I got here that allowed us to just enjoy what we had. We had just gotten a new office space, and we felt fortunate enough for that, because it was a lot more than the guys previous to us had."
Among those previous guys was Grill's brother, B.J., who could — and did — tell stories of dressing for Marquette games in a portable storage container. "He made it known that I was lucky to have an office," Nick says. "He told me all about the fun times he had when it would be 20 degrees out and they'd be freezing their butts off in 'The Pod,' as it was infamously called."
To complement such lore for a program with a mere seven seasons under its belt, a photo of "The Pod" now hangs on the wall of Marquette's newly christened men's lacrosse locker room, which opened to the current roster March 4. It's a reminder of how far the program has come since making its 2013 Division I debut.
---
RELATED: Find more solutions for your facility in the Buyers Guide
---
By 2016, B.J.'s senior season, the Golden Eagles garnered the Big East tournament championship and the automatic NCAA tournament bid that came with it. The 2017 team then repeated the feat. As the program gained national attention — and fast — a facility for the team had to be fast-tracked.


Change in plans
The original vision was for a larger project including a field house for multiple sports, but that likely would have taken five years to complete. Instead, the Athletic and Human Performance Research Center — which includes locker rooms and practice spaces for men's and women's lacrosse and men's golf, as well as strength and conditioning areas for all of MU's Olympic sports (but no field house) — was built in less than two.
"We did the athletic master plan for them back in 2008, and they were at that time just positioning to bring on men's and women's lacrosse. They knew that they didn't have the facilities but were committed to just getting the programs up and running and then sort of working through their master plan at a reasonable pace," says Lindsey Peckinpaugh, a principal architect in the Chicago office of Perkins+Will. "Well, what happened was the men's team in particular was just wildly successful very quickly. They started winning Big East championships, and I think that frankly the athletic department just felt pressure to give them facilities commensurate with their performance."
In lieu of the field house component, an existing turf field on campus was domed with an air-supported structure during winter months. "That was so successful for them that it really changed their vision of what the AHPRC could be, and they decided that they no longer wanted to pursue that indoor field house component," Peckinpaugh says. "So the question and the mission really became, 'How do we get these kids locker rooms and training facilities as quickly as we can in phase one of the building?' If we were to try to do it all in one fell swoop, I think we'd still be waiting."


A sense of tradition
As Marquette's vice president for planning and facilities management, Lora Strigens leads every campus construction project, as she puts it, "from concept to ribbon cutting." To prepare herself for the locker room portion of the AHPRC project, she traveled with the men's team to view opponents' facilities, relied on the experience and input of MU's head coach, and conducted online benchmarking. "We spent a lot of time picking all the furniture and identifying the branding," she says, "and I feel like we got the perfect mix that met all of our needs."
First and foremost, Marquette got a space capable of accommodating more than 50 players and their equipment at once. "These are large rosters, the student-athletes are together a lot, and building community is really important," Strigens says. "The locker room space checks all the boxes for functional things that you need to have in a locker room space, but it also provides space for them to relax and spend time together."
---
RELATED: Purchasing Guide: Locks
---
Each locker has a drawer for shoes and a space for each player's helmet and travel bag, but a separate room was designated for stick storage in the interest of sparing each unit's custom-milled cabinetry from stick-inflicted damage. The deep, rich wood of the lockers "gives you the sense that the space has some tradition to it," Peckinpaugh says.
Lockers are mechanically exhausted through rear vents, and each includes the modern must-have of a phone-charging outlet. However, the decision was made to eschew an actual locking function on the lockers. Says Peckinpaugh, "We talked about being able to close them off, and they thought, 'No, we're a team and this is the space that we live in. If you have people stealing your stuff out of a locker then you have a bigger core problem with your team.' They're just really principled in some of those aspects."
The livable nature of the space is further enhanced by the specification of loose chairs over built-in locker seating, allowing the room to be temporarily reconfigured, if desired, as players comingle or receive coaching instruction (large-screen TVs facilitate film review, movie viewing and gaming). Likewise, couches placed in the center of the room — a "very intentional" choice over a separate player lounge, according to Peckinpaugh — are durable but lightweight enough to be easily moved.
Wet areas likewise reflect the high-quality approach, with the tiled shower room featuring 12 individual shower stalls.
Branding of the AHPRC, handled by Experience 49, known for much more lavish projects such as the University of Alabama's football facilities, is elegant in its simplicity and focus. Three-dimensional backlit "Marquette Lacrosse" wall art announces the locker room's entrance, and once inside, each locker is topped by an action photo of its occupant superimposed with his name, jersey number and hometown. The nameplates are designed to be easily removed and taken by departing seniors as a keepsake.


Gobsmacked and grateful
Like his older brother, Grill came all the way from Bridgewater, N.J., to chase his Division I lacrosse dreams in Milwaukee. He likes being reminded of that fact. "The action shot takes me back to my freshman year, and I remember that game, and it lets me see where I'm from — to understand where I'm coming from and understand that I've worked toward this space, this locker, and it's all really humbling and really awesome to have. It really is."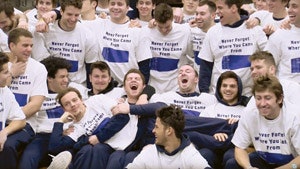 Grill was sick March 4, the day the locker room was revealed to the rest of the team, and he was adamant that he not hear or see anything about it until he could experience the space in person. Meanwhile, Marquette posted video to YouTube. "You see these kids coming in, pointing to their faces up above the lockers, and they're just gobsmacked," Peckinpaugh says. "It's really cool."
The players then pulled on white T-shirts over their street clothes. On the front, appearing above an illustration of "The Pod," is the sentiment, "Never forget where you came from." On the back, a singular word: "Grateful."
"They have this humility about them," Peckinpaugh says of MU players and coaches. "A lot of programs that we encounter, they so want the latest, splashiest, biggest and best — more square footage and all of these bells and whistles — and that is just not the mentality that the coaches for the AHPRC had. The players and the coaches for lacrosse, as well as golf, were so grateful to be getting anything that they were just really focused on how to create space where the teams can be together. It wasn't about the flash."
---
RELATED: PRODUCT SPOTLIGHT 2019: Locker Room & Laundry Components
---
According to Strigens, it's more about Marquette's Jesuit mindset of cura personalis, or "caring for the whole person." "Individual branding on the lockers is just a way to reinforce to students that we care about them, we care about where they came from, we care about them as individuals as well as parts of the team," she says.
There's no telling where Marquette lacrosse goes from here, but the new locker rooms no doubt will help unlock the program's potential. "The reality is that perspective students and families look at facilities and they look at what you have to offer in terms of supporting the development of the student, and in this case the student-athlete," Strigens says. "And certainly when you have the facilities that match what the program walks and talks, that's a benefit in recruiting."
Grill agrees. "One-hundred percent. If players are looking for facilities, I think we are now right up there with the best schools."
As for finally experiencing the space himself? "So the next day, we had a team meeting down there and I walked in and I was blown away," Grill says. "To have the athletic department support us like this is unbelievable.
"The locker room gives us a space to put 50 guys, for all of us to be together at once. It's a place to unwind during the school day, after practice, after lifts. We can just go there, be with each other, enjoy each other and just relax a little bit. We didn't have that before, and I think that's something that's really important to have."
'Village' locker room pays homage to its city

Football lockers inside the University of Minnesota's Athletes Village feature solid-surface doors perforated to collectively, yet subtly, suggest a panorama of the Minneapolis skyline. Individual lockers offer each player a padded flip-up seat, internally lit and digitally locked cubbies, and USB and power ports. Above the carpeted space soars an enormous backlit, three-dimensional depiction of Minnesota's signature "M."
By the way, this is the Gophers' practice locker room. It's quite different than the locker room in TCF Bank Stadium, Minnesota's on-campus stadium that opened in 2009, and that's by design.
"The game-day locker room at TCF has minimal shower or rest room facilities associated with it. They come in at halftime, they go back out. That's about the only interaction they have with the locker room short of getting ready," says Sean Page, an RDG Planning & Design partner who worked on the Athletes Village project, completed last year. "At Athletes Village, the toilet and shower facilities are very luxurious. They're spa-like. We have the actual hydrotherapy tubs inside the locker room with TVs. It's more about the creature comforts of those athletes on a daily basis. We want to get them pumped from the branding and the lighting perspective before they go out to practice, and then when we bring them back from practice, we want them to be able to relax and feel at home."
Page estimates that a school can expect to spend $400 to $500 per square foot on a high-end team locker room, with the lockers themselves representing the greatest cost variable at a range of $1,500 to $12,000 per locker. "Are they the kind and size for what you functionally need?" he asks. "Again, there are so many differences in the priorities and the needs between a game-day and practice locker room. They're similar but they're really quite a bit different in their function. Practice locker rooms need to be very efficient in terms of the athletes' daily routines."
Ultimately, even practice lockers can help a space communicate to its occupants — and potential occupants. In the case of the skyline customization, the university wished to acknowledge its relationship to Minneapolis, as well as the support the city's businesses provide the athletic program now and its graduates in the future. "One of the first things we did was to work with an environmental branding group as a part of the actual team," says Page. "For us the first thing is always, 'What's the story? What's the message coming from the university, and what is it looking to get out of the locker room? How do they want to it to tie to the overall recruiting path?' Athletes Village is very much about a sequence."
It begins and ends with recruiting. "Recruiting is the key thing," Page says. "If you can't get the guy in the door, you've already lost."
---
This article originally appeared in the July | August 2019 issue of Athletic Business with the title "How Marquette fast-tracked locker rooms to match its lacrosse success." Athletic Business is a free magazine for professionals in the athletic, fitness and recreation industry. Click here to subscribe.